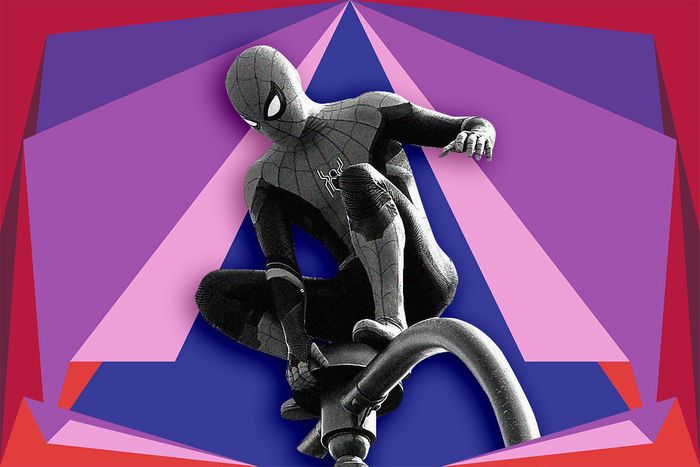 Spider-Man in
Spider-Man: No Way Home
.
Photo-Illustration: Vulture; Photo by Sony Pictures
Every week between now and February 8, when the Academy Award nominations are announced, Vulture will consult its crystal ball to determine the changing fortunes of this year's Oscars race. In our "Oscar Futures" column, we'll let you in on insider gossip, parse brand-new developments, and track industry buzz to figure out who's up, who's down, and who's currently leading the race for a coveted Oscar nomination.
Best Picture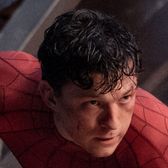 Spider-Man: No Way Home
Theatrical audiences in 2021 are like J. Jonah Jameson: They only want to see pictures of Spider-Man. After No Way Home's record-breaking opening, Sony and Marvel launched a joint Oscar offensive in the pages of The Hollywood Reporter, positioning the superhero sequel as the exact type of film the Best Picture category was expanded to include. That may be true, but Spidey getting in would require a more populist Academy than we've seen recently, since No Way Home lacks the technical ingenuity of Avatar, the timeliness of Black Panther, or the self-conscious heft of Joker. Still, after a precarious two years for the industry, we may find that money talks more loudly than usual. The Oscars are how Hollywood tells the story of itself, and with 10 guaranteed spots, business-minded voters could make space for the film that's proven theatrical moviegoing is not dead.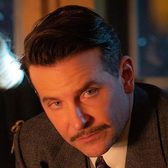 Nightmare Alley
Not only did Guillermo del Toro's carnie noir become the latest would-be player to underperform at the box office, pulling in only $6 million in its first two weeks of release, it also disappointed on the Oscars shortlists, where an appearance for Makeup & Hairstyling didn't make up for missing the cut in Score, Visual Effects and Sound. At a certain point, pedigree is not enough; people have to be actually excited by your movie, and the buzz just seems lacking for this one.
Current Predix
Being the Ricardos, Belfast, CODA, Don't Look Up, Dune, King Richard, Licorice Pizza, The Lost Daughter, The Power of the Dog, West Side Story
Best Director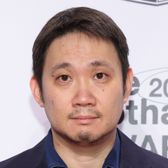 Ryûsuke Hamaguchi, Drive My Car
Drive My Car is this season's official hipster pick, earning top honors from both the New York and Los Angeles critics' associations (an even more impressive feat considering those groups rarely like to overlap with each other). Can a three-hour Japanese drama about love and grief become the year's most unlikely Oscar player? I'll tell you the Murakami adaptation's prospects are good in this category: The directors branch loves an international auteur, and Hamaguchi (whose Wheel of Fortune and Fantasy was similarly acclaimed in the spring) is quickly becoming the hot new thing among global cinephiles. If he can indeed crack the Oscar lineup, that'll make four years in a row a non-English language film has made it into Best Director.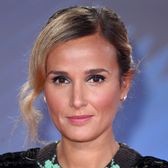 Julia Ducournau, Titane
In other automotive news, the movie that triumphed over Drive My Car at Cannes couldn't nab a spot on the Best International Film shortlist. I'm glad France tried it, but this is probably the end of the road for Ducournau's Best Director candidacy.
Current Predix
Paul Thomas Anderson, Licorice Pizza; Kenneth Branagh, Belfast; Jane Campion, The Power of the Dog; Steven Spielberg, West Side Story; Denis Villeneuve, Dune
Best Actor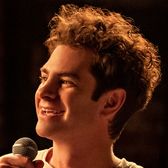 Andrew Garfield, Tick, Tick … Boom!
Without spoiling too much, let's just say that hypothetically, if an actor in the Oscar race also found himself appearing in a wildly successful blockbuster, in a role that had emotional ties to his offscreen life, and even the haters agreed he gave the standout performance in that film, well, such an event might be a good thing for that actor's awards-season fortunes. But enough about Benedict Cumberbatch!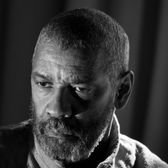 Denzel Washington, The Tragedy of Macbeth
It's double Denzel at the holiday box office, as Washington's starring turn in Joel Coen's Macbeth was joined in theaters by the actor's latest turn in the director's chair, the Michael B. Jordan vehicle A Journal for Jordan. Luckily, he doesn't have to worry about creating more competition for himself: While reviews for Journal have been middling, praise keeps rolling in for Denzel's charismatic take on the Bard, with A.O. Scott calling him "astonishing."
Current Predix
Benedict Cumberbatch, The Power of the Dog; Peter Dinklage, Cyrano; Andrew Garfield, Tick, Tick … Boom!; Will Smith, King Richard; Denzel Washington, The Tragedy of Macbeth
Best Actress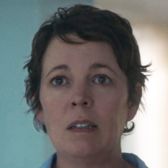 Olivia Colman, The Lost Daughter
Maggie Gyllenhaal's directorial debut is an elusive contender in more ways than one — it's a quiet, difficult film, but also, few outside the industry have been able to see it. That changes today, when The Lost Daughter hits Netflix and viewers finally get to see why Colman's been widely tipped for her third nomination. The Elena Ferrante adaptation finds her in characteristically fine form. As a prickly academic carrying the weight of maternal ambivalence, K. Austin Collins raves, "Colman brings Ferrante's creation to life with all the withering pathos she deserves." Best Actress is, as usual, our most crowded category, but if The Lost Daughter plays as well with voters as it has with early tastemakers, Colman will be nailed on for the final five.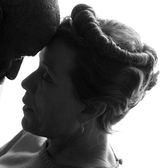 Frances McDormand, The Tragedy of Macbeth
Washington's Thane of Cawdor has been widely acclaimed, but reviewers are being far less kind to his co-star, who suffers most from Joel Coen's pared-down approach to the material. "Her performance lacks command, urgency, rage, and madness … and her mad scene comes off as an actor's exercise," says Richard Brody. Is it possible that Ethan Coen was the only thing preventing McDormand from coming down with a dramatic case of Melissa McCarthy Syndrome?
Current Predix
Olivia Colman, The Lost Daughter; Penélope Cruz, Parallel Mothers; Nicole Kidman, Being the Ricardos; Kristen Stewart, Spencer; Rachel Zegler, West Side Story
Best Supporting Actor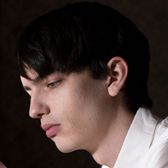 Kodi Smit-McPhee, The Power of the Dog
As this category comes into focus, is Smit-McPhee the early Supporting Actor frontrunner? Though he's absent from Power of the Dog for long stretches, the young Australian makes an indelible impression in the movie's final act, and he was the pick from both the New York critics and their Los Angeles brethren (in a tie with Titane's Vincent Lindon). Bronco Henry would be proud.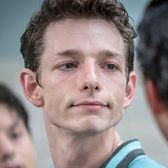 Mike Faist, West Side Story
The current conventional wisdom in this category has a quartet of Smit-McPhee, CODA's Troy Kotsur, and the Belfast lads, and one slot open for a wild card. Will it be House of Gucci's Jared Leto, bathing in a river of prosciutto? The comforting familiarity of J.K. Simmons in Being the Ricardos? Or will it be Mike Faist, whose electric turn as Riff continues to be singled out, this time by Rita Moreno in an open letter praising her young co-stars (and also subtweeting Spider-Man). The precursors haven't been there for the Broadway veteran, but this could be a classic nomination-morning surprise.
Current Predix
Jamie Dornan, Belfast; Ciarán Hinds, Belfast; Troy Kotsur, CODA; J.K. Simmons, Being the Ricardos; Kodi Smit-McPhee, The Power of the Dog
Best Supporting Actress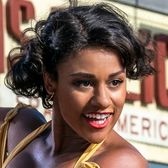 Ariana DeBose, West Side Story
Will Supporting Actress be a Best Picture bellwether? Each of the four main contenders has a name in this race: Belfast Catriona Balfe, Power of the Dog Kirsten Dunst, King Richard Aunjanue Ellis, and West Side Story DeBose, whose LAFCA win cements her as her film's strongest bet in this category. Vote-splitting may still be a concern, though, and I wonder if Moreno's recent comments emphasizing her role as a producer on WSS are in some way an attempt to clear the decks for her successor.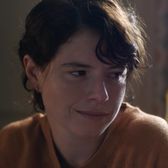 Jessie Buckley, The Lost Daughter
As The Lost Daughter made its festival run, pundits debated which of its supporting actresses was best placed for a nomination: Buckley, as the younger version of Colman's character; or Dakota Johnson, as a mother who becomes a mirror for Colman's anxieties? (Succession's Dagmara Dominczyk is also in the mix, but her role's the smallest of the three.) So far, it's purely academic, as neither of them have gained much traction, but I'd still give the edge to Buckley, whose reviews read like future FYC pullquotes: She's been called "brilliant," "first-rate" and "wonderful."
Current Predix
Caitríona Balfe, Belfast; Ariana DeBose, West Side Story; Kirsten Dunst, The Power of the Dog; Aunjanue Ellis, King Richard; Ruth Negga, Passing