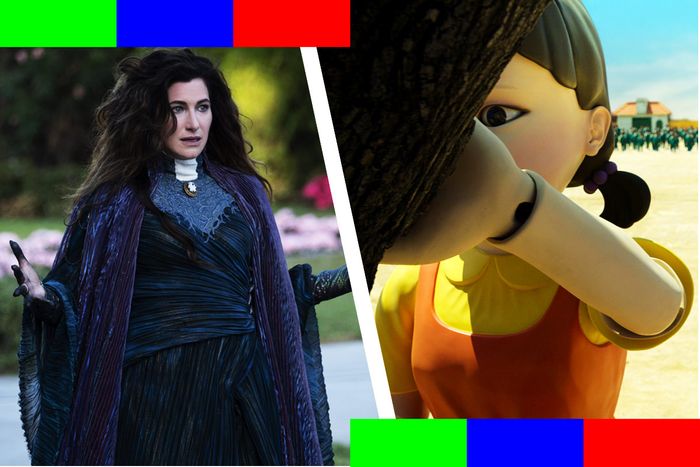 Despite some buzzy programming wins, Disney+ and Netflix had relatively slow subscriber growth in 2021.
Photo-Illustration: Vulture; Photos by Marvel Studios and Netflix
This story also ran in Buffering, Vulture's newsletter about the streaming industry. Head to vulture.com/buffering and subscribe today!
It would be wrong to say the streaming business got back to "normal" in 2021. The pandemic remains the Great Disrupter, and COVID continues to be a constant consideration across so many aspects of our lives. But the situation absolutely felt a lot more stable than it did in 2020, thanks mostly to the fact that the content-production pipeline stayed open all year. Even if COVID protocols and the dawn of the Delta variant slowed things down a bit, stuff actually got made — and by summer, most streamers had gotten back to a relatively normal rhythm of releasing new series and movies. Actors even resumed making in-person appearances on talk shows — a sure sign Hollywood was healing.
But while 2021 may have been less of a rollercoaster ride, there was no truce on the streaming battleground. The same big corporations which clashed last year continued to slug it out daily in a ferocious, ongoing battle for subscribers and audience attention. Here are the five trends and developments I think best defined the year.
1. Growth Slows at the Biggest Streamers
Following last year's explosive subscriber growth, 2021 brought a hangover of sorts for Netflix and Disney+ as the two biggest streamers in the U.S. saw their rate of growth slow way down. Netflix, which added a massive 37 million new global subs in 2020, estimates it will finish this year with a gain of just 18 million subscribers. Meanwhile, the much younger Disney+, which signed up a whopping 66 million subscribers last year as it expanded to dozens of new countries, will probably end up with around 30 million new paying customers when the final numbers are tallied next month. The downward direction in growth may sound scary, but it's hardly reason for panic.
For one thing, 2021 was always going to look bad, growth-wise, compared to the unicorn-like 2020. The first six months of the pandemic had consumers around the world staying home and streaming more, thus speeding up the pace at which folks subscribed to various platforms (particularly less established services.) There was almost no way Netflix and Disney+ were ever going to match their 2020 performances. And while Disney+ is still very much in expansion mode, its first full year was so successful, it's hard to see it ever adding as many new customers in any future years. Similarly, Netflix has reached the point in the U.S. where, because it is already so widely distributed, there's only so much more room for it to grow (unless it starts cracking down on password sharing and forces freeloaders to pay for their own account).
Still, at least some portion of the 2021 growth slowdown can also be attributed to a factor not disappearing anytime soon: A dramatically more competitive streaming landscape. Netflix and Disney+ are now facing a much stronger challenge from HBO Max, which bulked up its content offering in a big way this year and began streaming in many more countries. Amazon-owned Prime Video had a relatively quiet 2021, with big guns such as The Boys and The Marvelous Mrs. Maisel taking the year off, but it seems poised for a banner 2022 with those two shows returning and Lord of the Rings rolling out in September. And while smaller streamers such as Peacock, Paramount+, and AMC+ aren't serious threats right now, they still have the ability to nibble away at the edges, picking off price-conscious consumers. All of this means Netflix and Disney+ are going to keep having to fight to attract and retain subscribers, both by adding even more original content and looking for ways to diversify. That's what Netflix is doing by getting into the video game business, and it's why the Mouse House is pushing so hard for consumers to sign up for its streaming bundle of Disney+, Hulu, and ESPN+.
2. 'Project Popcorn' Pays Off for HBO Max
In 2020, movie studios used the pandemic as an excuse to bend the long-sacred rules that kept almost all big releases exclusive to theaters for at least three months after their release. But in 2021, the rule book got shredded — particularly at WarnerMedia, whose Warner Bros. unit decided to put all of its movies on HBO Max the very same day they hit cinemas. Agents, movie snobs, and the Luddites who run the major theater chains howled in agony at what was referred to internally as Project Popcorn, but the decision paid off: HBO/HBO Max is expected to end the year with close to 73 million subscribers around the world, up from around 61 million at the end of 2020. While that might not seem that impressive given where Disney+ and Netflix are, remember that the ad-free tier of Max is much more expensive than Disney+ and a bit pricier than Netflix's most popular plan and that the service isn't in as many countries as those rivals. It's also worth noting that Max made these gains with a less-than-stellar slate of Warners movies. (Remember, days after Project Popcorn was revealed, THR's Kim Masters reported that Warner Bros. chief operating officer Carolyn Blackwood believed the idea would help "avoid the humiliation of potentially bad grosses" from what studio insiders privately believed was "a relatively weak 2021 slate.")
The real value of 2021's same-day gambit, however, may be in how it helped permanently shrink the theatrical window. Previously, pay cable networks and streamers had to wait around eight months before they got their hands on new movies from studios. But starting next year, Warner, Universal, and Paramount have all said they'll now push their films to SVOD as early as six weeks (45 days to be precise) after they hit multiplexes. Consumers will now know that their monthly subscriptions will guarantee them a steady diet of relatively recent movies, and assuming those films are actually good, this could dramatically reduce the rate of cancellations (known in the industry as "churn") and prompt penny-pinchers to sign up for more than just one or two services.
3. Squid Game Shows the Power of Global TV
Every few months or so, I stumble upon a column or Twitter thread declaring confidently that Netflix has peaked, its shows are too generic now, and that its rivals are getting ready to drink its milkshake. And then, almost like clockwork, the streaming granddaddy enters the chat with a Bridgerton or The Queen's Gambit or Tiger King — a title that completely takes over the pop culture universe for weeks at a time. This year, that honor went to Hwang Dong-hyuk's Squid Game, a dark, twisted, and utterly addictive Korean drama that this fall became Netflix's most-streamed series ever (at least according to the streamer's own, ever-changing metrics). Within weeks, it had gotten the Pete Davidson song parody treatment on SNL, became the hot Halloween costume, and prompted passionate online debates about what its story line is trying to say about late-stage capitalism and income inequality. (Jeff Bezos even weighed in, sort of.)
In some ways, Squid Game is sort of the quintessential Netflix success story in that its global success wasn't the result of massive marketing but came out of nowhere, driven mostly by the streamer's algorithm putting it in front of folks who might respond to it and the fact that Netflix shows debut around the world at the same time, making it much easier for something that breaks out in, say, South Korea, to catch on quickly in places thousands of miles away. It also underscored the wisdom of Netflix's highly decentralized content creation business: The streamer's Korean execs didn't have to convince suits in Los Angeles that it was worth investing huge sums (by Korean TV standards) on this project or get their okay on who should be cast. Indeed, by deciding long ago that the way to expand globally was to make content for local audiences — knowing some of it would play well in other countries — Netflix also assured it wouldn't have to source all of its hits from the very mature (and competitive) Hollywood and U.K. creative communities. The streamer's early and heavy investment in dubbing also paid off with Squid Game because, no matter how much purists (perhaps rightly!) argue that shows are better when viewed in their original language, most folks aren't going to sit through nine hours of subtitles (and this applies to audiences in America and countries around the world).
4. Apple TV+ Comes Into Its Own
During its first 18 months or so, the biggest rap on Apple's streaming service was that, even given its modest monthly price tag of $5, it simply didn't offer much bang for the buck. There was some truth in that complaint, but in 2021, you heard it a lot less often. Yes, the overall Apple TV+ offering is still tiny compared to what the similarly priced Disney+ and Hulu offer. But in 2021, the streamer finally felt like a legit programming service in terms of volume: It now has roughly 18 dramas and comedies with more than one season in the can (or in the works.) And while The Morning Show took a creative hit in season two — I remain a fan, but oy, that finale — Apple has more than made up for that with the widely celebrated sophomore year of Ted Lasso and an expanding roster of other shows with measures of acclaim, including For All Mankind, Mythic Quest, Schmigadoon!, Acalpulco, Swagger, Central Park, and The Shrink Next Door. The company's investment in feature films is also starting to show results, with Finch and CODA getting solid reviews (and the latter movie in the hunt for Oscars, along with the upcoming Denzel Washington pic The Tragedy of Macbeth).
I don't want to overstate things: Even if Apple TV+ aspires to be what HBO was 15 years ago — a content creators' paradise focused on quality over volume — it's still a long way away from reaching that goal. But for a platform that has only been in existence two years, its track record for success is very strong. And a glance at its announced development slate underscores how much room it has left to grow, with the overall number of series set to at least double over the next year or two. Industry critics still argue that, in order to really succeed, Apple needs to snap up a content library from a company such as AMC Networks or Lionsgate/Starz, much the way Amazon is trying to buy MGM. Given how much cash Apple has on hand, it probably could close a deal without much effort, and there would surely be some benefit from being able to offer subscribers a big catalog of older TV shows and movies. The same thing would apply if, as has been rumored, Apple snags rights to a major sports league, such as the MLS. But while the company may well go down those paths, its current model of making lots of shows people really love seemed to work pretty well in 2021.
5. The Mid-Size Streamers Struggled to Stand Out
While Apple TV continued to gain momentum in 2021, it was a weird year for the other mid-size general entertainment streamers. On the one hand, Peacock and Paramount+ can both point to signs they're making slow but steady progress with consumers. Both leveraged corporate synergy to snag same-day or early access to major feature films, with titles such as Halloween Kills (Peacock) and Clifford the Big Red Dog (Paramount+) generating buzz and, at least according to press releases, new sign-ups. And while only Peacock had hundreds of hours of Olympics coverage over the summer, both streamers have been leaning on their linear TV connections to woo cordcutters looking for a live sports fix, particularly those into soccer and wrestling. On the scripted content front, meanwhile, each launched series with a measure of acclaim (Rutherford Falls and Lady Parts on Peacock and Mayor of Kingstown on Paramount+). Bottom line: Neither is headed toward a quick, Quibi-like collapse, and it's far too soon to draw any conclusions about either's long-term fate.
And yet … it's hard to argue either platform had a spectacular year, either. Peacock is headed into its third year still far away from being considered a must-have service for most consumers. If there is much to brag about on the subscriber front, Peacock parent Comcast is sure being quiet about it, offering no new data about sign-ups during its most recent earnings call, a glaring omission which prompted industry trade Variety to declare "No News Is Bad News for Peacock." A decision to pull NBC's next-day reruns from Hulu next fall so they stream only on Peacock — something that could be announced relatively soon, by the way — would help a bit around the margins. But it would hardly be a game changer.
As for Paramount+, which debuted last spring, it's still admittedly early days. However, given the platform was more of a remodel than a fresh launch — remember, it was built on the ashes of CBS All Access — baseline expectations are a bit higher. But months can go by where nobody is talking about Paramount+, and even then it's often a discussion about whether or when a big event from CBS (like the Oprah interview with Meghan and Harry or the Adele special) will stream. Owner ViacomCBS is also still very clearly trying to protect its profits in the dying cable universe, which is why you have a situation where the massively successful Paramount Network series Yellowstone is on Peacock rather than Paramount+, or why MTV Entertainment keeps buzzy holiday movies like VH1's The Bitch Who Stole Christmas and Comedy Central's A Clüsterfünke Christmas on its linear networks rather than quickly putting them on Paramount+.
Of course, the two P platforms arguably had a better year than Discovery+. After a soft rollout overseas last year, the Discovery Networks–owned streamer launched Stateside in January — and five months later was basically rendered a lame duck when Discovery announced it was snapping up WarnerMedia. Nothing has been finalized (including the deal itself), but most industry observers believe that Discovery+ will be folded into HBO Max or at least put on the back burner as the newly supersized company looks to use its rich library of unscripted content to bulk up Max. And when the recap of 2022 gets written next December, it's a pretty good bet that one of the big stories of the year will be how well (or poorly) these two companies come together. That, and whether or not the new Game of Thrones and Lord of the Rings projects lived up to the hype.