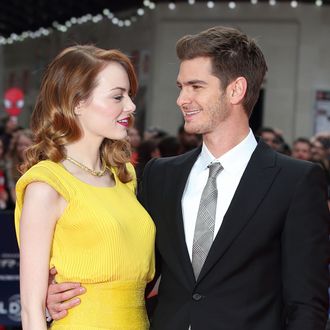 Photo: Mike Marsland/WireImage
Update, Monday, January 17 at 1:00 p.m.: As Andrew Garfield continues to unveil the web of lies he's told leading up to the Spider-Man: No Way Home, the most shocking person he lied to was his shot of espresso Emma Stone. On the Happy Sad Confused podcast, Andrew Garfield told host Josh Horowitz that he didn't tell her about his appearance in Spider-Man: No Way Home and lied when she asked. "Emma kept on texting me, she was like, 'Are you in this new 'Spider-Man' film?' and I was like 'I don't know what you're talking about.' She was like, 'Shut up, just tell me,' and I kept it going even with her it was hilarious," said Garfield on his Gwen Stacy. But like everyone else in the country, Stone eventually saw the movie. "And then she saw it and she was like, 'You're a jerk.'" It's Andrew's world, and we're just living in it.
Original Story Follows.
"What is acting but lying, and what is good lying but convincing lying?" —Sir Laurence Olivier (Larry to his friends)
Andrew Garfield says he found the experience of lying to our goddamned faces about appearing in Spider-Man: No Way Home "weirdly enjoyable." Speaking to The Wrap, Garfield described the entire Spider-Man: No Spoilers This Time experience as an elongated round of the party game Werewolf. "It was like this massive game of Werewolf that I was playing with journalists and with people guessing, and it was very fun," he said. However, his conscience did occasionally get the better of him: "There were moments where I was like, 'God, I hate lying.' I don't like to lie and I'm not a good liar." Which is exactly what a liar would say. What else is a lie, Andrew? Are you even British American? Did you really make a rocking chair by hand? Also, Werewolf is a very stressful game and should be banned from parties. It dies with Among Us.