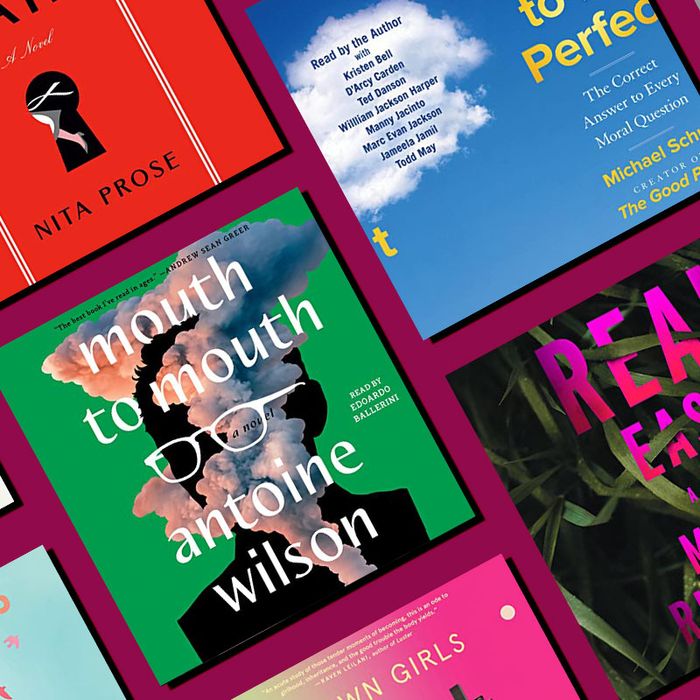 Photo-Illustration: Vulture; Photos by Publishers
The audiobook category is expanding every day, and we certainly can't listen to everything. The goal of this monthly column is to steer you toward audiobooks that we hope will provide the best experiences, pop-culture value, and something to talk about at your cocktail party.
Photo: Publisher
Read by: Brittany Pressley and Ryan West
Length: 10 hours, 17 minutes
Speed I listened: 2.2x
Colleen Hoover's books are all over best-seller lists thanks to BookTok, which I hope someone will explain to me soon so I can be a #BookTok influencer. My Pilates teacher told me to read her, too. I started by listening to this, her newest. It's a novel about Kenna, just out of prison for killing her ex-boyfriend in a car accident, who, by mistake, kindles a love affair with her ex's best friend, Ledger, whom she'd previously never met. Also, Kenna gave birth to her ex's daughter in prison, and now that the girl is 5, she hopes they can reunite. Surprisingly, it all makes sense, and I kind of enjoyed the alternating, easygoing narration of Pressley (as Kenna) and West (as Ledger). Plus: I laughed more times during it than I have in both seasons of Emily in Paris, and I'm considering changing my name to Ledger.
Photo: Publisher
Read by: Lauren Ambrose
Length: 9 hours, 37 minutes
Speed I listened: 1.8x
This is a totally decent whodunit elevated by shockingly good narration. It's about a hotel maid named Molly who is almost uncomfortably dedicated to her job and stumbles upon the dead body of a wealthy man in a suite. This leads to the unraveling of other nefarious goings-on. Molly is on the spectrum, so her interactions with people tend to skew on the awkward side. We know Ambrose from Six Feet Under and a recent revival of My Fair Lady, but for me at least, she really disappeared into the characters, who also include the dead man's socialite wife and the hunk of a hotel bartender. Ambrose doesn't have a lengthy CV in audiobooks, but I'm now inclined to follow her anywhere.
Photo: Publisher
Read by: The author
Length: 11 hours, 40 minutes
Speed I listened: 2x
It's my opinion that you can never have too much Logan Roy. Cox's memoir unravels a little bit, as if Hannibal Lecter (whom Cox played in 1986's Manhunter) were a Shakespearean actor. Every once in a while, Cox is just about to stick the knife into a colleague, but before he stabs, he puts the knife back in its sheath. Steven Seagal and Johnny Depp don't get off so easy. I especially enjoyed Cox laughing occasionally at his own jokes and his disparagement of Gary Oldman and Darkest Hour, mostly because it eclipsed his own Churchill biopic in 2017.
Photo: Publisher
Read by: Edoardo Ballerini
Length: 4 hours, 53 minutes
Speed I listened: 1.7x
I picked this up on a whim, in part because I love a short audiobook to add to my annual Goodreads challenge. I was gripped from the first five minutes. That's in part due to (a) the slightly off-kilter homoerotic subtext, i.e., poor man runs into rich college-film-class buddy at the airport, who regales him with a story he's "never told anyone else"; (b) the milieu of the Los Angeles art-gallery scene, in which much of the book takes place, including dinner at Mr. Chow Beverly Hills; and (c) Ballerini's intense and occasionally unnerving embodiment of these two fellows yakking it up in the airport lounge. At times, it reminded me (in a good way) of David Cale's Ripley-esque monologue Harry Clarke, which starred Billy Crudup and lives on as a spectacular audio recording thanks to Audible.
Photo: Publisher
Read by: The author and Shiromi Arserio
Length: 15 hours, 24 minutes
Speed I listened: 2.2x
I think I know what Hawley, the creator of Fargo and Legion on FX, is trying to do in this novel, his sixth, but it's chock-full of so many contemporary issues that sometimes I got lost in my own malaise. COVID-19, Jeffrey Epstein, human trafficking, the sham of politics, climate change, opioid addiction, ALS, and teen suicide (lots of that last one) all fit into the plot in some way or other. That said, I had a hard time turning Anthem off, less so because of Arserio's respectable narration (though I did want to know how these characters all ended up) and more for the strange, interstitial semi-autobiographical tirades read by Hawley himself. They're quite effective, creepy Hitchcockian meta interludes, if that's a thing.
Photo: Publisher
Read by: The author, Ted Danson, and a handful of other actor voices you may recognize.
Length: 9 hours, 42 minutes
Speed I listened: 1.9x
Schur is another showrunner struggling with what it means to be a person in 2022. He writes that while researching The Good Place, he became super-interested in the division between good and bad, right and wrong. He uses thinkers throughout history along with the voice of self-proclaimed "national treasure" Ted Danson to explore a variety of complicated nuances of theoretical and real-life situations. The book doesn't really start cooking with gas until Schur tells a story that involves his wife, Hurricane Katrina, and a damaged car bumper. To deal with the multitude of footnotes, the audiobook employs a chime to designate the beginning and end of each footnote. I thought that was pretty perfect. Also perfect: Schur's lovely pronunciation of "Sartre."
Photo: Publisher
Read by: Tashi Thomas
Length: 4 hours, 27 minutes
Speed I listened: 1.5x
I saw this book everywhere at the beginning of January, so I decided to give it a spin. The "we" perspective immediately gave me vibes of The Virgin Suicides, which of course I love. There are many protagonists, so Thomas essentially reads as a collective of "brown girls" from a neighborhood in Queens, many of whom go in opposite directions from each other. There's something so rippling about the language that it often feels like you're listening to poetry; having it spoken to you is a potentially optimal preference. That said, sometimes the stories and words fly by in an ephemeral instant, so you might want to read it, too.
Photo: Publisher
Read by: Eva Kaminsky
Length: 10 hours, 29 minutes
Speed I listened: 1.65x
The main thread of this thriller, set in 1999, is the murder of a stripper. It's told from various points of view, including a tenacious dancer from the club who goes by Gigi, the detectives on the case, and even the murderer. This is the kind of production that usually benefits from a few different readers, but Kaminsky's compelling narration never lost me. I kept my ears peeled until the gripping denouement. An interview following the audio between Kaminsky and Rutkoski (who previously wrote YA) gives particularly chilling insight into the genesis of the story.
Photo: Publisher
Read by: The author
Length: 7 hours
Speed I listened: 1.5x
Every once in a while, I stumble on a self-help book that really helps me, and I want to share it with everyone I know. (I'm nice that way.) I'm sure I'm not alone in my anxiety about getting things done, whether that thing is paying my overdue Amex bill or working on the novel I haven't looked at in 24 months. Dore and her bright Australian twang assuaged some of my guilt. The advice is not revolutionary here. "Shrug and get on with it" is one of Dore's suggestions. But anyone who uses the word "fecund" to describe how we'd like our days to be (i.e., more productive) and then tells me to "embrace the higgledy-piggledy" is definitely a keeper.
Photo: Publisher
Read by: The author
Length: 6 hours, 47 minutes
Speed I listened: 1.5x
My brother turned me on to Kids Baking Championship during lockdown, which renewed my curiosity about Bertinelli. As a judge, she's always bumping up against the fact that the young contestants know she loves anything lemon-flavored. Her narration is endearing from the get-go in this new memoir, which covers her love of cooking, her struggles with her weight, and the 2020 death of her ex-husband Eddie Van Halen, with whom she remained quite close. She speaks really fast, so it's hard to listen to this memoir speedily. That might have helped me ignore some of the book's repetitive moments. But the Hot in Cleveland star had me at the giggle after she announces, "written and read by me, Valerie Bertinelli," only seconded by her use of the term "wackadoodle."