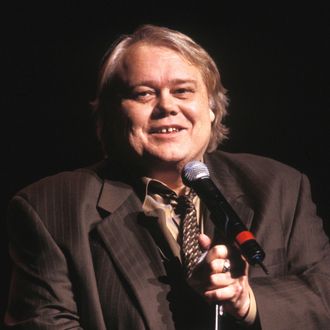 Photo: John Atashian/Getty Images
Comedian, actor, writer, and game-show host Louie Anderson has died at the age of 68, according to Deadline. He was diagnosed with diffuse large B-cell lymphoma and was getting treated in a Las Vegas Hospital. The day before the news broke, comedian Pauly Shore shared on Twitter that he had visited the comedian to say goodbye: "I say this with a heavy heart just left the hospital in Las Vegas where Louie Anderson his sisters and close friend were kind enough to let me say my goodbyes he's still with us but keep him in your prayers."
Anderson, a Minnesota native, began his television-comedy career in 1984 when he made his TV stand-up debut on the Tonight Show Starring Johnny Carson. The set was emblematic of Anderson's stand-up sensibility, with jokes about his weight, his family, and growing up in the Midwest. The set kickstarted his career, which led to numerous late-night appearances and stand-up specials, most recently Big Underwear in 2018. In 1994, Anderson created and starred in the animated series, Life With Louie, a fictionalized version of his childhood in the Midwest. The show won him two Emmy awards. He is the only three-time recipient of the Humanitas Prizes for writing on a children's animated series.
Anderson last spoke with Vulture in September 2021 about how 9/11 changed the way comedians approached their work, and he referenced his mother — the inspiration behind his Baskets character — in his response. "I didn't even know what I was going to say to the audience when I walked out on reopening night, but it came to me. I'm a descendant of people pleasers, caregivers, and comforters. I used my mom's adage: 'Be nice to people, Louie. You never know what kind of day they've had before they've seen you.' … I was funny that night but much more thoughtful and comforting to the people who ventured out like I did, and I was also very comforted by them. We have to keep moving, one foot in front of the other, somehow believing things would be better and we would be all right."
FX, the network behind Baskets, released a statement following the news of Anderson's death. It reads:
"We are so deeply saddened by the passing of our dear friend, Louie Anderson. For four wonderful seasons, Louie graced us and fans of Baskets with a bravura performance as Christine Baskets, for which he deservedly was recognized by his peers with the Emmy Award for Outstanding Supporting Actor in a Comedy Series. It was a risky role for him and he embraced it with a fearlessness and joy that demonstrated his brilliance as an artist. He truly cared about his craft and was a true professional in every sense. Our hearts go out to his loved ones and his Baskets family — Zach Galifianakis, Jonathan Krisel and Martha Kelly and all the cast and crew. He will be missed by us all but never forgotten and always bring a smile to our faces."
On Twitter, legions of fans, admirers, collaborators, mentees, colleagues, and friends are paying their respects to Anderson in the best way they know how: by sharing funny anecdotes, moments, clips, and passages of the late comedian's work. Henry Winkler, Michael McKean, Gilbert Gottfried, and more have joined in paying tribute.