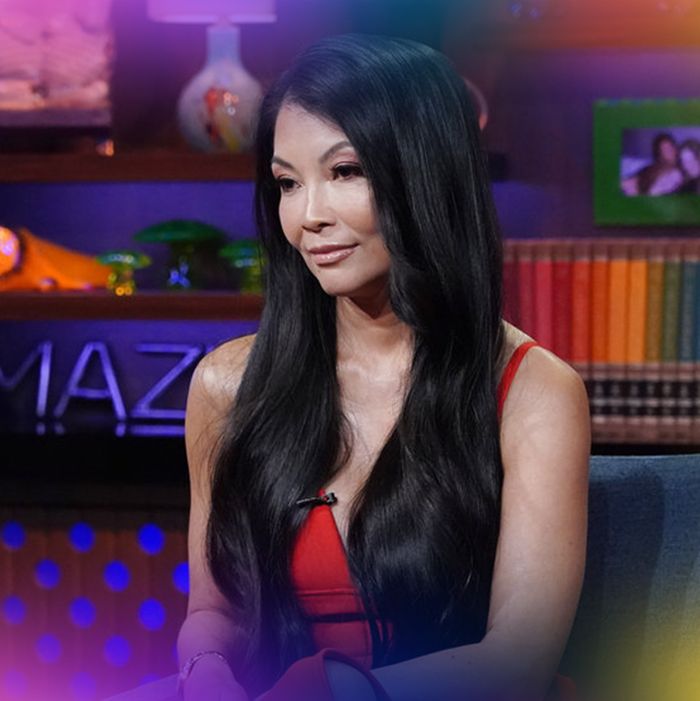 Photo-Illustration: Vulture; Photo: Bravo
The Real Housewives of New Jersey returns February 1, which means the new season taglines are out just like Colton Underwood post fence jump. Shall we kick off this week's Bulletin by grading them all? We shall!
Melissa: "Some people are great, and some are born Jersey." So if you're born in Jersey, you're not great? This makes no sense. F




Dolores: "I don't start the drama, but I will stop the show." She's promising to be so bad, so bland, so boring that she's going to get the show canceled? D




Margaret: "I say, 'When you have nothing to hide, there's nothing to lose.'" Why do you have to tell us what you're saying? You're literally saying it. Just cut the preamble. C–




Jackie: "You don't have to pay me a compliment, but you do have to pay me respect." Bland but effective. B–




Jennifer: "My nose may be new, but I can still smell a rat." She annoys me to no end, but this is why she is excellent at her job. A




Teresa: "I have a new king, but I'm still the queen of New Jersey." Only queen of New Jersey? Not queen of the world? Why limit yourself, Tre? B+
And when the dark lord opens a window to New Jersey, he also closes the door of Something About Her [Farts]. Ironically, Ariana and Katie's sandwich shop also never opened, so can that door be closed? Yes, in this week's Bulletin, we'll be looking at the Vanderpump Rules reunion and why we shouldn't try to diagnose our favorite reality-show personages. But first, the Jennie Nguyen–dominated news.
Not all the news, but all the news you actually care about.
BRAVO CAN'T NGUYEN: This week, a quick burst of drama finished as quickly as Craig Conover the first time he was with Paige DeSorbo: Bravo fired newest RHOSLC Jennie Nguyen. According to a post on the network's social-media channels, she's ceased filming on the third season of the show, which is already underway, and will no longer be a cast member.
The Housewives Institute Secretary of Diversity Training Rebecca Alter went into full detail about the scandal, but here are the basics: On January 19, a Reddit User posted a bunch of screengrabs of racist memes and comments that Jennie had reposted to her Facebook account in 2020, mostly during the BLM protests that swept the nation. Many of the posts had derogatory misinformation about George Floyd, and one was a political cartoon of an old woman standing next to a minivan with a dozen stick figures on the back window that reads, "No, that's not my family, that's how many rioters I've hit." Fans also dug up an old TikTok video of her decrying Asian American discrimination, which hits quite different given what was on Facebook. Because of the timing, Jennie won't be addressing this on the upcoming RHOSLC reunion, which was filmed in early January, but we may see it discussed early in the show's third season.
Jennie deleted the posts and quickly apologized, but the entire cast unfollowed her on social media and posted statements decrying her behavior. Even RHOP's Candiace Dillard spoke out, and if Candiace is talking trash on your social-media presence, then you know you are busted. Jen Shah, as always, took it a step further, calling Jennie's apology "disingenuous." Jen also said she was infuriated by Jennie liking and reposting things on Facebook when, during season two, she was claiming that there was nothing wrong with her liking and reposting things that spoke poorly of Meredith Marks's son, Brooks. I have a feeling Jen completely missed the irony. However, Jen reportedly got in trouble with Bravo for her statement.
On Wednesday, Jennie went on Instagram Live to tell everyone that she didn't post those things to Facebook, her social-media team did. Yes, this is the same excuse Jen gave to Meredith about why she was mean to Brooks. And yes, this is still the "dog ate my homework" of reality-TV-personality apologies. She also said she is a "proud Republican."
"I don't tolerate violence, but I do support my law enforcement. I know with every profession, there's good and there's bad. I don't support the bad. I don't support the brutality with Black people or with any race," she said on camera. "But I do support my law enforcement, but that doesn't make me racist. To support my political stance, that does not make me a racist. I want you to understand that." To prove her point, she had her friend Michael join her on camera. Michael is a gay Black man who says he explained BLM to Jennie and she is not racist at all. Well, Michael, we'll have to take your word for it because [gestures at all the social-media posts].
When Bravo issued its own statement, it pledged to do better about making casting decisions. They already do background checks on new women, though — do those background checks not include going over their social media for this kind of content? It's not like these were made decades before she was hired; they must have been months old when she was being considered for the show. How far back did they scroll? Were they just blinded by pictures of Jennie's adorable daughter, Karlyn? Or what's worse, maybe they did a social-media check, found this stuff, and didn't care. Maybe Bravo deserves an equal helping of the blame.
It's clear that Bravo did the right thing firing Jennie, but should we consider this a policy change for the network? Would Mary Cosby, who likened Jen Shah to a "Mexican thug" and talked about Jennie's "slanted eyes," have been asked back for a third season? Ramona Singer still has a job even after she allegedly made racist statements against Eboni K. Williams on set. (In the wake of Jennie's firing, "Ramona" started trending on Twitter, which shows where fans' minds are.) Bravo hasn't announced if it will work again with Heather Chase, who used the N-word on the season of Below Deck that is wrapping up Monday. RHOD's Kameron Westcott and Brandi Redmond weren't immediately fired for racist incidents involving Dr. Tiffany Moon, but they did get the entire show canceled, so at least that's something.
It's nice that Bravo is moving more quickly and decisively with this case, but is it going to behave the same way when the case is less definitive or involves one of their bigger stars? (Um, hi, Ramona!) I sure hope so, but to be honest, I'm skeptical.
OH, BROTHER: It's hard to discuss much else in the Bravo-sphere when you have Jennie sucking up all the oxygen (and just generally sucking), but the other big gossip this week was which Real Housewife would be on Celebrity Big Brother, the third season of which will air this February against the Olympics. Considering Brandi Glanville (say her name three times and she shall appear) was on the first season of the CBS reality show and Kandi Burruss was on the second, a Housewife in the house seems almost as inevitable as Andy Cohen getting COVID for a third time.
Earlier this week, Twitter account @InsiderCBB posted a prospective cast list that included NeNe Leakes, and I can't even count the grains of salt needed before considering this was actually going to happen. (The list has been almost entirely disproven, which is a shame because NeNe and Tiffany "New York" Pollard in the same house would have been reality magic.) Then many Twitter users speculated Cynthia Bailey might also be joining for the drama of it all. NeNe responded to a post claiming she would be on the show saying, "Y'all must know something I don't. This is news to me."
Erika Jayne was another hot topic of conversation, but Andy doused that particular fire, saying on his radio show that she would be filming RHOBH when CBB would be filming. Then "a source" told The Sun that Teddi Mellencamp was in the running to be on the show. I believe that source was Teddi Mellencamp because no one else in the world wants this to happen.
Finally, on Wednesday, CBS confirmed the final roster, and both Cynthia and Teddi are on it. Really? We couldn't do better than that? Is Karen Huger busy?
IT'S ALL DEUX DEUX: While we're on the subject of casting rumors, this is just a reminder that, while it is fun to talk about, all of the ones I have ever seen on Deux Moi, including the most recent ones about RHONY, have turned out to be false. Same goes for every rumor about Kris Jenner joining RHOBH, which will never happen as long as the Kardashians have their deal with Hulu.
HOUSEWIVES INSTITUTE SOCIETY PAGES
• The Institute's Finance Committee will be reviewing Paul "P.K." Kemsley's credit score following him paying off his $2.27 gambling debt to the Bellagio hotel.
• Kyle Richards is officially no longer a landlord since she and her husband sold their Bel-Air house, home of the original White Party, for $6.1 million. I hope they didn't have to evict Sutton Stracke.
• Melissa Gorga and her stand-up comedian husband, Joe, are building a new house in New Jersey. I can't figure out why. It looks just the same as the old one, which means the house looks like the entire village where Belle lives in Beauty and the Beast.
• For those who don't have enough Housewives content, the Institute is happy to report that Discovery+ just added the U.K.'s Real Housewives of Cheshire, South Africa's Real Housewives of Johannesburg, and Australia's remarkable Real Housewives of Melbourne. Tell Gina Liano I sent you.
• Bravo dropped the tailer for Kandi & the Gang, which is basically Vanderpump Rules at OLG, and it looks better than the restaurant's shrimp and grits. Porsha wishes she could give spinoff like this.
• The RHOM reunion looks are here and everyone looks much better than the RHOSLC reunion, but that is a bar lower than Jax Taylor's IQ.
• If you like funny but mean (and if you're here, you definitely do), check out this tweet by @RyanBailey25.
Don't
Play
a
Doctor
on
TV
A gentle reminder of the dangers of diagnosing our favorite reality stooges.
After the recent premiere of Summer House, in which drunk Kyle Cooke and Amanda Batula screamed at each other like someone was trying to kick them out of a bottomless brunch, many of the commenters rushed below the recap to declare that Kyle is an alcoholic. "I can say without a shadow of a doubt that Kyle is a (barely) functioning alcoholic," wrote one commenter (who I will not put on blast because I love all of you and all of your opinions even if I disagree with them).
There were many who echoed this statement and others who disagreed with it, but the consensus would have Kyle sent to the Betty Ford clinic faster than he can polish off a bag of chips balanced on his belly during a brownout. But it's not just Kyle who gets fans talking like this. During this season of RHOBH, some fans have said Erika Jayne is a "sociopath" or a "psychopath," and I've seen countless of our favorite ladies slapped with the DSM-5 for everything from narcissism to borderline personality disorder to Higgs-Boson Syndrome (which I just made up so I could give it to Vicki Gunvalson).
I try to stay away from these specific diagnoses — well, aside from narcissism, which I think anyone who even auditions on a reality show has a healthy dose of even if it isn't necessarily the malignant kind. Is Kyle's drinking problematic? Yes, since we have seen problems arise from it, particularly with regards to his relationship. Same goes for his castmate Carl Radke, who got in trouble for showing up to work events plastered and making a mockery of Loverboy, a brand with a long history of uptight stoicism. (That was sarcasm.) We've seen plenty of other Bravolebs whose drinking has been a problem, from Luann de Lesseps getting arrested to Sonja Morgan exposing her hoo-hah to Dorinda Medley turning into a martini-soaked rage beast. Oh, wait, that's just the RHONY crew. But you get what I'm saying. In all of these instances, drinking has led to problems. Some people have found solace in sobriety, like Carl and Luann, whereas the rest keep chugging away.
When we look into these people's lives, we often forget that we're only seeing a snippet, an edited and manufactured product that is trying to make them look bad for our enjoyment. So, yes, we see moments where drinking leads to problems, but we can't really know how pervasive or pathological those problems are. Are Kyle and Amanda fighting about his drunkenness once a week or just the one time a season we see it? We can extrapolate a lot from what we see, but thinking about what we don't see might offer just as many clues.
The American Psychiatric Society has the "Goldwater Rule," which prohibits diagnosing public figures without their consent or evaluating them in person first. (Those caveats may explain why we've seen so many damn shrinks on our favorite programs.) I think that is a wise rule for all of us to stick to. Yes, reality stars are here for us to pick apart, and that is the fun of it, but I think we should focus on the behavior instead of the identity. Was Kyle behaving badly? Yes! Especially if Amanda thinks he was. But is he an alcoholic? I don't think that's for us to say. We have plenty of trash to talk about all of the Bravolebs without indulging our inner armchair psychologist. Candiace has done more than her share of behaving badly on RHOP, and I think she should be held accountable for all of it. But does that mean we should say she has an undiagnosed mental disorder? No. She might just be a person who is working through her trauma. Or it might not be pathological at all. She might just be a bad person. And thank God for bad people because there would be no great reality TV without them.
The
James
Kennedy
Assassination
Recapping Parts I and II of the Vanderpump Rules reunion.
Here I was, ready to write a postmortem on Vanderpump Rules. I was ready to say that the show had worn out its welcome. That it's become boring and overly produced and that we didn't get any interesting drama the whole season. I came here today ready to declare that not only did I not want to recap the show anymore, I didn't want to watch it at all. Yes, even if my corporate overlords at Vox / New York Magazine / Vulture / General Mills / PricewaterhouseCoopers were going to pay me, I was done with the show.
And I still might be, but this reunion showed there's at least enough in the Pump Rules tank for a two-part reunion. Most of it, however, has to do with what happened since the cameras stopped rolling, so we finally got to see James and Raquel talk about their breakup and Lala discuss ending her relationship to a hunk of sloughed skin cells named either Russell or Randall, depending on who you're asking.
We don't even get to say hi to Raquel and her mint-green Ren Faire beer-wench costume before she and James are sharing with Andy and the whole crew the news that they're breaking up. Based on the reactions, it seems they really didn't tell anyone about this, which is odd since they had at least enough of a conversation about it to initially decide to play booed up for the reunion and then quietly announce the breakup after it aired. So why not tell Tom and Ariana when they were at Disneyland together?
The rawness and emotional intensity is real, though, about the only real thing we've seen this season. Raquel tells us they hadn't been having regular sex in years, ever since he rage-texted her in season eight. "That wasn't even this season!" Andy blurts out, as if that is how all these people measure time and emotions. Once the season is over, the fight must be closed and new offenses entered into the register.
They say it was a mutual decision and neither of them felt like each other's soul mate anymore, though, let's be honest, it seems like this was really Raquel's decision and James is being dragged along like the one gay friend at a bachelorette party who has to sit front row at Magic Mike Live. I was riveted listening to him talk about how he thought quitting drinking would fix everything and it didn't, that he still has anger issues, and that their relationship still suffered. So many in recovery find out the drinking wasn't the problem, just a symptom of the larger problem, which sobriety clears them up to address.
They also address the problems with Raquel's family, who never liked James and everything else that made the relationship difficult, but there was nothing as fraught, nothing as awful and amazing to behold, as Raquel giving James his ring back on TV. "Do you want it back now?" she asks in her signature sputtering sheepishness. He responds, "Sure," and all of our hearts broke and all of our reliefs were sighed. A million bullets were dodged that day, but it doesn't mean a few of them didn't graze the pair.
I also loved Andy saying the editors would put in a montage of all the red flags Lala missed about Randall and then that package being delivered. Unlike watching James and Raquel, two hurt koala bears trying to climb out of a reality-TV landfill, it was almost a bit of joy to see Lala get her comeuppance, to witness them all saying they knew about Randall but wouldn't tell her because she would cuss them out whenever they brought his name up. It was nice watching her realize that what he was doing to her was just what he had done with her, that she helped make this bed and then lay in it.
It doesn't seem as if Lala has learned anything, though. I think she still sees herself as victimized by Randall. I'm not saying what he did was right, but she always painted them out to be so perfect, so great. She held her relationship above all the others, and like so many heroines in Greek tragedy (she was named after Agamemnon's daughter Lala, who invented contouring) her crime was hubris, but it doesn't seem like her tragic fall, or her part in it, has really sunk in yet.
Elsewhere in the reunion, there was the same petty squabbling — about Tom and Tom's working relationship, about Brock and Scheana trying to plan a wedding at someone else's engagement party, about Brock and his child support, about Charli and, I don't know, enchiladas or something — but the real reason to tune in was to watch people dealing with real heartache, with real trauma, in real time, and to do it in such a public manner.
But there's one other moment that proved to me that Vanderpump Rules hasn't learned any lessons. Andy asks Lisa when she learned that Tom and Tom were going to start a bar on their own. She says that right after Jax Taylor was fired, he got a bit of revenge by telling Lisa the Toms were venturing out without her. That's crazy! It's also interesting and true. But instead we got that whole fake scene in the first episode of the season where Schwartz and Sandoval tell her about it and she pretends she's surprised. So, wait, that scene was fake? (Again, note the sarcasm.) Lisa invented that boring-ass scene when she could have confronted them about it and told them she knew because Jax threw them under the bus? That is the problem with this whole season: It tries to paper over what is good and real with Lisa's idea of what it should look like. So, yeah, I don't think I'm tuning in next year, but the reunion gave me second thoughts.
Check out the back of this ensemble on Whitney Rose. It's like a bordello lampshade that grew into a bedspread that was made into a dress in a RuPaul's Drag Race challenge.
Real Housewives of Salt Lake City, Season 2, Episode 17: Lisa and Jen are mauling each other like two toddlers in a rusted McDonald's PlayPlace fighting over the last lick of a dried-up container of sweet-and-sour sauce.
Real Housewives of Salt Lake City, Season 2, Episode 18: Heather, Whitney, and Jen hide under the covers with nothing but a water pitcher, a straw fedora, and six ounces of Sugar Babies as protection.
Summer House, Season 6, Episode 1: If they agreed he could stay out, Amanda needs to be secure enough in their relationship to know Kyle isn't going to cheat on her with the disembodied ghost of one of those Wirkus twins, who you know still haunts Montauk waiting for the day she, too, will get to be a beautiful influencer like Paige.
Summer House, Season 6, Episode 2: Amanda stays home to burp and fart on the sofa with Paige, who thankfully identified herself as a Willy Wonka grandparent who never gets out of bed because if she didn't, I was going to have to do it for her.
Real Housewives of Miami, Season 4, Episode 7: Wishing for an unrealistic outcome won't work when there is a scarcity of space. It's like trying to fit a 12-foot dildo in a … well, you get the idea.
Real Housewives of Orange County, Season 16, Episode 7: Before they can even get to Cabo, Gina has to come over to Heather's abandoned department store of a house and ask her if she will invite Noella on the trip.
Below Deck, Season 9, Episode 12: Fraser tells Heather and Kaylee about how he recently squirted one of the bathroom's bidets right in his face while trying to fix it. He goes on to use the words foof, pudenda, and fish purse to describe the sort of body part he couldn't imagine putting on a bidet.
Below Deck, Season 9, Episode 13: [Heather] proceeds to declare that the vibes are off in the boat. Her solution? Having Eddie dress as Alexander Hamilton to surprise the guests who are big fans of the musical Hamilton. Still! In 2021!
Dean's
List
for
Best
Comment
of
the
Week
Highlighting the best insight from our lovely Institute members. This one is from a recent RHOM recap. 
MDMHAEF: Someone should point out to the original cast that they were so entertaining when the show was originally on THAT IT GOT CANCELLED FOR NINE YEARS. So their idea that they are driving viewers and the new cast should just be grateful to be in their presence is delusional.
"Either get your head out of your ass or I will eat your ass." — Captain Lee