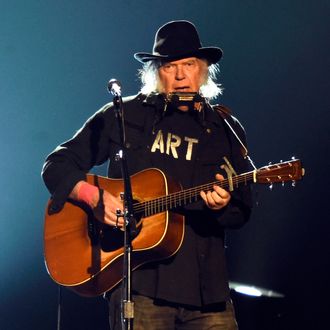 Photo: Frazer Harrison/Getty Images
Update, Friday January 28 at 7:10 p.m.: Joe Rogan isn't the only reason Neil Young "felt better" about no longer having his music on Spotify. In a new letter posted to his website, Young claimed that Spotify sells "downgraded music" at 5% of its original quality. He encouraged listeners to switch to streaming services like Amazon, Apple Music, and Qobuz, which he said fully preserve music and sound "a lot better than the shitty degraded and neutered sound of Spotify." Variety reported earlier this month that plans for Spotify HiFi, which would have provided higher quality audio, have been delayed indefinitely. "If you support Spotify, you are destroying an art form," Young wrote. "Business over art."
He closed his letter by clarifying that he supports free speech and is against censorship. "Private companies have the right to choose what they profit from, just as I can choose not to have my music support a platform that disseminates harmful information," Young wrote. "I am happy and proud to stand in solidarity with the front line health care workers who risk their lives every day to help others. As an unexpected bonus, I sound better everywhere else."
Update, Thursday January 27 at 9:31 a.m.: Just like in "Powderfinger," the trigger has been pulled. Neil Young's music is no longer on Spotify. Young confirmed this with a new letter posted to his website, "in the name of truth." "I realized I could not continue to support SPOTIFY's life threatening misinformation to the music loving public," Young wrote on the Neil Young Archives Times Contrarian. He went on to thank Warner Bros. and Reprise Records for supporting him in removing his music from Spotify, while noting the service represented 60 percent of his total streaming income. Young also posted a separate letter additionally thanking Hipgnosis Song Fund, which owns 50 percent of his publishing rights, along with Universal Music. Meanwhile, a Spotify spokesperson told the Hollywood Reporter they "regret Neil's decision." "We want all the world's music and audio content to be available to Spotify users," Spotify said. "With that comes great responsibility in balancing both safety for listeners and freedom for creators." Young, for his part, concluded his first new letter by calling on other musicians to stand against Spotify "and stop supporting SPOTIFY's deadly misinformation about COVID."
Update, January 26 at 4:25 p.m.: My my, hey hey, it looks like Neil Young's discography is not going to stay on Spotify. The Wall Street Journal reported that Spotify is working to remove Young's music from the service, after conversations with Young and his label, Warner Records. The label made a formal request to Spotify on January 26, per the paper, which should take effect within hours. But hey hey, my my, at least we still have the archives!
Original story follows.
Neil Young has requested that his music be taken off of Spotify, Rolling Stone reports. "I am doing this because Spotify is spreading fake information about vaccines — potentially causing death to those who believe the disinformation being spread by them," he explained in a since-deleted letter. Earlier this month, 270 medical professionals wrote an open letter asking Spotify to take action against misinformation about COVID-19 vaccines spread by Joe Rogan's podcast The Joe Rogan Experience, which is the platform's top podcast.
Young addressed his message to his management team and record label. "I want you to let Spotify know immediately TODAY that I want all my music off their platform," he said. "They can have Rogan or Young. Not both." The legendary musician is no stranger to removing his work in order to make a statement. Back in 2015, he temporarily took his music off several streaming services, including Spotify, because the sound quality didn't meet his standards. So it's definitely possible his discography could disappear from the platform again. Good thing Young has already made an archive of every song he's ever recorded.