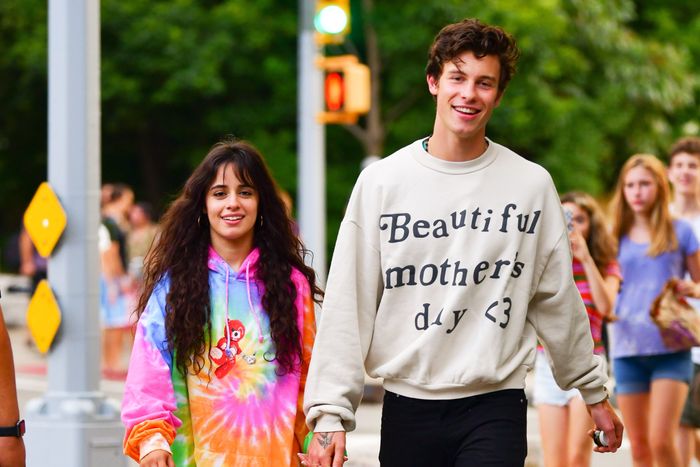 Photo: James Devaney/GC Images
It's been months since Shawn Mendes announced he'd no longer be calling Camila Cabello his "Señorita" in carefully worded, matching Instagram Story messages. "Our love for one another as humans is stronger than ever ❤️," they wrote November 17. The messages marked the end of a two-plus-year saga — steamy awards-show performances, empty-mug-wielding pap walks, multiple lovestruck albums, and even a quarantine dog — with little public friction ahead of the announcement.
But maybe it's time to "Wonder" what's really been going on between the performers. Mendes and Cabello might be wondering themselves after being spotted together in Cabello's hometown of Miami last week, which doubled as the spot for their couples' quarantine. Since then, Mendes has revisited their split, releasing the brooding music video for his (perceived) breakup song "It'll Be Okay" on Thursday. So what happened — and what's happening now? Shamila have been, uh, giving a few clues. Let's put together what we know.
The gossip
Before we go too deep, let's get the reports straight. A Cabello source told E! Online hours after the breakup news that Mendes had been the one who "initiated" the conversation because things were "getting stale and complacent" between the pair. Cabello, per that source, was "very upset about the split" but "agreed" it was the right call. That report lined up with what a source relayed to People that the relationship "just fizzled."
Another source told the magazine days later that things started to change as the world opened up again. During lockdown, "they both seemed very happy and looked like they enjoyed having a break from working," which we can indeed check against those early-pandemic pap-walk photos. Now, the source added, "they have careers that are taking them in different directions." But before you think that's a veiled way to say Mendes wasn't too big on Cinderella, let's check Us Weekly. Things went a bit deeper, according the magazine: "The attention became overwhelming, and it did irritate them, Shawn in particular, to keep getting grilled on how serious they were and whether or not they were going to get engaged," a source said. Still, that source added that the pair "still have a ton of love and respect for each other" and framed the split as more of "a break." The source continued, "They're not saying never, just not now."
Fast forward to 2022. TMZ spotted a Mendes-Cabello reunion on January 6 when the two were out walking their dog, Tarzan, in Miami. The outlet reported that Mendes spent the day before at the beach and that the former couple was "all smiles" together with Tarzan, who still lives with Cabello post-breakup (more on that below). For more on the reunion, we have to go to Hollywood Life — not the most reputable authority on these matters, but we take what we can get! A Mendes source told the outlet he was in the city to spend time with friends but wanted to be sure to reconnect with Cabello. "When they met up in Miami, they had a lot to talk about," the source said. "The conclusion that they came to is that they still do love each other. They just don't know what to do with that now." The source went on to emphasize that the split has been difficult for Mendes, who "thought that being without her would be easier than it is." "Being without Camila for these past couple of weeks has been hard and seeing her again brought it all back," the source continued. "They are not sure where the road from here will take them, but Shawn has said to his family and friends that he doesn't think that he will find another woman like her."
The social media
You don't need to look far for evidence Cabello has been taking things hard, too. The star cleansed her Instagram with a post-breakup photo dump on November 19 followed by a dressed-up photo shoot on November 20. She's been spending a lot of time in nature too. And, crucially, she's been enjoying time with her animals. Judging from Tarzan's Instagram account, Cabello seems to have primary custody of the dog at the moment. On Thanksgiving, Tarzan's account said, "Happy Gratitude daY i am Gratitude when I Play and Eat Mommy's Food" — with no mention of Mendes, who hasn't appeared on the account since August. And on November 28, Tarzan wrote that Cabello "GiVes gooD pETS and I lOve to Cuddle Wifh Her." We're not going so far to say Tarzan is picking sides … but we're not not, either. Also on November 28, Tarzan posted that Cabello had been eating chocolate (and not giving him any), a time-tested post-breakup coping mechanism.
Mendes, for his part, has stayed much more quiet on social media save for a few beachy posts. Oh, and three days after the breakup announcement, he tweeted a red heart. On December 31, he told fans in an Instagram video that he's been "having a little bit of a hard time with social media"; Cabello had announced her own "lil social media detox" in an Instagram Story on December 26.
The music
Mendes made up for his social-media quietude with his music. The singer-songwriter released a new song just two weeks after the split announcement, on December 1 — and yes, it was a breakup song. We don't know if "It'll Be Okay" was recorded before, during, or after Mendes's breakup with Cabello, but the song's lyrics are pretty unequivocal. The song seems to open mid-breakup with Mendes asking, "Are we gonna make it?" Yet the chorus pushes back on the reports that Mendes prompted the split: "If you tell me you're leaving, I'll make it easy," he sings. One thing the song confirms, at least from Mendes's perspective, is that he doesn't hold ill feelings toward Cabello. "I will love you either way," he declares in the chorus and again in the bridge. On January 13, he debuted a brooding music video for the track, featuring him looking moody in his snowy hometown of Toronto — a possible embrace of his independence after his time in sunny Miami.
But that may not be the only musical document of the breakup we have. Let's go back to a few weeks before the split when Cabello performed an unreleased song off her upcoming album, Familia, called "La Buena Vida," at her NPR Tiny Desk Concert. The Spanish title translates to "The Good Life," but the rest of the lyrics sound a bit angrier. Take the pre-chorus and chorus:
And I thought we'd be traveling the world

Together making love in the afternoon

But I'm forgetting what it's like to wake up next to you

And this is what I go through




You should be here, should be with me tonight

Said you're working, you're working all the time

Why am I all alone with your glass of wine?

Oh no, oh no, this is not the life
Remember the People source who said work was getting in the way of Cabello and Mendes's relationship? That detail may have actually been right under our noses for a whole month! As with "It'll Be Okay," it's unclear when Cabello recorded her Tiny Desk Concert, never mind when she wrote "La Buena Vida," but we know Mendes and Cabello had been having problems throughout the pandemic. And Cabello's message sounds even more direct than Mendes's. "I don't wanna be the one making plans all the time," she sings. "Asking you what's on your mind / I know I'm not on your mind." Tell us how you really feel! (And we'll read so far into it.)