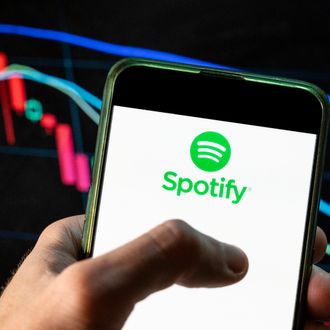 Photo: SOPA Images/LightRocket via Gett
Update, Sunday January 30 at 8:54 p.m.: Joe Rogan took to Instagram to squint into his cellphone and address the controversy his podcast has caused. He said he agrees with Spotify's decision to label episode with COVID discussed. "I've never tried to do anything with the podcast, other than just talk to people and have interesting conversations," he said. Rogan said he took umbrage at the word "misinformation" because he feels much of what is now considered established fact was previously labeled as misinformation. He identified talking about breakthrough COVID cases, the relative inefficacy of cloth masks, and the possibility that COVID was created in a lab as topics that could have gotten one deplatformed. "Eight months ago, if you said 'if you get vaccinate, you could still catch COVID and you could still spread COVID, you would be removed from social media," Rogan said from social media. Breakthrough cases were identified and tracked by the CDC for the entirety of 2021. Cloth masks were always known to be less effective than higher filtration masks, but government messaging has recently urged higher filtration. And the lab-leak theory remains deeply controversial but not verboten to speak of.
Rogan said he is sorry that Joni Mitchell and Neil Young felt the need to leave Spotify. He loves Neil Young and isn't mad at him. As for Mitchell, he said he loved "Chuck E's in Love," misattributing it to Mitchell in the video but correctly attributing the song to Ricky Lee Jones in the IG caption.
Original story follows.
In response to the growing protest against Spotify's platforming of Joe Rogan, Spotify announced on Sunday that content advisories will be added to "any podcast episode that includes a discussion about COVID-19." Per Spotify's statement, the advisory will "direct listeners to our dedicated COVID-19 Hub," which will provide resources and information from "scientists, physicians, academics, and public-health authorities." The statement adds that the advisories will take effect "in the coming days." In addition to the new advisories, Spotify announced that it will publish its longstanding platform rules and "raise awareness around what's acceptable and help creators understand their accountability."
The announcement follows Neil Young and Joni Mitchell's exit from the platform last week in protest against Joe Rogan's podcast, The Joe Rogan Experience, which has spread misinformation about COVID-19 vaccines throughout the pandemic. "I want you to let Spotify know immediately TODAY that I want all my music off their platform," Young wrote. "They can have Rogan or Young. Not both." Since Young and Mitchell's exit, author Brené Brown has announced that she will stop releasing podcasts on Spotify "until further notice," and Meghan Markle and Prince Harry, who signed an exclusive podcast deal with Spotify in December of 2020, "expressed [their] concerns to Spotify" in a statement on Sunday.