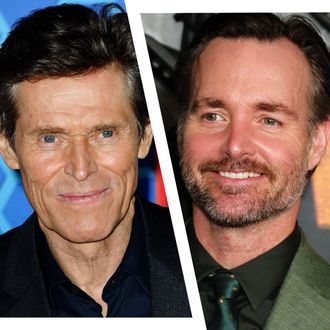 Willem Dafoe and Will Forte.
Photo: Getty Images
Update: Tuesday, January 18, at 5:06 p.m.: Saturday Night Live is entering the Spider-verse on January 29 with Willem Dafoe as guest host. Katy Perry will appear as the episode's musical guest, hopefully bringing her Vegas-residency props with her. That giant toilet is a sketch in itself.
Original story follows.
Saturday Night Live alum Will Forte is set to host SNL next week, on the heels of the MacGruber TV show's December premiere on Peacock. Forte, who left the cast back in 2010 after eight years on the show, will make his hosting debut on January 22. No doubt we should expect cameos from some of Forte's classic 2000s sketch characters — maybe the Falconer and definitely the aforementioned MacGruber. SNL also announced that musical guest Måneskin, the winner of the 2021 Eurovision Song Contest, will bring their Italian glam-rock spirit to Studio 8H next week — which should make for some interesting promos. SNL returned on Saturday, January 15, with its first episode of 2022, hosted by West Side Story star Ariana DeBose.