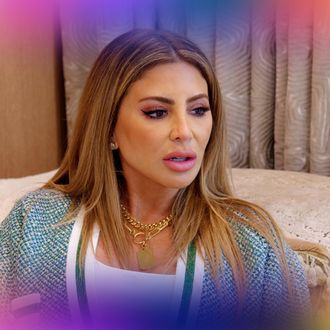 Last week, our dark lord and Bravo mascot-in-chief Andy Cohen was given a star on the Hollywood Walk of Fame, and on his son's third birthday, of all days. Little Ben was there, along with Andy's parents and only two (2) of the Real Housewives: Lisa Rinna and Garcelle Beauvais. Considering their responsibility for Andy's rise to fame, shouldn't there have been more in attendance? Shouldn't they have the star? Can't we get Bethenny Frankel up in that piece? Where is her star? Or what about the sound guy who caught Countess Luann talking about screwing a pirate in French? Or all the drivers of all the Sprinter vans that all the women have gotten into physical altercations in? Where is their recognition? Hmmm, Andy? Stop hogging the spotlight.
This week's newsletter has enough love to go around, though. Between the crazy drama unfolding on RHOBH's recent trip, Larsa Pippen's OnlyFans, and ranking the most recent cast of Below Deck, there is really a lot to cover. Give me my fucking star already. Jeez, Louise!
Not all the news, but all the news you actually care about.
DIAMONDS ARE FOREVER: We've had some classic trips on Housewives — Scary Island, Boat Ride From Hell, the Ireland Bus Trip, "You Beast" in Amsterdam — and it looks like we might have another one from the RHOBH cast's recent trip to Aspen. (The choice must chap Ramona Singer's ass, since she's been unsuccessfully trying to lobby RHONY to go there for years so she can show off all her fancy friends in town.)
The drama centered on — who else? — Erika Jayne, who has a lot going on right now. She was dismissed from a fraud-and-embezzlement lawsuit against her former husband Tom Girardi in Chicago, which is clearly a victory, but attorneys for the plaintiffs say they're refiling the lawsuit in California to avoid jurisdiction issues. She's also in the middle of a controversy over a pair of $750,000 earrings that the bankruptcy trustee says were purchased with client money Girardi used illegally. Jayne said she was unaware of where the money came from and gave the earrings to a third party for safekeeping while an investigation could be completed, but that didn't stop co-star Garcelle Beauvais and her co-hosts on The Real from saying she should give them back. Garcelle also said on her show that she recently unfollowed Erika on Instagram because Erika said something to offend her and she no longer wanted to see her posts.
This is the atmosphere going into the trip, and thanks to a tipster who overheard the cast in an Aspen coffee shop, we know a lot more about what went down on the trip. The gist is that there was a huge fight among the cast over the earrings and Erika told Dorit Kemsley that some on the cast were speculating that her recent robbery was fake. Erika, Dorit, and newbie Diana Jenkins left the house they were all staying at to spend the night in a hotel by themselves. Apparently, the women were talking about how much Erika has been drinking lately and were concerned, but didn't know how to handle her.
Usually I would be like, "This is some random Twitter. Don't believe it," but several gossip reports seem to back up the scoop. A source from production not only confirmed to People that Erika and Dorit left the house, but also said that the next night at dinner, things got so bad for Erika that Lisa Rinna escorted her away from the pile-on.
While this was going on, Kathy Hilton was living in a horror movie of her own. She posted a since-deleted comment on husband Rick Hilton's Instagram saying, "Please call me I need to get out of here now!!!!!" That's five exclamation points. Instagram makes you pay extra for anything past three. On an Instagram Live interview hosted by E!, Kathy explained she lost her phone and only had her iPad and this was the best way to get ahold of her husband, and it had nothing to do with what was happening with the women. This is Kathy Hilton we're talking about here, so it's daffy enough to be true, but I guess we'll all know in about six months when we finally get to see what seems to be shaping up to be a killer season.
GET UP, STAND OFF: Former RHOC one-season wonder Elizabeth Vargas (you know, the one from last season who grew up in a cult) had a terrifying ordeal recently when her ex-boyfriend barricaded her in her Newport Beach home and threatened to kill her. Vargas had called the police to report the ex, Ryan Geraghty, for extortion. (This is not her ex, Jimmy, whom we saw on the show and that she never slept with.) As she was on the phone, he showed up with a gun and locked her inside the house. According to a video TMZ acquired of the standoff, he told her, "I'm taking you out, then everyone else."
Eventually, the SWAT team showed up, got Elizabeth out, and then arrested Ryan and charged him with extortion, a bunch of gun charges, and possession of a controlled substance. He'll face 75 years in prison if convicted. Man, I told you she should have gotten another season.
NOT HORSING AROUND: Former competitive water-skier Lisa Vanderpump was rushed to the hospital at the end of January with a broken leg after being bucked off her horse. According to TMZ, she flew over the horse's head and landed flat on her back. She broke her leg in four places and had to have surgery to repair it. She updated fans on her health via Instagram and said she'd be "back in the saddle of life soon."
It doesn't sound like she'll be back in the actual saddle, though, somewhere we've seen her at least once a season on Vanderpump Rules. Her husband Ken Todd, the immortal vampire once known as Jack the Ripper, said she'll probably never ride again and that she'll be laid up in bed for six to eight weeks. Get well soon, Lisa. But don't feel like you need to rush back to work. I think we could all use a break from Pump Rules.
PROS AND CONWOMEN: I don't care what you say, the real star of this season of RHOC is Nicole James, the Grifter Without a Face. Her January 19 appearance on the show is apparently her last since she stopped filming the season halfway through under mysterious circumstances. Some speculated after her lawsuit against Terry Dubrow came to light, Heather and Terry had her axed from the cast. Now I have something even wilder to report: Website AllAboutTRH figured out that Nicole not only sued Terry in the past, but was also engaged to Jim Bellino!! Yes, the trampoline-park magnate (and I use the term loosely) once married to Alexis "Jesus Jugs" Bellino. In 2018 when Jim and Alexis were getting divorced, RadarOnline posted pictures of him with a "mystery blonde" in Las Vegas, who is clearly Nicole. She also posted about their engagement to her Instagram, though the marriage apparently didn't happen. I gotta say, I have nothing but respect for a woman who has worked so damn hard to get on the show. She's like the female Slade Smiley.
HOUSEWIVES INSTITUTE SOCIAL PAGES: 
• I apologize to Institute members for totally missing that Dolores Catania has a new man. Of course he is hot; he's on RHONJ.
• A fond farewell to Mary M. Cosby, who will not be back to RHOSLC, officially.
• Please break out the whomp-whomp machine for Teddi Mellencamp, the first person voted out of Celebrity Big Brother. Seems like the Houseguests liked her as much as the Housewives fans.
• Everyone feel bad for NeNe Leakes, who did not get the $4 million she was asking for her house, but instead got $2.6 million. She still made $500,000 on it, which is way bigger than the checks most of us got during the pandemmy.
• If we needed any more proof that Teresa Giudice is dumber than a lasagna made out of merkins, she is not getting a prenup when she marries Luis Ruelas. I hope he enjoys owning half of whatever ugly house she buys next.
• The LOL IRL tweet of the week goes to @RamonasLeftEye.
Reviewing the best Bravo-themed OnlyFans Accounts
This season on RHOM, the only story line that Larsa Pippen has stems from her use of OnlyFans as an income stream. Some think it's cool. Some think it's gross. Marysol thinks it's cool to say that Dr. Nicole thought it was gross and told everyone that Larsa is a "hooker." Dr. Nicole thought it was gross, but then she looked at it and decided that it was cool and now she thinks Marysol is gross for saying she thought Larsa was gross. Larsa just sits at the end of the table yawning and telling everyone how much she makes for pictures of her feet. With all of this going on, I thought I would check out not just Larsa's OnlyFans account, but all of the Bravo-themed OFs that I could find. (Note: All of the links in this article are technically SFW, but I wouldn't go clicking on them in church or anything.)
Larsa's page, as Nicole told us, is quite tasteful. As someone whose OnlyFans content is primarily from the Salty Boys (a gay Florida couple who fucks on their fishing boat), I would say that it's a little bit boring. However, unlike many accounts, it's free to subscribe and get Larsa in your feed.
"Come to my OnlyFans for an exclusive look at me modeling some of my favorite swimsuits, dresses, and jewelry designs I'm most passionate about," she says at the top of her page. "Stay for me opening up about my love life, my business, and what it's like being chased by the world's richest, most athletic and handsome men and still not finding that connection I've been looking for." Well, there are certainly pictures of her in swimsuits, lots of selfies, and even her Harper's Bazaar Vietnam cover, but she's only posted 60 images and hasn't updated her main page since September 2021.
There's no boobs and certainly no below-the-belt action, and some of the images you have to pay to unlock. I paid $5 for a picture of Larsa in profile standing against the wall in a black lacy lingerie set and a pair of heels. Her ass was well worth the $5. I paid another $12 for a picture of her "getting ready for a bath." I thought, Finally, some nipples. No, my money (which Vulture will be getting an expense report for) went to a photo of her standing in a tub holding a towel that obscures everything you'd see in a Playboy centerfold.
Instead of posting, Larsa sends private messages. In one day, I got three. The first was a message saying, "Good morning, babe. I have a full day of meetings, what do u have going on today?" Attached was a filtered selfie of her pouting and playing with her ponytail. Later, I got a message to purchase an eight-second video for $20 with the message, "Missing you babe [kiss emoji]," and later a $20 photo that said, "Preparing for my Valentine's Day Shoot." I imagined it was a photo of her in athleisure sitting at her kitchen table cutting out construction-paper hearts.
While Larsa's strategy is to lure you in for free and then charge you $20 to see things you hope will be interesting but are ultimately disappointing, Sonja Tremont Morgan of the Vivid Video and Sex Toy Emporium Morgans has a different tactic. For her page, she charges $4.99 a month and posts, if not every day, then very, very regularly. The most recent photos include a blurry "exclusive look" at a magazine-cover shoot, a picture of her in a cocktail dress in her garden with a watermark for Orange Juice & Biscuits at the bottom, and a selfie that is really a one-second video that you know Sonja took with the phone on the video setting and then was like, "Oh, fuck it, I'll post it anyway." It is all very PG, but the two comments on the selfie video are someone saying, "How can I see more of you?" and someone else saying, "Thinking of those lips around my cock," so I wouldn't say it's exactly wholesome.
Her OF is the most wonderfully shambolic thing you could possibly imagine, which makes it the most accurate manifestation of Sonja Morgan on the internet. My favorite part is that on January 11 she posted, "Another #exclusive look from Lady Gaga's after party in 2014," and the photo still has the Getty Images watermark on it. Sonja! How exclusive is this? You didn't even pay for it! The kicker is that on December 23, she posted another photo from the same party with the same watermark. Oh, Sonja, you will always be my favorite floozy.
Some Googling showed that Dorinda Medley had an OF at one point, but it has since been disabled. I thought for a minute Jax Taylor had an OF, but it's really a British woman named Taylor Jax. There is a "Latin Pervy Prince" named Pablo Bravo, which seems more my speed but is $14.99 a month, and I don't think Vulture will let me expense that one. Oh, and don't forget about my OnlyFans. I think you're going to love it.
Stewing
in
Their
Own
Juices
Ranking the cast of Below Deck season nine.
It was a topsy-turvy season for Below Deck, which started off with the annoying but watchable Captain Sean in Captain Lee's stead, another new chief stew, a bisexual three-way among the cast, a stew who quit out of nowhere, and a controversy over the N-word that lasted the second half of the season. Now that it's wrapped up (and Below Deck: Sailing Yacht picks up February 21), let's take a look at who on the crew shined and who sank to the bottom of the Caribbean. Here is a ranking of the season-nine cast from best to worst.
Fraser: Maybe it's because I love a gay on the interior (bring back Josiah, you cowards!), or maybe it's because I sympathize with falling in love with a flirty straight guy, but this trained butler won the season for me. Handsome, competent, and just the right amount of bitchy, I wouldn't mind if he returned next season in a more senior position (or at least a sexual position with Jake).
Jake: The aforementioned flirty straight boy maybe shouldn't have been getting so intimate with his direct reports, but otherwise Jake was always the fizz in the Champagne glass, or, more appropriately, the foam on the top of a pint. Not afraid to get his bum out in a thong, jump in a hotel fountain, or make out with his best mate, he was the fun kind of drama.
Rachel: She had an excellent redemption arc this season, keeping the spiciness from last year without any of the craziness. Good food, good jokes, and just enough crass humor to make the galley a delightful place.
Wes: Wes's biggest crime was being a little too good at his job, a little too boring, and a little too aloof. Hot, though!
Rayna: A very divisive character this season, so I'm putting her right in the middle. She did come off as insolent, eye-rolling, and not always willing to pull her weight, but why should she want to pay attention to the superiors who didn't defend her or take her feelings seriously during the N-word incident?
Capt. Lee: The Captain's "I'm madder than a fleet of ants eating an ice cream cone in a dumpster on a hot August day" management style didn't have the nuance or the oversight that was needed to handle the situation between Rayna and Heather until it was far too late. But what do I know, I've always been a Capt. Sandy stan. (Don't @ me.)
Jessica: Boring, whiny, and lazy. Next!
Eddie: The new first mate not only seemed to poorly manage his crew, who were always slacking off, but drastically mismanaged poor Rayna and didn't take her concerns about Heather saying the N-word seriously enough. He admitted as much at the reunion, but that brought out even more of his inept behavior. I typically enjoy Eddie, but he bungled this situation worse than a bungee jumper with a wedgie, as Capt. Lee would say. The show seems to be fostering a Kate/Lee dynamic with the first mate and the captain. I wonder if he'll be back for another year after this.
Heather: Yes, she used a racial slur and no one should ever do that under any circumstances, period, even if you apologize for it on your knees. I think she would have landed on the bottom anyway for being a completely inept manager who was in over her head all season and couldn't figure out how to utilize the staff under her. Bye, Heather. Say hi to Francesca on your way out.
The real villain of this season of RHONJ is this purple-tinted phony-tail Margaret Josephs wore in the premiere
Real Housewives of Salt Lake City, Season 2, Episode 19: I cannot believe I'm going to bat for Lisa fucking Barlow, but as a proud adult candy-head and Taco Bell potato-product enthusiast, I will not tolerate this slander.
Real Housewives of Salt Lake City, Season 2, Episode 20: WAIT A SECOND, are those real tears?! To think this entire season, all Lisa needed to do to get those ducts flowing was take off her shirt and say "whore" three times in the mirror! A revelation!
Summer House, Season 6, Episode 3: Maybe Kristin Cavallari was in a love hexagon with Austen, Craig, the Property Brother who isn't with Zooey Deschanel, and whoever wins the next season of The Challenge. Who can say?
Summer House, Season 6, Episode 4: It's your girlfriend's birthday. You always have to get her something. Even if she says, "I don't want any gifts this year," you have to get her something. A dinner out. A little piece of jewelry. A Walgreens gift card. The only unacceptable thing to get her is nothing.
Real Housewives of New Jersey, Season 12 Premiere: Luis was made to be a reality-TV villain. He's basically an Ed Hardy T-shirt with a clenched jaw, bad credit, and a few loose rhinestones.
Real Housewives of New Jersey, Season 12, Episode 2: Teresa is still as baffled as she was the first time she saw an episode of Blue's Clues. ("Yeah, I get it. He's blue, but he's not a clue. He's a dog. Why are they calling him a clue?")
Real Housewives of Orange County, Season 16, Episode 8: Our journey with Noella, a hummingbird that ran into a mirror and became a demon, starts where we left off at dinner in Mexico.
Real Housewives of Miami, Season 4, Episode 9: Lisa's giving us nothing. She is not giving us sass, she is not giving us outfits, she is not giving us voice of reason, she is giving us nothing but heavy-lidded staring at the camera and some light whining.
Below Deck, Season 9 Finale: Before they've even left the dock, I'm already dreaming of a season ten with Fraser as chief stew and Jake as lead deckhand (or even bosun!).
Dean's
List
for
Best
Comment
of
the
Week
Highlighting the best insight from our lovely Institute members.
This one is from a recent Summer House recap.
hair: Danielle and Robert are the couple we want, Kyle and Amanda are the couple we deserve. 

 

Mya is the cool girl we want, Paige is the one we deserve. 




Carl is the single bro we want, jersey protein powder is the one we deserve. 




Lindsay is the chaotic single we want, Luke is the one we deserve. 




Ciara and Andreas defy categorization by being other worldly good looking with chaotic neutral personalities. 




Craig and Austen defy categorization because they are gaslighting misogynists who shouldn't even be on this show. We hate them. Not hate watch them. Hate them.



"I'm richer than all of you. I don't even need to be here." — Lisa Barlow