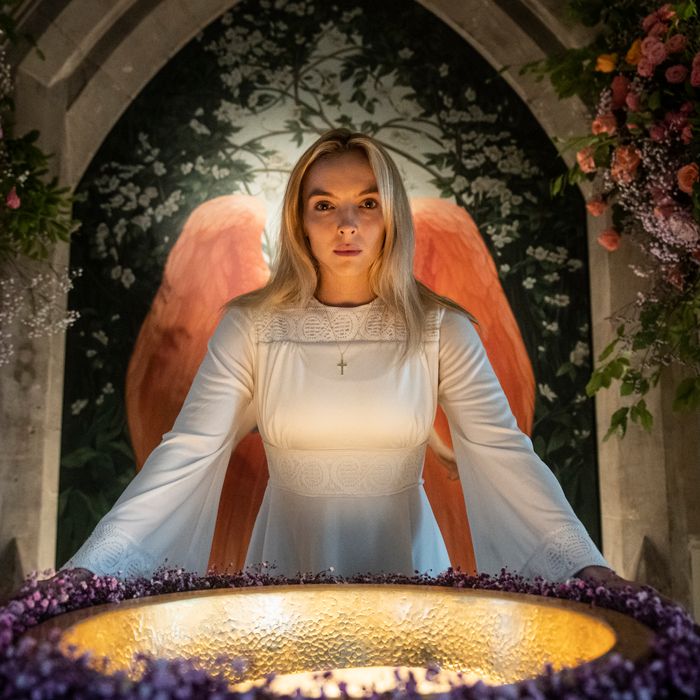 Photo: Courtesy of AMC Killing Eve
Since the first season aired in 2018, we've been obsessed with Killing Eve. Like, really obsessed — maybe a little too much, seeing as it's a show about a psychopathic assassin who loves killing people almost as much as she loves designer clothes. (Who would've guessed we'd ever be rooting for a villain who strangles a woman with a garden hose?) The Killing Eve pilot alone was like nothing ever seen on television before, thanks to the dazzling costumes, the world-spanning locales (conveyed in luscious candy-colored block fonts), the performances, the sharp writing, and the narrative twists and glorious about-faces that subverted our expectations at every turn. The twisted, passionate relationship between assassin Villanelle and former MI5 agent Eve made them one of the most fascinating couples in television history and paralleled our own obsessive feelings about the show.
Four years later, the series will begin its final season this Feb. 27. In honor of that occasion, we're taking a step back to reflect on Killing Eve's legacy and celebrate the end of an era — an especially stylish, thrilling, and vivacious era. Here, we'll break down some of our favorite costumes, moments, and plot twists from the first three seasons. At the end, we'll also share some tantalizing predictions for what we think the final season might have in store.
An Ode to: The Characters
Killing Eve's roster of iconic, idiosyncratic characters is unmatched — and, as weird as it sounds, we kind of want to be best friends with all of them. What other show on television would feature a globe-trotting assassin with a knack for deadpan humor and the fashion sense of a Milan socialite? Where else would a Russian crime boss struggle to connect with his hilariously precocious daughter, or an MI5 agent with a penchant for turtlenecks end up in a twisted, sultry romance with a serial killer? The hyper-specificities of each Killing Eve character's personality (Villanelle: hates influencers, loves ice cream) makes them lifelike and oh-so lovable. And the characters wouldn't be so pitch-perfect without the performances of the actors playing them, including award-winning greats like Sandra Oh and Jodie Comer, who bring Eve and Villanelle to life with loving detail.
An Ode to: The Eve and Villanelle Relationship
Don't even get us started on the twisted cat and mouse game that is Eve and Villanelle's relationship, because we could talk about it for hours. It's the beating heart of the series, at once nefarious and romantic, sultry and terrifying. Their relationship blossoms from intelligence agent and criminal into an intimate partnership — and at the end of season three, we see that they might even join forces next season. However, the relationship is never fully defined: Just when you think they're finally going to get together, one of them will back away, and when you think one might genuinely kill the other, they'll drop the knife instead. That will-they-won't-they energy drives some of our most obsessive feelings about the show — honestly, we're yearning for them to just drop everything and run away together. In case that doesn't happen, we've put together a fabulous breakup playlist for Eve to listen to as Villanelle breaks her heart one last time…or maybe it'll be the other way 'round.
An Ode to: The Costumes
Simply put: There's no better-styled villain on TV than Villanelle. She's a fashion legend and we have definitely tried to replicate some of her hairstyles in front of the mirror without success. Her outfits have been an integral part of the show from the second episode of season one, when she wore a jaw-dropping baby pink tulle dress that subsequently broke the internet. From a season two buttery green leather jacket to the black suit she wears in her season three wedding, her looks throughout the show are always bold, theatrical, and confident, just like Villanelle herself. What's even more impressive than the clothes themselves, though, is the way that her costumes give us an insight into her mental state — and, sometimes, the plot twists to come. For example, take the blood red pantsuit that she wears in the season two finale to confront Eve. That scene ends with (spoiler alert!) Villanelle shooting Eve in a moment of twisted passion, a shocking move slyly foreshadowed by the pantsuit's morbid color and asymmetrical, off-kilter hem. In Killing Eve, the costumes tell the story as well as the writing does.
An Ode to: The Shocking Kills
It wouldn't be a tribute to Killing Eve without taking a moment to mourn the characters we've lost along the way — and the, um, artistic ways they were killed off. Villanelle has a thing for an ultra-fabulous murder, and she loves to show off her kills in theatrical fashion. Take the season three murder where she dressed as a gardener to strangle a woman with a hose, or the scene in the pilot where she kills a man via a poison needle to the eye. She's so skilled that she doesn't even need to physically touch a person to murder them — in the second episode of season one, she kills a woman with just a whiff of noxious perfume! One of the most shocking murders was in season two, when she dressed in an outlandish pig mask and dirndl and murdered her victim in a shop window, in full view of the Amsterdam street outside. (All in order to get Eve's attention, of course.) The true genius of the show is how we still end up loving Villanelle after witnessing the violence she's capable of. Some of these scenes literally gave us nightmares (the pig mask is truly haunting), but we still have a soft spot for our dramatic assassin.
An Ode to: The Plot Twists
The impeccable writing on the show combines moments of laugh-out-loud comedy with gasp-inducing plot twists and everything in between. (Major spoilers to follow, obviously!) The first twist that made us gasp so loud it scared our roommates was when Villanelle killed Eve's MI5 colleague Bill in the middle of a crowded nightclub in season one. Since then, there have been countless plot twists — from double agent reveals (ahem, Frank) to more heartbreaking deaths, like that of Carolyn's son Kenny in season three or Villanelle's gruesome murder of Niko's girlfriend in season two. The winding twists and turns keep us coming back for more; we never know where the show might go next, or what emotions it'll bring out in us. We gasped at Bill's death, cried when Kenny died, celebrated when Villanelle vanquished her unfriendly mentor Dasha. We'd love for things to settle down a little for our favorite characters in season four…but we know that probably won't happen.
An Ode to: The Theories
Speaking of which, Killing Eve has always been a show perfect for obsessive fan theorizing, and there's no better time than ahead of the final season. When season three ended, Eve and Villanelle had begun to walk away from each other on Tower Bridge in London, but at the last minute both turned around. What will season four bring for their relationship? Will they run back toward each other on that bridge and start working together? (Villanelle has made it clear that she's intent on bringing down The Twelve, the shadowy organization she's worked as a hired assassin for.) Or will they split up again, playing the passionate cat and mouse game that we're so used to? And, what will Carolyn and MI6 be up to? From the trailer, it appears that Carolyn is investigating someone who's been killing members of The Twelve, and we'd bet those murders might be Eve and Villanelle's handiwork. Our prediction is that this season will explore Eve and Villanelle working together to take down the mysterious group. (For the record, we are very here for Eve and Villanelle finally teaming up!) By the end of the season, we think The Twelve will be no more and…honestly, we think Eve and Villanelle sadly might be no more, too. It feels too good to be true that our two protagonists will finally make things work in the end. But here's hoping — we're definitely rooting for them!
Either way, we'll be spending this final season of Killing Eve celebrating its place in television history — and we'll miss it (and Eve, and Villanelle) endlessly when it's gone. The first two episodes of the final season will be available to watch on AMC+ on Sunday, Feb. 27.
This advertising content was produced in collaboration between Vox Creative and our sponsor, without involvement from Vox Media editorial staff.