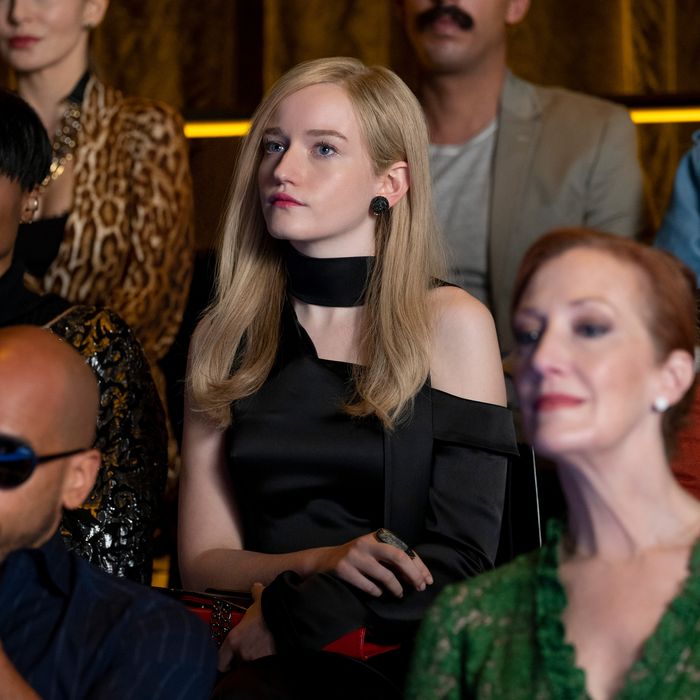 Julia Garner as Anna Delvery in
Inventing Anna
.
Photo: David Giesbrecht/Netflix
You'll make it nowhere in America unless you're running a scheme, at least according to every other show airing now through spring. Perhaps catching up to collective disillusionment in the promises of capitalism — especially those shilled by start-ups in Silicon Valley — TV and streaming networks are putting out competing series based on real-life people who talked their way into the wallets of the powerful … and eventually got caught. From real-estate empires to sham blood-testing apparatuses, which scheme is which, who got the furthest, who was sued, and who was running the scummiest scam? We're here to help.
.

WeCrashed
Premiering: March 18 on AppleTV+
The scum: Adam and Rebekah Neumann, played by Jared Leto and Anne Hathaway 
Their crap: Taking advantage of cheap postrecession real-estate prices, Neumann embarked on a grand mission to revolutionize office culture as we once knew it by leasing co-working spaces with his company WeWork and sugarcoating them with millennial branding (boundless amenities like fitness classes, unlimited alcohol, and all the … works). His wife and co-founder, Rebekah, a onetime aspiring actor who controversially said in 2018 a woman's calling is to support her man, pioneered many of its more outlandish ventures, including WeGrow, a school for kids 2 to 12. Riding high on big talk and big spending, WeWork's valuation rose to $47 billion in 2019. It became the biggest private office tenant in Manhattan.
His legal status: As it expanded quickly, WeWork developed a reputation for having a party culture, especially at its big company summer camps. In 2018, a former employee sued claiming she was sexually assaulted at company events and was fired in retaliation. WeWork responded by blaming her poor performance; the case is ongoing. To assuage negative press, the company promised changes to its culture and to end the free alcohol. Stories of Neumann's mismanagement grew in 2019 as the company prepared for an IPO. WeWork's board forced him out in September 2019 after postponing the IPO, with the company's valuation now cut by $40 billion. Rebekah Neumann left in September, and the WeGrow school announced plans to close. As of early 2022, Adam Neumann is back to investing in real estate, adding 4,000 rental apartments in southern cities including Atlanta, Nashville, and Fort Lauderdale to his portfolio.
.

Super Pumped
Premiering: February 27 on Showtime
The scum: Travis Kalanick, played by Joseph Gordon-Levitt
His crap: A co-founder of Uber in 2009, Kalanick served as the ride-share start-up's aggressive, bro-y CEO as it rose to a $66 billion valuation in 2016. Uber's list of scandals under his leadership is long and public: Kalanick infamously called the company "Boober" for making him seem sexually appealing. There were accusations that an executive suggested spreading personal information of reporters critical of the company in 2014 and that employees spied on the locations of famous users like Beyoncé in 2016. In February 2017, Kalanick was caught on-camera yelling at a driver who complained to him about the difficulty of making a living on Uber's pay. Meanwhile, Kalanick had already made enemies of local transportation authorities and regulators by offering rates lower than traditional cab fare (made possible by underpaying drivers).
His legal status: In February 2017, former Uber engineer Susan Fowler alleged a culture of sexism and harassment at the company, leading to an investigation by a former U.S. attorney general. Reports followed that senior employees, including Kalanick, visited an escort bar in Seoul (the company acknowledged an HR complaint about this) and that one executive, Eric Alexander, cast doubt upon a victim who accused an Uber driver of rape (he was fired). Kalanick took a leave of absence after his mother's death in May, then resigned that June. Benchmark, an Uber investor, sued Kalanick, claiming he had misled it about the state of the company, but the case was dropped in 2018. He retained a seat on Uber's board of directors until 2019, when he also sold his stock for an estimated valuation of more than $2.5 billion. In 2018, he started a venture-capital fund with plans to invest in China and India and, in 2018, got involved in a company operating "cloud kitchens" for delivery orders.
.

Joe vs. Carole
Premiering: March 3 on Peacock
The scum: Joe Exotic, played by John Cameron Mitchell
His crap: Exotic, a zookeeper nicknamed the "Tiger King" — and the subject of a Netflix series of the same name that dominated the early part of pandemic quarantine conversation — hired men to kill his longtime enemy, Big Cat Rescue founder Carole Baskin. Baskin and Exotic had been in a decadelong feud that began when she advocated for ending his traveling tiger shows, and it escalated when he retaliated by accusing her of murdering her second husband, Don Lewis, a charge she has repeatedly denied. Exotic ran his G.W. Zoo with a certain level of madness, embarking on breeding projects to raise moneymaking baby tigers, lions, and ligers and feeding animals expired meat, and he and his employees were frequently injured by the animals.
The legal status: Exotic was convicted in 2019 of 17 federal charges of wildlife crimes and two counts of murder for hire for the plot to kill Baskin. He began the appeals process in 2020, after the success of Tiger King, and has said he'll file a motion for a new trial. In January 2022, his sentence was reduced by one year.
.

Inventing Anna
Premiered: February 11 on Netflix
The scammer: Anna Sorokin, a.k.a. Delvey, played by Julia Garner
Her scheme: Sorokin, claiming to be a socialite with a trust fund tied up in Europe, convinced New York's elite to foot her bills in the guise of developing a club she called the Anna Delvey Foundation, bouncing checks and faking wire transfers along the way.
Her legal status: Sorokin was convicted of theft of services and stealing more than $200,000 in April 2019 and sentenced to four-to-12 years in prison. She was released on parole for good behavior in February 2021 — and used the reported $320,000 earned from her Netflix deal to pay restitution — but was taken into custody by ICE six weeks later for overstaying her visa.
.

The Dropout
Premiering: March 3 on Hulu
The scammer: Elizabeth Holmes, played by Amanda Seyfried
Her scheme: In 2003, when she was a 19-year-old student at Stanford, Holmes founded Theranos, a company she swore would revolutionize the medical industry by running tests using only a few drops of blood. She quit school the following year. By 2013, she announced Theranos' partnership with Walgreens; in 2014, she was named the youngest self-made woman billionaire worth an estimated $4.5 billion. The smoking gun: Her tests never consistently worked, and she hid that truth from nearly everyone.
Her legal status: Theranos was subject to an October 2015 Wall Street Journal investigation that revealed it was running tests primarily with traditional methods. From there, the house of cards collapsed. In March 2016, federal regulators threatened to shut down Theranos's California lab over health and safety concerns the company failed to address. Sunny Balwani — later revealed to be Holmes's romantic partner — stepped down as president and COO in May; soon after, Theranos voided two years of its blood-test results. By June, Holmes's estimated net worth was revised to $0. In 2018, the SEC charged Holmes and Balwani with massive fraud worth $700 million. She stepped down as CEO before being indicted on criminal wire-fraud charges. In January 2022, she was found guilty of four of 11 charges, including conspiracy to defraud investors. She faces up to 20 years in prison. Balwani heads to trial in March.