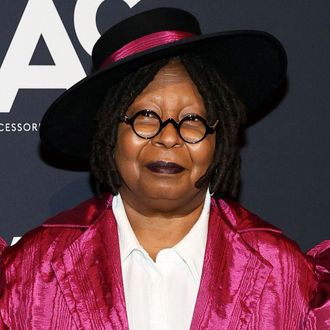 Whoopi Goldberg
Photo: Jamie McCarthy/Getty Images
Update: Monday, February 14, at 12:30 p.m.: Whoopi Goldberg has returned to The View after a two-week-long suspension over her controversial Holocaust-related comments. On Monday's episode, she thanked those who reached out during her leave of absence. "I listened to everything everybody had to say, and I was very grateful, and I hope it keeps all the important conversations happening," Goldberg said. She did not directly address her suspension or additional apology on The Late Show With Stephen Colbert.
Update: Wednesday, February 2, at 12:00 a.m.: Goldberg has been suspended from The View for two weeks, according to The Hollywood Reporter. Kim Godwin, ABC News president, made a statement to staff members on the decision to suspend Goldberg. "Effective immediately, I am suspending Whoopi Goldberg for two weeks for her wrong and hurtful comments," Godwin wrote Tuesday night. "While Whoopi has apologized, I've asked her to take time to reflect and learn about the impact of her comments. The entire ABC News organization stands in solidarity with our Jewish colleagues, friends, family and communities."
Guest host Ana Navarro-Cárdenas retweeted Goldberg's apology while the other co-hosts have not responded to the comments online, granted they are rarely active on social media. Former guest host Bari Weiss tweeted, "The whitewashing of the Jewish people and Jewish history continues apace," in response to Goldberg's comments. Meghan McCain, former co-host, made a statement to Twitter that she was "heartbroken about what was said." McCain tweeted, "I hate commenting on my old employer because I have moved in every way a person can move on. That being said I am an activist against antisemitism and it is a big part of my life." Another former co-host, Star Jones, quote-tweeted a tweet from the Auschwitz Memorial Museum with, "Thank you for your continuing work. Blessings #NeverForget #NeverAgain" but did not mention Goldberg.
Original story follows.
"Let's be truthful about it because the Holocaust isn't about race," Whoopi Goldberg remarked on Monday's episode of The View, adding that the Holocaust was instead about "man's inhumanity to man." Goldberg made her comments during a roundtable discussion of a Tennessee curriculum ban on the graphic novel Maus. Cartoonist Art Spiegelman created the Pulitzer-winning novel as a dialogue between himself and his father, an Auschwitz survivor. The View co-hosts Joy Behar, Ana Navarro, and Sara Haines countered Goldberg's remarks by asserting that the Nazis had considered Jewish people to be members of a different race. Jonathan Greenblatt — the CEO of the Anti-Defamation League — condemned Goldberg's initial comments in a Monday-afternoon tweet. "No @WhoopiGoldberg, the #Holocaust was about the Nazi's systematic annihilation of the Jewish people — who they deemed to be an inferior race," he wrote. "Holocaust distortion is dangerous."
Goldberg quoted Greenblatt's tweet in a Twitter apology posted on Monday night. "The Jewish people around the world have always had my support and that will never waiver. I'm sorry for the hurt I caused," she wrote.
Tuesday morning's episode of The View opened with Goldberg apologizing again for her statements. "Yesterday on our show, I misspoke," she said. "I said something that I feel a responsibility for not leaving unexamined because my words upset so many people, which was never my intention. I understand why now, and for that, I am deeply, deeply grateful because the information I got was really helpful, and it helped me understand some different things." But in a pretaped segment between Goldberg's first Monday-night Tweet and her Tuesday on-air apology, she appeared on The Late Show With Stephen Colbert and discussed her comments during a seven-minute segment. She seemingly doubled down on her claims when she said she didn't want to "fake apologize" but said she wasn't trying to offend. Colbert explained why her comments were still offensive and not accurate, until Goldberg ended the segment by saying, "I'll take your word for it and never bring it up again."
If Goldberg is asked to leave the show over her comments and her varied apologies, which "Page Six" reports is behind-the-scenes chatter at ABC, she would join a long list of dramatic departures from The View, including those of Rosie O'Donnell and Debbie Matenopoulos. The hashtag #firewhoopi is trending on social media.