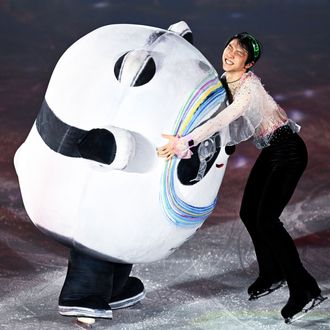 Bing Dwen Dwen and Yuzuru Hanyu.
Photo: NBC Sports
The Olympics have now earned their second pandemic gold medal, against the advice of many protesting the games this year. Despite the rising Omicron variant and the lack of IRL coverage, 109 events are taking place this year, more than any other winter season. After beginning the season on a slippery slope (literally, a camera was caught sliding down the ski slope), the Winter Olympics have returned to Beijing from February 4 to February 20 for their first stint with snowy games.
Where there are numerous competitions happening in the early mornings, there are roundups to accompany them. From Johnny Weir's Hunger Games–esque outfits to the Jamaica bobsled team's return, the highs are as glamorous and cinematic as they can get in a global pandemic. There are also the lows of another sports competition during a variant spike, which makes rooting for your favorite snowboarder (or rainbow panda) not feel quite right. Regardless of how you feel, the Winter Olympics have slid into our TVs like a rogue camera, lost on a mountain in China.
This post will be updated as the Olympics continue.
LOW: Finnish cross-country skier endures a different kind of blue balls
Finnish skier Remi Lindholm needed a heat pack after enduring an intense chill in the 50-kilometer mass-start skiing race for about an hour and 16 minutes … for his penis. "You can guess which body part was a little bit frozen when I finished," Lindholm said to a Finnish media outlet February 20, per The Guardian. "It was one of the worst competitions I've been in." The 50-kilometer race was shortened to 30 kilometers to protect the athletes from frostbite, but Lindholm still said that "when the body parts started to warm after the finish, the pain was unbearable." This is not the first time Lindholm has suffered from frozen-penis syndrome; a similar conundrum occurred in a cross-country skiing competition in Ruka, Finland, last year.
HIGH: Yuzuru Hanyu gets down with Bing Dwen Dwen on the ice
Olympic mascot Bing Dwen Dwen gave Japanese star figure skater Yuzuru Hanyu a run for his money at the Figure Skating Gala on Sunday. After attempting a quadruple axel earlier in the games, Bing Dwen Dwen joined Hanyu for a dance. However, the panda could not match Hanyu's athleticism, and he fell over his feet before getting bumped to the ground again by Chinese skater Sui Wenjing. Justice for Bing Dwen Dwen!
HIGH: Morisi Kvitelashvili is giving Genie realness at the Figure Skating Gala
In what was maybe the kitschiest performance of the Olympics, Georgian skater Morisi Kvitelashvili danced to the Will Smith song "Friend Like Me" from the live-action Aladdin reboot decked out in full-body blue paint. The Gala was not the first time Kvitelashvili has shown his dedication to the Genie from Aladdin; he danced in the same outfit at the 2020 Rostelecom Cup in Moscow.
HIGH: Mikaela Shiffrin borrows skis from Italy's Sofia Goggia
In the most powerful Italian-American collaboration since The Sopranos, Italian alpine ski racer Sofia Goggia lent her skis to Mikaela Shiffrin along with a sticky note of encouragement on February 17. "I saw it at the start, and I almost started crying," Shiffrin told NBC. Shiffrin mentioned that the note said something along the lines of "You can fly on these skis." After the skier fell in the giant slalom after being named a potential front-runner, she faced a ton of hateful messages on the internet, including ones that called her a "dumb blonde" and told her to "retire." Shiffrin incurred a third did-not-finish after crashing in the combined slalom event.
LOW: Nothing but crickets during Kamila Valieva's short program 
Russian figure skater Kamila Valieva, 15, finished first in the short program on February 15 amid an investigation into her use of the banned drug trimetazidine. During her performance to Kirill Richter's "In Memoriam," NBC broadcasters Johnny Weir and Tara Lipinksi — previous figure skaters for Team U.S.A. — were silent. Despite barely making any noise during the broadcast, Weir and Lipinksi were later vocal about their disapproval of letting Valieva compete. Near the end of the event, Lipinksi commented, "She had a positive test. We should not have seen this skate." Weir took to Twitter after the event to voice his frustrations: "That was the hardest event I've ever had to cover," he said. "I want to thank you all for supporting the skaters that should be in this competition." If Valieva had earned a medal, there would be no medal ceremony, pending the ongoing investigation. However, the athlete finished fourth in the free skate on February 17, behind teammates Anna Shcherbakova and Alexandra Trusova and Japan's Kaori Sakamoto, taking pressure off the medal-ceremony determinations.
HIGH: Chinese netizens come up with wholesome nicknames for their favorite Olympians
The cadre of North American figure skaters contains an abundance of Chens. That's why Chinese sports fans have taken to the Internet to distinguish them, with Nathan Chen being renamed "Chen No. 3" (陈三). (U.S. figure skater Karen Chen is "Chen No. 4 Little Sister"!) However, the nicknames aren't for the sake of mere practicality. In a language where each character conjures certain concepts that play into their meaning, the monikers are also a colorful way to capture each athlete's spirit. Among the best: "Instant Noodle Sister" for Russian figure skating coach Eteri Tutberidze, who sports ramen-like curls, "Frog Princess" for Eileen Gu, who once wore a green helmet, and even "Soup God" for Klay Thompson. However, not all of them are sweet; "Bucket of Scallion" — Chinese Olympic figure skaters Sui Wenjing and Han Cong — and "Flying Pig" — Charles Barkley — can attest to that.
LOW: Team U.S.A. ousted by Slovakia in men's hockey
America is out of the running in men's hockey. After failing to score against Slovakia, the U.S. lost 3-2 in an emotional quarterfinals on February 16. Team captain Andy Miele was brought to tears by the sudden loss, removing his gloves to wipe them away after the game. "We were actually joking, we still haven't lost a game, really — we lost a shoot-out," coach David Quinn told the Associated Press. 
HIGH: Erin Jackson brings gold to the USA for speed skating
On February 13, Erin Jackson won the women's 500-meter speed skating in Beijing, the first time an American has won gold for the event since 1994, and the first Black woman to win the event ever.
HIGH: Team USA's '80s babies win gold in a new snowboarding event
Lindsey Jacobellis, 36, and Nick Baumgartner, 40, won gold in the first ever Olympic mixed team snowboard cross. They were the oldest duo competing in the debut event, and Baumgartner is also the oldest American snowboarder to ever compete at the Olympics. "We're embracing oldies for goldies!" he said after the pair's historic win.
HIGH: Chloe Kim wins back-to-back gold for snowboard half-pipe
Team USA's Chloe Kim won the snowboard half-pipe February 10 (Beijing time), making her the first woman to win back-to-back Olympics gold in the event. Her work in the half-pipe makes one (a) proud to be American, and (b) excited for whatever snow levels Nintendo feels like re-releasing for their Mario Kart 8 Booster Course Pass DLC.
LOW: Kamila Valieva tests positive for using a banned drug after Russia's gold-medal ceremony was delayed for "legal consultations"
Russian figure skater Kamila Valieva, 15, tested positive for using trimetazidine (TMZ), a drug that is typically used to treat chest pain. The news broke after Valieva, a member of the Russian Olympic Committee (ROC), became the first woman to land a quadruple Salchow at the Olympics. According to Russian sports journalist Vasily Konov, the drug was found in one sample from December of last year. "This cardiac drug has no impact on … performance. Now leave Kamila in peace," Konov wrote in a social-media post, per Reuters. In 2014, TMZ was listed as a prohibited substance by the World Anti-Doping Agency; however, its performance-enhancing capabilities are under dispute.
HIGH: Nathan Chen skates to a world record
Nathan Chen may have fallen during the last Winter Olympics, but he's made a record-setting return. The 22-year-old earned the highest score ever in the men's short program. He received 113.97 points, surpassing two-time defending Olympic champion Yuzuru Hanyu's previous record of 111.82 points.
LOW: Leslie Jones threatens the end of Olympics commentary
Leslie Jones considers no longer live-tweeting Olympics coverage for the masses after the Beijing Games. "They block my videos and they get folks who think they can do it like me," she wrote in an Instagram post, appearing to refer to NBC Sports. Jones's abrupt exit from the role of celebrity Olympics commentator means we no longer get access to gems like Jones yelling "what the fuck" at the screen while watching a speedy little ice luger slide down the track. As of February 8, NBC and Jones have come to an agreement, and Jones will continue her side gig as unofficial Olympics correspondent.
HIGH: Kamila Valieva ushers in the quad era for women's skating
Kamila Valieva became the first woman to land a quad (specifically, a quadruple Salchow) at the Olympics right at the beginning of her free skate. Part of Russia's "Quad Squad," she is building on the work of skaters that came before her, including Surya Bonaly, who was the first woman to attempt a quad in competition at the 1990 European Championships. Quadruple jumps are still outlawed in women's skating short programs, but allowed during free skate.
LOW: Mikaela Shiffrin's inauspicious Beijing debut
Defending Olympic champion Mikaela Shiffrin was disqualified on her first Beijing Olympics event, giant slalom. She slid and crashed on her side, missing a gate. Shiffrin, 26, is still trying to become the first Alpine skier to win three Olympics golds, and she still has some chances at Beijing. Her next event is the slalom (regular size) on Wednesday, an event she won at Sochi. Shiffrin was disqualified once more during the slalom event on Wednesday, February 8 after missing one of the first gates. She sat hiding her face as members of her team tried to console her. Lindsey Vonn tweeted to Shiffrin to keep her head high and celebrated her "storied career" and future.
HIGH: Russian Jesus skater
Who has a crown of thorns, a love for one of the silliest musicals of all time, and a flair for the dramatic? It's Mark Kondratiuk, the 18-year-old Russian figure skater who free-styled to a Jesus Christ Superstar medley while dressed (of course) like Jesus himself. The performance, which you can watch in full below, even featured a figure-skating-interpretation of the flagellation of Christ, which is just as campy as it sounds.
LOW: Whatever Johnny Weir is wearing here
We're not sure what to make of this.
HIGH: Rainbow panda mascot!!
The 2022 Winter Olympics mascot is a cute rainbow panda named Bing Dwen Dwen. Does he resemble a Masked Singer mascot? Yes. Is he slightly terrifying? Okay, maybe!! Nevertheless, this little guy is an adorable rainbow astronaut panda who should win every medal.
LOW: Someone skated in a Joker costume
And to the soundtrack of the film! When will we know peace …
HIGH: The yassification of Team USA
Skims, a.k.a. Kimberly Kardashian's clothing line, sent Team USA a swag bag full of clothing so they can be winter baddies.
HIGH: BTS credited as South Korean pride and joy
Another win for the BTS stans! The K-pop boy group was mentioned at the Olympics Opening Ceremony when Team South Korea was introduced. They were also named as the country's representatives in Tokyo's 2021 Winter Olympics, but this year, South Korea was announced as "the country of the world's most popular artist BTS." Bong Joon Ho's Best Picture winner Parasite and figure skater Kim Yuna also got shout-outs.