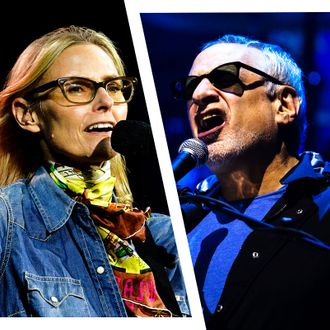 Photo-Illustration: Vulture; Photos by Getty Images
Update, March 18 at 11:30 a.m.: Donald Fagen, that funky one, has denied Aimee Mann's claims she was dropped from Steely Dan's upcoming tour because she's a woman. "Well, first of all, the idea that I would make any decision based on the gender of a performer is ridiculous. That's something that would never even occur to me," he told Rolling Stone in a statement, citing a "communication problem" for the dates she was scheduled to open for the Dan. "I was misinformed as to how firm the commitment was to any particular opening act. And, although I have the greatest respect for Aimee as a writer and performer, I thought it might not be the best matchup in terms of musical style." Fagen added, without clarifying how Mann was offered the touring gig in the first place: "But I can't pass the buck. I'll take the blame for the screwup. I apologize for any distress this has caused Aimee and her fans." For what it's worth, Mann is definitely reelin' in her sense of humor about the whole thing.
Original story follows.
There's legal logic, pretzel logic, and … whatever this alleged logic is? Weeks before Steely Dan begins to embark on a nationwide tour, Aimee Mann is claiming that she was dropped as the band's opening act under suspicious circumstances that may have been influenced by sexism. "No one is entirely sure why," she wrote in a four-panel comic posted on social media, "but it seems they thought their audience wouldn't like a female singer-songwriter?" Prior to Mann taking the gig, Steve Winwood was set to co-headline the tour until dropping out in February due to "unforeseen circumstances"; Mann was billed as a "special guest" alongside instrumental ensemble Snarky Puppy, who will still be going on the road with the Dan. (Or rather, front man Donald Fagen and his backing musicians.) "As it happens, Steely Dan is the one band that I 100 percent love, with no reservations, so it really sucks," Mann added. "But you know what? People are allowed to not like you for whatever reason." Fagen has yet to offer comment, perhaps because he's a fool to do his dirty work.