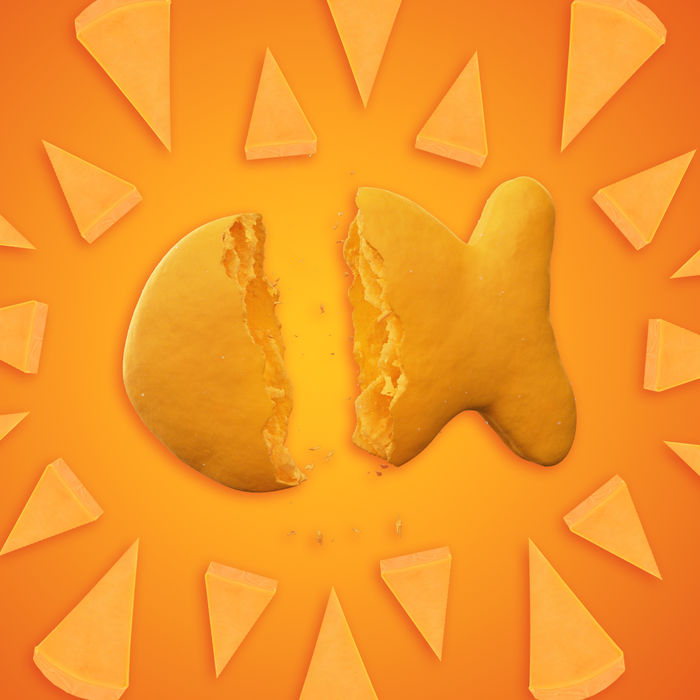 If you feel like our screens are flooded with reboots and remakes, it's because, well, they are. Deeply loved shows and movies from decades past are regularly being reintroduced as they approach their notable anniversaries. A 90s classic all about navigating dating in New York City is back, a new family of 12 is navigating life (and budgets) as a dozen, and yet another parent is telling their teenager all about their journey of finding love. Let's face it, we love to see how characters and storylines have changed and grown with us.
These reboots and reimaginings don't just live on the screen though, they exist even in our pantries. Take, for example, the newest Goldfish cracker: Mega Bites. The bigger, bolder, and cheesier reboot of the classic cracker has made its debut, and people are running to their go-to store shelves (both in-store and online) for the flavorful snack.
The new crackers, available in robust Sharp Cheddar and spicy Cheddar Jalapeño, are meant to be savored. But before we dive into what exactly makes these new crackers different, let's take a look back at how it all started.
Swimming through the years
During a trip to Switzerland in the 1960's Margaret Rudkin, the founder of Pepperidge Farm, discovered the small fish-shaped crackers. Originally created by Swiss baker Oscar J. Kambly as a birthday gift for his wife — her astrological sign was Pisces (often represented by two fish) — the unique crackers were something Rudkin was determined to bring back to the United States. After back-and-forth discussions, the cookie manufacturer and Rudkin came to an agreement: the Goldfish crackers were hers to take back with her.
In 1962, the first five flavors — Lightly Salted (what we now know as "Original"), Cheese, Barbecue, Pizza, and Smokey — were introduced. Goldfish were intended to be served with cocktails and in soups, but quickly became a staple in pantries. By 1988, their popularity had skyrocketed enough to have NASA bring them aboard the Discovery Space Shuttle. In 1997, the Goldfish's signature smile was added, officially making them the snack that smiles back.
Rebooting a decades-long classic
Now, nearly 60 years after the tiny crackers made their debut state-side, there are more than 20 different variations of the beloved snack. This January, the newest member of the Goldfish family was introduced: Mega Bites.
The new Goldfish are 50 percent bigger and feature bolder flavor profiles (Sharp Cheddar and Cheddar Jalapeño), creating a craveable snack any cheese-lover will adore. It's easy to see a reboot as something that comes around to replace the originals, but that couldn't be further from the truth for these crackers. The Sharp Cheddar and Cheddar Jalapeño Mega Bites pack a strong punch when it comes to flavor, texture, and size. Rather than replacing the originals, they complement the staple snacks. They're here so Goldfish lovers have even more to enjoy.
Can't get enough of the Goldfish Mega Bites? Join the conversation on Twitter. By completing the sentence: "NEW Goldish Mega Bites are cheesier than _____ #CheesyReboot #Sweepstakes" (simply fill in the blank) you can be entered to win a year's supply of the new snack. Visit the official rules page to learn more about the #CheesyReboots sweepstakes. NO PURCHASE NECESSARY, open to legal residents of the 50 US States (+DC) 19+, ends 3/31/22. 
This advertising content was produced in collaboration between Vox Creative and our sponsor, without involvement from Vox Media editorial staff.