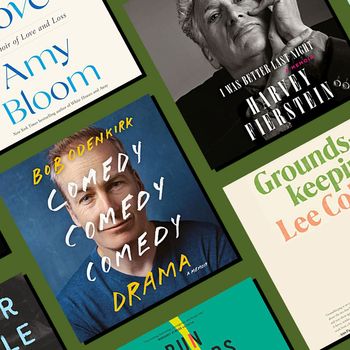 Photo-Illustration: Vulture; Photos by Publishers
The audiobook category is expanding every day, and we certainly can't listen to everything. The goal of this monthly column is to steer you toward audiobooks that we hope will provide the best experiences, pop-culture value, and something to talk about at your cocktail party.
Photo: Publisher
Read by: Parton, Kelsea Ballerini, and more
Length: 10 hours, 19 minutes
Speed I listened: 1.9x
I can't keep up with the James Patterson book factory, so I don't even try — but throw Dolly Parton in the mix and now you're talking. AnnieLee is trying to be a singer; Ruthanna takes her under her wing in a book that is less thriller, more Daisy Jones & the Six meets Nashville. The audiobook adaptation is unusually like a radio play. A single narrator reads the main text. Other voices pop up to say the dialogue of the wide cast of country-music characters. Parton, as Ruthanna, occasionally sounds as if she's chewing on several toothpicks in addition to a wad of gum, but it's amusing to imagine her recording these brassy lines of dialogue wearing Bombas Gripper Slippers in her basement. The weak spot is Ballerini, who plays AnnieLee. There's a nice verisimilitude in casting an up-and-coming singer to play an up-and-coming singer, but when it comes to emoting vocal conversation, she's a drag.
Photo: Publisher
Read by: Michael Crouch
Length: 12 hours, 48 minutes
Speed I listened: 2x
I haven't been enjoying a lot of literary fiction on audio recently, so this novel, about Owen, who takes a job as a groundskeeper at a Kentucky college so he can study writing, took me by surprise. Part of the charm is the slice-of-life, not-much-happens element of the book, which means you can still follow what is happening without hanging on every single word. That helps especially because the book is overlong, and there's a bit too much Trump-versus-Clinton talk for my interest. Crouch does a nice narrative monologue as Owen, though his clunky pronunciation of desultorily is jarring. Also jarring: that Cole uses the word desultorily twice in a single book. When's the last time you used desultorily, let alone tried to say it?
Photo: Publisher
Read by: the author
Length: 12 hours, 32 minutes
Speed I listened: 2.1x
Harvey Fierstein's gravelly voice is so distinct that I didn't need to listen to this memoir in order to hear it in my head. But I also can't imagine consuming it any other way. There is so much interesting stuff in here about Torch Song Trilogy, Hairspray, and Kinky Boots, but I especially enjoyed the anecdotes about his lesser-known work. Somehow they're even more vivid when Fierstein reads them out loud. Like his 1974 play, Freaky Pussy, which had the logline "A straight couple leases a subway bathroom with plans of turning it into the new hot underground restaurant." How about a revival of that?! Another highlight is Fierstein's recitation of an old Yiddish quote that Estelle Getty taught him: "Charming pig, may he grow like an onion with his head underground!" I have no idea what that means, but I listened to it more than four times.
Photo: Publisher
Read by: the author
Length: 7 hours, 52 minutes
Speed I listened: 1.8x
Photo: Publisher
Read by: the author
Length: 13 hours, 27 minutes
Speed I listened: 2.1x
Because it seems everyone who is a little bit funny wrote a memoir during the pandemic, here we have one from Hannah Gadsby, the Australian comedian, and another from Bob Odenkirk, timed to the latest season of Better Call Saul. Odenkirk's is maybe a little too short and not quite deep enough, though I loved his descriptions of interacting with Lorne Michaels. Gadsby's is maybe a little too long and far too deep and discursive for me to understand, though I appreciate her passion, intelligence, and descriptions of her mother at her various comedy shows. You don't already have to be fans of either Odenkirk or Gadsby to consume these audiobooks, but it helps.
Photo: Publisher
Read by: the author
Length: 7 hours, 56 minutes
Speed I listened: 1.7x
I like weird books, and this series of essays is made even weirder by Polley's sharp intelligence and chilling narration. It's the things the Canadian actress, writer, and director doesn't say that you wonder about. That Polley is telling these stories out loud feels all the eerier. Her piece about disappearing into the role of Alice in a Canadian production of Alice in Wonderland is especially cryptic — but in a fascinating way. I hung on Polley's every word, just trying to parse the subtleties of what she was getting at. I'm still eager to listen to that particular section again. If you're looking for an interesting companion piece, check out Polley's amazing documentary about her family, Stories We Tell. I'd also recommend the audio of Emily Maloney's collection of essays, Cost of Living, which was published in February and has a similarly candid tone about hospital work and mental illness.
Photo: Publisher
Read by: the author
Length: 4 hours, 49 minutes
Speed I listened: 2x
I like sad books just like I like weird books. Sometimes I wonder if I read sad books to torture myself. Sometimes I wonder if they provide a liminal space I can disappear into. Maybe it's both. Maybe I just want to feel something. Amy Bloom's memoir is about her husband's descent into Alzheimer's and then taking him to Switzerland to die peacefully. It sounds devastating, but it's not; it's a sharply observed and achingly real portrait of grief only enhanced by Bloom's own controlled and sensitive narration.
Photo: Publisher
Read by: Amy Landon
Length: 8 hours, 27 minutes
Speed I listened: 2.2x
Two great audiobooks compelled me to listen to this new memoir, about a young New York woman dealing with her crazy mother. The first is Ariel Leve's An Abbreviated Life, in which Leve describes growing up in Manhattan with her mother, an unstable poet. The audiobook, read by Martha Plimpton, is a virtuosic performance. Then there's Adrienne Brodeur's Wild Game, in which Brodeur, as a teenager, became her mother's confidante when it came to matters of an extramarital affair. Never Simple is not as strong as either of those two books, mostly because I wasn't wild about Landon's sometimes flip narration. But as an addition to the genre of crazy-mother memoir, it's still quite compelling and, on occasion, jaw-dropping.