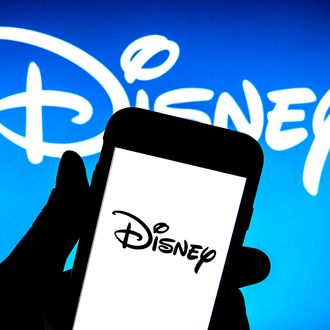 Photo: Photo Illustration by Thiago Prudencio/SOPA Images/LightRocket via Getty Images
Disney's saying, "Hi, gay." In a memo March 11, Disney CEO Bob Chapek apologized to Disney employees for the company's response to Florida's "Don't Say Gay" bill and asserted that the company would be pausing political donations in the state. "Starting immediately, we are increasing our support for advocacy groups to combat similar legislation in other states," Chapek wrote in a company-wide memo seen by The Hollywood Reporter. "We are hard at work creating a new framework for our political giving that will ensure our advocacy better reflects our values. And today, we are pausing all political donations in the state of Florida pending this review." Despite the defending the company's financial support to the politicians behind the "Don't Say Gay" bill — an attempt to stifle classroom discussions on gender and sexuality — Chapek was adamant he's an "ally." "I missed the mark in this case but am an ally you can count on — and I will be an outspoken champion for the protections, visibility, and opportunity you deserve," he said. The apology comes days after Disney refused to denounce the bill. Since then, Disney fans and public figures have taken to the Internet to urge others to #BoycottDisney.
In a funny stroke of timing, Wednesday was the Walt Disney Company's annual shareholders meeting, and Chapek had to address the Dumbo in the room: On Monday, he'd sent an internal email to employees saying the company would not be officially denouncing the "Don't Say Gay" bill, whose legislative supporters were funded in part with Disney money. But according to New York Times reporter Brooks Barnes, Chapek told investors at the meeting that the company has been "opposed to the bill from the outset." Barnes tweeted that Chapek said he had called Florida governor Ron DeSantis that morning "to express our disappointment and concern that if legislation becomes law, it could be used to unfairly target gay, lesbian, nonbinary, and transgender kids and families," adding that Chapek said, "The governor heard our concerns and agreed to meet with me and LGBTQ+ members of our senior team in Florida to discuss the ways to address them."
Nowhere in this statement did Chapek say the company was going to ask DeSantis to kill the bill, nor did he say Disney would stop donating to the politicians who put it into effect. Barnes added that Chapek said Disney will donate $5 million to the Human Rights Campaign. To put this in perspective, the most recent data available on OpenSecrets regarding Disney affiliates' political contributions and lobbying is from 2020, and that year, its biggest recipient was America First Action, a Trump reelection super-PAC. It gave $10.5 million. Corporations gonna stay corporating. However, the HRC said they would not be accepting any money from Disney, "until we see them build on their public commitment and work with LGBTQ+ advocates to ensure that dangerous proposals, like Florida's Don't Say Gay or Trans bill, don't become dangerous laws, and if they do, to work to get them off the books," said interim president Joni Madison in a statement.
The Animation Guild and its QueerTAG Committee also released a statement Wednesday, condemning "Disney leadership's current statements regarding the 'Don't Say Gay' bill in Florida," calling the company's funding of the homophobic, transphobic legislation and Chapek's defense of its conservative corporate lobbying "a momentous misstep by Disney's leadership that defies logic and company ethics." The guild, which represents animators, writers, and technicians at Disney and other studios, said, "It is time for corporations who continuously seek to engage the LGBTQ+ community to prove that their intentions are not disingenuous by backing up their words with definitive actions."
These sentiments were echoed in a statement made by "the LGBTQIA+ employees of Pixar, and their allies." In response to Chapek's shareholder's call, the Pixar workers not only sided with those who are demanding Disney withdraw their funds, they claimed corporate honchos demanded they cut "nearly every moment of overtly gay affection… regardless of when there is protest from both the creative teams and executive leadership at Pixar." Apparently you can't say gay in whatever world Onward takes place in either.
LGBTQ+ Disney employees had previously sent a letter to Chapek and other executives on February 28, after the bill passed the Florida House of Representatives but before it passed in the state's senate on March 8. The letter, which Variety acquired on March 10, implored Disney management to speak out against harmful Republican legislation including the "Don't Say Gay" bill and Texas governor Greg Abbott's attempts to criminalize parents of trans children. "Legislation of this manner specifically targets the most vulnerable members of our community, and data proves that a lack of support leads to an increase of suicide rates within LGBTQIA+ youth, a group that is already three times as likely to attempt suicide than non-LGBTQIA+ youth," reads the letter, which asks Disney to "stand by our community" and publicly condemn anti-LGBTQ+ policy.
Disney CEO Bob Chapek responded a week later, in that March 7 email to employees defending the company's stance on the bill. "As we have seen time and again, corporate statements do very little to change outcomes or minds," Chapek wrote. He went on to cite Disney products about characters with marginalized identities, a few of which involve gay characters, including Encanto, Black Panther, Modern Family, and Love, Victor. "These and all of our diverse stories are our corporate statements — and they are more powerful than any tweet or lobbying effort," Chapek wrote. Yeah, bigots, watch a movie! The Florida Senate passed the bill the next day. Chapek added that Disney would "have a more fulsome conversation" about the bill and the company's stance at its Reimagine Tomorrow summit on March 22 — after the bill is signed into law.
As the company behind Beauty and the Beast's "exclusively gay moment" sees it, money isn't necessarily the most important tool. "The biggest impact we can have in creating a more inclusive world is through the inspiring content we produce, the welcoming culture we create here and the diverse community organizations we support, including those representing the LGBTQ+ community," Disney said in a March 3 statement through Good Morning America.
In late February, the Orlando Sentinel reported that Disney has funded every politician who sponsored or co-sponsored the "Don't Say Gay" bill, which would restrict what schools can teach about sexual orientation and gender identity. The bill states that discussions of such topics "may not occur in kindergarten through grade 3" or, more vaguely, in "a manner that is not age-appropriate or developmentally appropriate for students in accordance with state standards." Parents would also be able to sue schools and teachers for having such conversations. Officially known as the House Bill 1557, the legislation was passed by Florida's House of Representatives on February 24. Now signed into law by the state's Republican-held Senate, it will go into effect on July 1.
This post has been updated throughout.