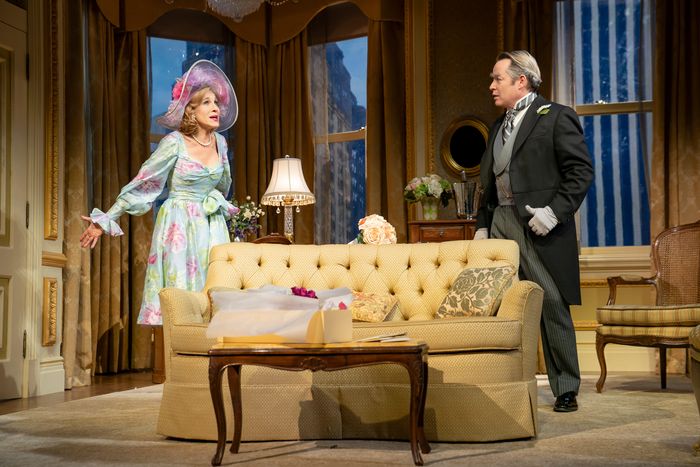 When you go thumbing through Broadway listings of the yonder years, one thing jumps out. Infidelity and wonky-marriage plots were once reliable moneymakers among the non-musicals. Adult farces were so prevalent when William Goldman wrote about the 1967–68 season that he included an entire chapter dedicated just to sex comedies. It's hard to imagine now. Watching the revival of Neil Simon's Plaza Suite at the Hudson Theatre, you do at least get a window into why.
I don't mean that Plaza Suite is sexy. This particular production has little of that sort of heat thanks to the specific energies of its stars, the married couple Sarah Jessica Parker and Matthew Broderick. And in all three of these tartly written 1968 playlets, only one person takes off a piece of indoor clothing, and it's so she can change into her comfy slippers. But the subject of each comedy is a heterosexual couple riddled with vanity, misapprehension, and weariness. The year after the staggeringly successful Plaza Suite opened, the creation of the no-fault divorce sent American marriage into the meat grinder. I'm not saying Neil Simon persuaded everybody that it would be better to split up — but he either told them what they were already thinking or he loosened the lid on the can of no-fault worms.
The trio of one-acts — Visitor From Mamaroneck, Visitor From Hollywood, and Visitor From Forest Hills — all take place in Room 719 of New York's Plaza Hotel. The visitors, played by Parker and Broderick in a variety of wigs, have the slightly alienated perspective of the out-of-towner; they see things outside the Plaza's lavishly beswagged windows that a local might take for granted. For instance, in the first piece, the chatty and long-married Karen notices that the Savoy-Plaza that was once across the street has been demolished. "Shows you how often I get into the city," she says as she prepares to celebrate her anniversary in the very room where she once honeymooned. "Well, listen, that's what they're doing today. If it's old and it's beautiful, it's not there in the morning." It doesn't bode well for the other lovely things she might want to preserve. When her husband, Sam, comes in and at first ignores her comments about the anniversary but then reveals she's gotten the day wrong, the room wrong, and even her own age wrong, we know he's going to erase her all the way down to her galoshes. Karen is funny and accommodating and passionate, but Sam is fresh from the dentist, and he's two caps shy of a full set. What happens when a 50-year-old man gets new teeth? He smiles at someone new.
In the second play, Parker plays the excitable housewife Muriel, who has been summoned in from her house in New Jersey to have a few vodka stingers with her long-ago high-school boyfriend, the big-deal Hollywood producer Jesse. Parker's hair is now long, blonde, and smoothed back behind an Alice band; Broderick as Jesse is in full Austin Powers mode, his hips on the swivel, the panes of his enormous glasses like two walls of an aquarium. He and director John Benjamin Hickey have developed some physical jokes for him in this scene (his slick-Hollywood-guy shoes slide out from under him like skates), but the script needs something screwball from the couple that they can't provide. Simon is writing a match-up rather than a break-up — Jesse lusts after the innocent he left behind, while Muriel's seduced by what he's become. It would be sad that they're so out of sync, except that their out-of-sync-ness is sufficient for the purpose, which is to move the party to the bedroom. We leave them as composer Marc Shaiman brings up the groovy beat they're about to get down to.
History repeats as Mamaroneck tragedy then as Forest Hills farce, as somebody said. And there's nothing that reminds you more of history's repetitions than a daughter's wedding day, when the generational cycle turns. The third playlet goes broad as a barn with Norma and Roy, the dyspeptic parents of a reluctant bride, Mimsey, who is refusing to come out of the suite's bathroom. Mimsey fears marriage because she doesn't want to become like her bickering parents, but every moment she delays, Roy feels his investment leaking away ("Two hundred dollars' worth of cocktail frankfurters getting cold downstairs!"). The first play is a showpiece for Parker, and this last one is all for Broderick, who penguin-waddles into battle with Mimsey — or, more accurately, the bathroom door. (John Lee Beatty's set design is an impressive, huge, golden set of rooms, but that door … it should get its own credit in the program.) Broderick rushes it; it bounces him back tenderly. It's firm but forgiving; it holds fast.
The third play climaxes with various comic lazzi that Simon could have borrowed from Goldoni if there were seventh-floor hotel rooms in 18th-century Venice. It's a bummer when it finally turns back into a Simon relationship play with some limp observations about these youth today. Is this a flaw in the original or in this revival? It's tricky to work out since so much depends on rhythm. In all three plays, Hickey and his actors have found many little moments for physical comedy — Muriel sometimes kicks her legs like a colt trying to get to its feet, Roy clearly has a twinge-y back — but these jolts are rarely enough to create a sustained energy. The same is true for the evening as a whole. I know you can't wander around rewriting Simon, but maybe they could have just … skipped the middle one-act? That one's a cold cocktail frankfurter, I'll tell you that.
Simon, though we don't get a lot of him around these parts anymore, was mid-century New York's Chekhov — laughing through tears, everybody gathering around the room service instead of the samovar. ("I used to ask, 'What is a funny situation?'" he once said in an interview. "Now I ask, 'What is a sad situation, and how can I tell it humorously?'") In Plaza Suite, I found that fragile funny-sad balance tipped too far toward melancholy, possibly because Broderick's left-of-center delivery makes so much room for it. While he's tremendously antic in Forest Hills, he's the Tin Man without oil in Mamaroneck. That's still the one of the three I'm going to remember, though. It's paralyzingly bleak. Parker has Karen down perfectly, prepared as she has been by playing Carrie Bradshaw coming to terms with middle age in And Just Like That… Carrie and Karen should be miles apart, but 50 years of progress haven't changed some things. For both characters, Parker's voice sounds sharpened on a whetstone, plaintive but already resigned. You can hear the effort in it — the attempt to keep her complaints from pitching upward into a whine. You wouldn't want to sound too old, would you? It's just the thing to make the men stop listening.
Plaza Suite is at the Hudson Theatre.