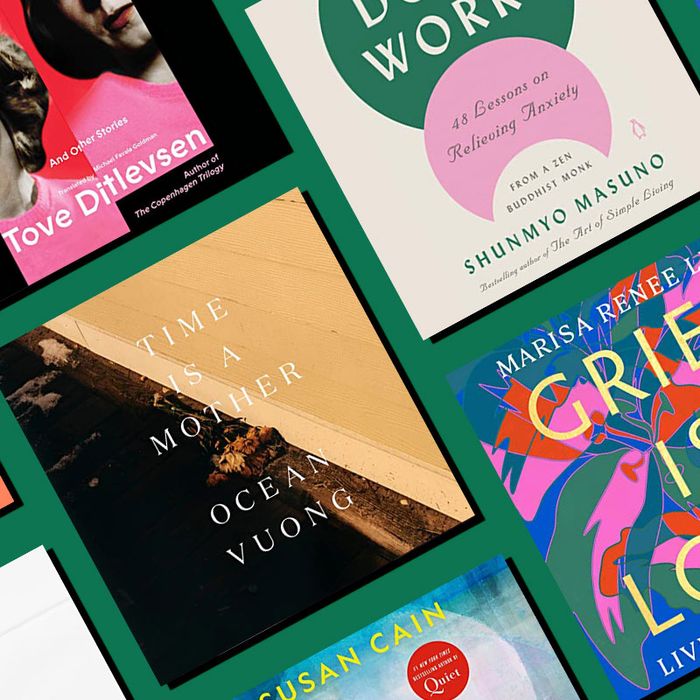 Photo-Illustration: Vulture; Photos by Publishers
The audiobook category is expanding every day, and we certainly can't listen to everything. The goal of this monthly column is to steer you toward audiobooks that we hope will provide the best experiences, pop-culture value, and something to talk about at your cocktail party.
Photo: Publisher
Read by: the author
Length: 7 hours, 5 minutes
Speed I listened: 1.7x
I don't know if this memoir reads as well on paper as it does on audio, but because Shannon narrates it like the comic goddess she is, it feels filled to the brim with humor and pathos. It's not all chuckles: A terrible childhood tragedy created the Shannon we know today, and the longing she has for her late mother is intensely palpable. Still, just the way Shannon musicalizes the phrase "bad boys" to describe the kind of men she found attractive in her youth is reason enough to listen. Then there are the stories about her father coming out of the closet; Gary Coleman making a pass at her in a hotel room; and, my favorite, "the Mamet Scam," in which Shannon and an actor friend pretend to call agents from the office of playwright David Mamet in order to get meetings in Hollywood.
Photo: Publisher
Read by: the author
Length: 3 hours, 39 minutes
Speed I listened: 1.9x
I have this feeling that if Janetti — a TV writer married to former Rachel Zoe acolyte Brad Goreski — and I were to sit down to a meal, it would be at Dan Tana's in West Hollywood, and we would not get along. We're both misanthropic curmudgeons. His social-media presence can be mean, especially about overweight people. His actual reading voice can be repetitive and flat. Also, his essays often end abruptly, in a fake-poetic kind of way. But then he'll come out with a very clever observation or zinger, and I start looking for reservations on OpenTable. For instance, in reference to his early dating life, Janetti describes himself as "Not a sex club kind of person" but more of a "Let's go see The Princess Bride, and you can walk me home, and maybe I'll show you my wrists kind of person." When it comes to the musical Wicked: "Villains don't need to have backstories. By the way, she's a fucking bitch. I don't need to know how she got like that." Swoon! Here we come, Angie Dickinson and chicken parm.
Photo: Publisher
Read by: the author
Length: 1 hour, 43 minutes
Speed I listened: 1x
I'm in the minority here when I admit I did not love Vuong's best-selling novel On Earth We're Briefly Gorgeous. In retrospect, maybe I would have enjoyed On Earth more on audio. I'm no poetry connoisseur, but I found listening to this collection — Vuong's second — completely sublime. There's something about the halting rhythm of Vuong's speech that propelled me to lean in and listen, even if I wasn't always able to form a mental picture of what he was trying to portray. There's a lot here about Vuong's mother dying of cancer. (Note the title.) "Amazon History of a Former Nail Salon Worker" may just be a list of what I assume are products his mother bought in the last 18 months of her life (lots of Advil, some birthday cards for her son), but Vuong's Pinter-like pauses tell you everything.
Photo: Publisher
Read by: the author and Richard Ferrone
Length: 11 hours, 20 minutes
Speed I listened: 2.1x
The Unwritten Book is not quite a memoir. It includes chapters Hunt found of an unfinished novel written by her father. She also digresses to subjects like time, loss, Haruki Murakami, and the boy band One Direction in ways that sometimes makes you feel like you're listening to NPR, but in a really good way. Ferrone reads her father's fiction with a voice out of an '80s sci-fi radio show, giving those sections a strange, otherworldly feel. But it's Hunt's wise assessments about life that continually pricked my ears. I was particularly bowled over by a section in which she describes the fictional narratives we create about illness while, at the same time, doctors and hospitals "side with nonfiction." "We created a lot of stories when our dad was sick," Hunt writes. "There's still a part of me, a very immature part of me, that believes my dad would still be alive if I'd kept him better wrapped up in stories."
Photo: Publisher
Read by: Douglas Hachiya
Length: 3 hours, 8 minutes
Speed I listened: 1.7x
The subtitle of this book is "48 lessons on relieving anxiety from a Zen Buddhist monk." A few days after listening, I can probably repeat five, maybe six of them. (What's that, a 12.5 percent retention rate?) Still, I hope the most important parts seeped into my system anyway. That just having listened, I'll be automatically living a less anxious life. Part of what kept me going was that Hachiya — an actor who appeared in a movie called Mega Shark vs. Giant Octopus, which I'm going to watch tonight — sounds a lot like Keanu Reeves. So, really, part of the appeal here is imagining Keanu and his soothing, sometimes erotic voice imparting life lessons. If that doesn't change me, will anything?
Photo: Publisher
Read by: Miranda Raison
Length: 11 hours, 55 minutes
Speed I listened: 1.8x
Try to ignore the illustrated peach-colored cover of this first novel by Garmus, a 64-year-old debut author. It makes it look like an assembly-line summer-romance paperback original. The book is a lot deeper and a lot quirkier than that. Set in the early 1960s, it's about a chemist and single mom named Elizabeth Zott who, when pushed to the brink at the chauvinistic lab that employs her, winds up hosting a popular cooking show called Lessons at Six. I know, it sounds whimsically dumb and far-fetched — it's not. It's a fully satisfying listen, thanks in part to Raison, who adds the right amount of ridiculousness to many of the obnoxious male characters and also quite wittily animates the inner life of Elizabeth's dog, Six-Thirty.
Photo: Publisher
Read by: Stine Wintlev
Length: 5 hours, 25 minutes
Speed I listened: 1.6x
I loved the audiobook of Ditlevsen's three-part The Copenhagen Trilogy. Bleak and gripping, it's only enhanced by Wintlev's flat Danish cadence. I'd recommend this as a kind of cheese-plate companion (Havarti, maybe?) to Ditlevsen's memoir. Short-story collections aren't the easiest listens. It's hard to prepare yourself for the end of a single piece, and, before you know it, it blends right into the next one. Still, I found Wintlev's cold and distant interpretation of these tales of unhappy women in turgid relationships well-matched and quite affecting.
Photo: Publisher
Read by: the author
Length: 7 hours, 35 minutes
Speed I listened: 1.5x
Photo: Publisher
Read by: the author
Length: 4 hours, 14 minutes
Speed I listened: 1.6x
A few months ago, I stumbled upon a book from Alain de Botton's School of Life series called Varieties of Melancholy. In short chapters, it describes why things like parties, paintings by Agnes Martin, and even perfect vacations prompt a sense of internal sadness. It really spoke to me. I was all in with Cain even before she attended a School of Life seminar, but that ultimately sealed the deal for me when it came to this nonfiction treatise on "sorrow and longing." There's nothing treacly or overly sentimental about Cain's straightforward poise when she talks about "moving on" versus "moving forward," why we listen to sad music, and how to transform pain into beauty. In a kind of companion piece to Bittersweet, Lee is refreshingly direct as she explores the overwhelming emotions she has experienced since the death of her mother. Listening to these authors made me feel less alone in the world and, well, a little less melancholic. And maybe a little more melancholic, too.