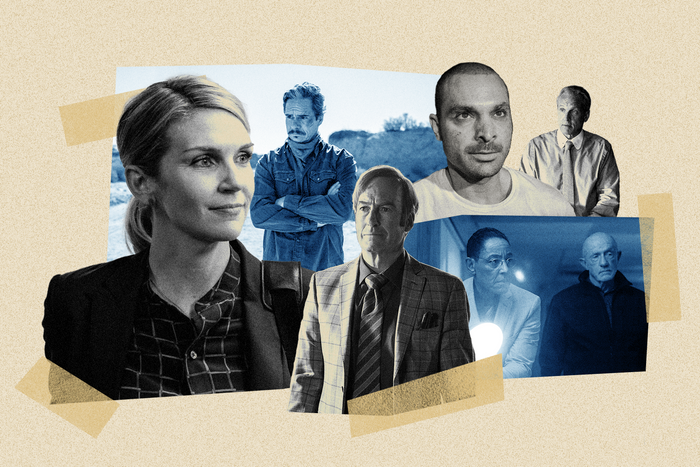 Photo-Illustration: By Sarah Rose Greenberg
In the seven years since Better Call Saul spun off of Breaking Bad, it has set out to illustrate that past is inevitably prologue. And as we anticipate the arrival of its sixth and final season on AMC — premiering with two back-to-back episodes on April 18 — it's also a moment to reflect on what we've learned from the misadventures of Saul Goodman née Jimmy McGill, played by Bob Odenkirk. Some of his cues have been definite dos, while many others have been cautionary don'ts. Here's one of each from Better Call's first five seasons, so that you can catch up before the final season airs. Consider yourself consulted and warned.
Major spoilers below for Better Call Saul seasons 1-5.
Season 1 Do: Be a Loyal Brother
In the very first hour of Better Call Saul, Jimmy (Odenkirk doesn't fully inhabit his Saul persona until further down the line) harangues partners at HHM, the white-shoe law firm his ailing brother Chuck co-founded. As the season proceeds, Jimmy endures all manner of passive aggressive — and very aggressive — diminishment from Chuck, who has never viewed Jimmy as capable of transcending his youthful mishaps. Yet Jimmy dutifully provides for his big sibling and indulges his self-diagnosed suffering from electromagnetic hypersensitivity. (Basically, Chuck lives in darkness and shrouds himself in foil "space blankets.") As we see when Jimmy grows passionate about defending the victimized residents of senior-living center Sandpiper Crossing, he has a genuine soft spot for the vulnerable and exploited. By the season finale, Jimmy realizes Chuck is actually conspiring with HHM to keep him from climbing the ladder of respectability, but his basic instinct to prioritize family over personal gain makes him relatable and, ultimately, tragic.
Season 1 Don't: Eat the Forbidden Fruit
If Better Call Saul is a kind of Biblical preface to the new dangers soon faced in Breaking Bad, Jimmy fails a very basic moral test early in his journey. In the course of courting corrupt county treasurer Craig Kettleman and his wife Betsy as clients, he accepts a chunk of their embezzled cash in exchange for keeping their whereabouts quiet. Jimmy uses the funds to effectively wage PR warfare on HHM and boost his profile as an attorney of the people. He even invokes a verse from Matthew while eyeing his dubiously acquired endowment: "Upon this rock I shall build my church." In time, he would restore the original sum of his ill-gotten starter loan and compel the Kettlemans to cop a plea, but this marked one of the first cracks in his armor of credibility.
Season 2 Do: Get Creative
That could mean finding inspiration in Jimmy's outlandish ad for elder-care services, no matter how it aggrieved his new employer (and HHM's competition), Davis & Main. Or tollbooth operator/moonlighting fixer Mike Ehrmentraut's (Jonathan Banks) plan to land psychotic drug dealer Tuco Salamanca (Raymond Cruz) in jail and out of his and Nacho's (Michael Mando) hair. Or Jimmy and his former HHM colleague and current love interest/confidant Kim Wexler (Rhea Seehorn) adopting exotic alter egos over drinks and duping VC bros out of investment money for a bogus startup. All these actions either have boomerang effects down the line or foreshadow outright rejection of playing by conventional rules. But in the short-term, they're good for business.
Season 2 Don't: Take Your Adversaries for Granted
By season's end, Mike's bloodlust for doddering Salamanca boss Hector (Mark Margolis) unknowingly puts him in brutal cartel rival Gus Fring's (Giancarlo Esposito) crosshairs. Kim awakens something vindictive in her old boss Howard Hamlin (Patrick Fabian) after leaving HHM and poaching banking client Mesa Verde with Jimmy's help. Elsewhere, Chuck surreptitiously records Jimmy confessing to all manner of misdeeds after Jimmy's efforts to trip his brother up over custody of the Mesa Verde account lead to Chuck going to the ER. Every action causes a reaction — never underestimate who you're dealing with.
Season 3 Do: Be Ambitious
Nacho wants bigger and better things for himself and his father, who has worked himself to the bone running an upholstery shop for decades. Once Hector tries to seize the shop as a cartel front, Nacho decides it's time to hasten his career ascent. He stealthily swaps the senior Salamanca's heart pills for dummies, and Hector has a stroke, leading to his permanent paralysis. As for Jimmy and Kim, the pair weathers Jimmy's temporary disbarment and launches its own firm, Wexler McGill. Sure, Kim has to carry the load of representing Mesa Verde while Jimmy directs low-budget small-business ads under the guise of — drumroll — Saul Goodman Productions, but what could possibly go wrong?
Season 3 Don't: Stretch Yourself Too Thin
Yeah, Kim stretched herself too thin. And fell asleep at the wheel and got in a single-car accident that banged up her face and left her with a broken arm. Mike's move to hijack one of Hector's trucks as payback for the Salamancas threatening his daughter-in-law Stacey and granddaughter Kaylee is understandable. Only problem is now he has to launder the illicit bounty, which leads to a meet-cute with Gus' accomplice Lydia Rodarte-Quayle (Laura Fraser). Suddenly, Mike's clocking in for a keeping-up-appearances day job overseeing quality control for Madrigal Electromotive. And then there's Jimmy, who's so consumed with his personal rebranding, Wexler McGill's success and his underlying obsession with undermining Chuck (he even hires petty thief Huell Babineaux to help orchestrate Chuck's demise) that he doesn't realize his machinations could have deadly consequences. Chuck, mired in disgrace engineered by his little brother, ends his own life, and Jimmy would never be the same again. He wouldn't even really be Jimmy.
Season 4 Do: Hire the Best People for the Job
Lydia immediately reaps dividends by having Mike patrolling Madrigal as a consultant, and Kim delegates wisely to her paralegal Viola, ultimately helping her spend some time on pro bono cases that make her feel more useful than toiling at Mesa Verde's behest. And then there's Gus, who needs a brilliant engineer to build out the meth-making superlab that Walter White (Bryan Cranston) and Jesse Pinkman (Aaron Paul) would call their second home. (Both characters have been confirmed for an appearance in Saul season 6.) The part-time fast-food franchisor finally lands on German genius Werner Ziegler and his loyal crew, who grow homesick but are quite up to the task — and Gus dispatches Mike to make sure they stay on mission. And why wouldn't CC Mobile onboard Jimmy to shill cellphones at one of their area stores? Before long, Jimmy earns his keep by selling a ton of burner phones to a neighborhood ne'er do well. But Jimmy remains restless, hiring B&E man Ira to snag a bunch of collectible figurines from the executive of a photocopier-manufacturing company and share the profits. Everyone seemed to be putting the right personnel in place, which is half the battle for any budding entrepreneur.
Season 4 Don't: Accept a Job Offer from Shady People
Werner knew he was in league with some sordid characters, but it was a windfall gig for him and his team — the type that would allow him to retire early and romance his wife 'til their dying day. Unfortunately, the circumstance quickly degraded: a bunch of workers in isolating conditions doing monotonous work with no end in sight. Werner hit his wall, flew the coop, spilled Gus' secrets to outsiders and met his demise at the wrong end of Mike's gun. Mike, for his part, is devastated at having to kill Werner, who had become something of a friend. But supervising the superlab's construction can be a messy job. Even Huell couldn't have anticipated how his one-two punch as stealth pickpocket and imposing muscle would lead him down a rabbit hole that only hits bottom when he lands in deep water with the DEA. The lesson? Stick to official job websites.
Season 5 Do: Carry Sunscreen and Water at All Times
Especially if you live in or near the desert and find yourself on call for all manner of dirty errands at the behest of a psychotic drug lord. Jimmy and Mike absorbed this axiom after soaking in a day's worth of unrelenting sun on the world's most unpleasant nature hike. Jimmy was now stuck representing Hector's murderous nephew Lalo Salamanca (Tony Dalton), who'd made his way north of the border to help fill Hector's shoes. A money-drop in the middle of nowhere to facilitate Lalo's seven-figure bail on a homicide rap goes sideways, with Mike saving the day. Bonding, blisters and black comedy ensue as the duo wends its way to familiar ground. The complexion of their relationship, as well as Saul's underworld ties, are forever altered.
Season 5 Don't: Leave Any Stone Unturned
Nacho concludes his season five arc by fleeing Lalo's compound in Mexico as Gus' assassins storm the gates to execute Lalo and anyone in his employ. Alas, they manage to violently kill some relatively innocent housekeeping and landscaping staff, but Lalo gets the best of them. And the worst for Nacho and co. is yet to come. Breaking Bad fans know Gus survives whatever Lalo has in store, but his biggest misstep was letting Hector live and even recover some measure of health so that only he could dictate how and when his nemesis died. That would quite literally backfire. Kim, meanwhile, has hatched a devious scheme to defame Howard and speed up the meting out of owed recompense from Sandpiper Crossing. Maybe it will work, or perhaps she's underestimating Howard and how exasperated he is at being shamed and undercut by his ex-proteges. (And as the season 6 trailer forebodes, he's "just getting warmed up" himself.) Only Mike, who refused to leave that desert following the ambush on Jimmy/Saul until they did away with every last foe, seems to know what it means to go all the way. No half-measures, right?
Watch the final season of Better Call Saul on AMC, starting April 18 at 9 p.m. ET.
This advertising content was produced in collaboration between Vox Creative and our sponsor, without involvement from Vox Media editorial staff.