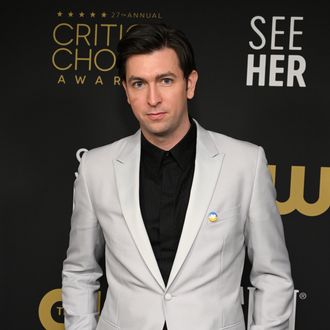 Photo: Michael Kovac/Getty Images for Champagne Collet & OBC Wines
Cousin Greg is going to have to grow his hair back out. Nicholas Braun is teaming with Spider-Man: No Way Home co-producer Chris Buongiorno to develop a new show about the early-aughts music scene for HBO. Per Variety, the show will tell the "candid and intimate story of a talented but dysfunctional band struggling to survive the rapidly changing landscape of independent music in the early 2000s." That's right: We're getting Vinyl about the people who watched Vinyl. A Mrs. Maisel about the Strokes. A Meet Me in the (Fictional) Bathroom. Braun and Buongiorno will co-write the series, titled One for the Road, as well as serving as executive producers.
The show is primed to capitalize on early- to mid-aughts nostalgia, which is ripping through the most online parts of our culture. Beyond the indie-sleaze revival in fashion, we have the Cobrasnake book coming out in May, hints of new music from Sky Ferreira, and all the shag haircuts on TikTok. Call them a "wolf cut" all you want, that is Julian Casablancas hair and you know it!