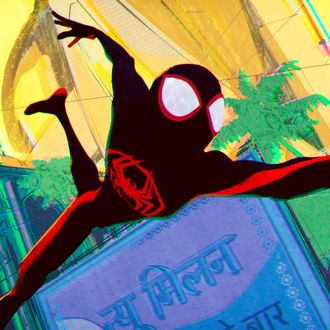 Photo: Sony Pictures Animation/B)2021 CTMG, Inc. All Rights Reserved.
Update, Tuesday, April 26 at 12:45 a.m.: Sadly, we are still not living in a version of the multiverse where Spider-Man: Across the Spider-Verse was released on time. Sony Pictures is not dropping the sequel to Spider-Man: Into the Spider-Verse until June 2, 2023, but Phil Lord and Chris Miller have taken pity on us and shared some details about their delayed animated film. The new information was revealed on Monday at CinemaCon, when the Oscar-winning co-directors also played 15 minutes of unfinished footage. According to Miller, the sequel is "waaay bigger than the last one." It will take place in six universes and feature 240 characters, including Miguel O'Hara (Spider-Man 2099, voiced by Oscar Isaac). While the original film had 800 animators, 1000 people worked on the follow-up. "We had to try to break new ground," Miller said. "It's the largest crew for an animated movie ever."
The footage played at CinemaCon mainly focuses on Gwen Stacey/Spider-Gwen (Hailee Steinfeld) facing off against Vulture — not us, but the Staten Island electrical engineer who doubles as a flying supervillain — at New York's Guggenheim Museum. Jessica Drew/Spider-Woman (Issa Rae) does not let the fact that she is pregnant and riding a motorcycle stop her from joining in on the action. The preview clip later cuts to a parent-teacher meeting at school to give us a brief look at Miles Morales, once again voiced by Shameik Moore. As it turns out, the directors have already done enough animation to make two movies. Spider-Man: Beyond the Spider-Verse will supposedly release around Easter in 2024. But forgive us, Sony, if we want to wait for the sequel before getting our hopes up about the sequel's sequel.
Original story follows.
Sounds of laughter and shades of life are ringing, but they're coming sarcastically from screenwriter Phil Lord. Sony Pictures published their latest release calendar and the sequel to the animated hit Spider-Man: Into the Spider-Verse has been delayed to 2023. Originally scheduled for October 7, 2022, the Spider-Verse sequel is now set to premiere on June 2, 2023. The anticipated sequel will come in two parts; its other half, Spider-Man: Across the Spider-Verse II, will be out on March 29, 2024. The cast includes stars like Shameik Moore, Hailee Steinfeld, and Jake Johnson returning to the Spider-Verse, adding in Moon Knight's Oscar Isaac and Marvel newcomer Issa Rae. One half of the writing duo that penned the Oscar-winning script, Phil Lord, appeared to subtweet the news by writing "Lolololololololololololololol" shortly after the delay was announced. However, three hours after he tweeted, he clarified that the lols were "not about spiderverse." His writing partner, Christopher Miller, had a more hopeful outlook on the news. "More time to make it great," he tweeted, along with a spider emoji.
This post has been updated throughout.