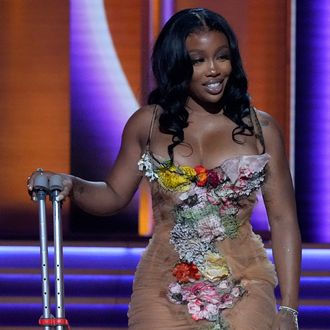 Photo: Kevin Mazur/Getty Images for The Recording Academy
Help! SZA has fallen, but she's getting right back up. The "Kiss Me More" singer had a time of it collecting her Best Pop Duo or Group Performance trophy with Doja Cat, due to her crutches. Lady Gaga held up her train as she walked with the mobility aids. (And this has been a real award season for the intersection of Lady Gaga and accessibility issues, has it not?) Speaking to Variety, SZA explained that she got her injury falling out of bed. "Whenever something big happens to me, something crazy happens too," she said. SZA added that she's been using a wheelchair since the injury occurred, but didn't want to commemorate the night sitting. In an Instagram story posted April 4, a nurse wrapped gauze around her ankle. "Lmao welp it's confirmed broken … I just thought it was sprained 😭I was NOT missing that red carpet," she wrote. In the next snap, SZA posted an X-ray of her ankle with the caption: "Chipped the corner of my ankle bone right off doing NOTHING 😭." "Eff my weak ass bony ankles," she wrote below an Instagram carousel featuring Lil Nas X wheeling her around. Careful holding that Grammy, SZA.
This post has been updated.