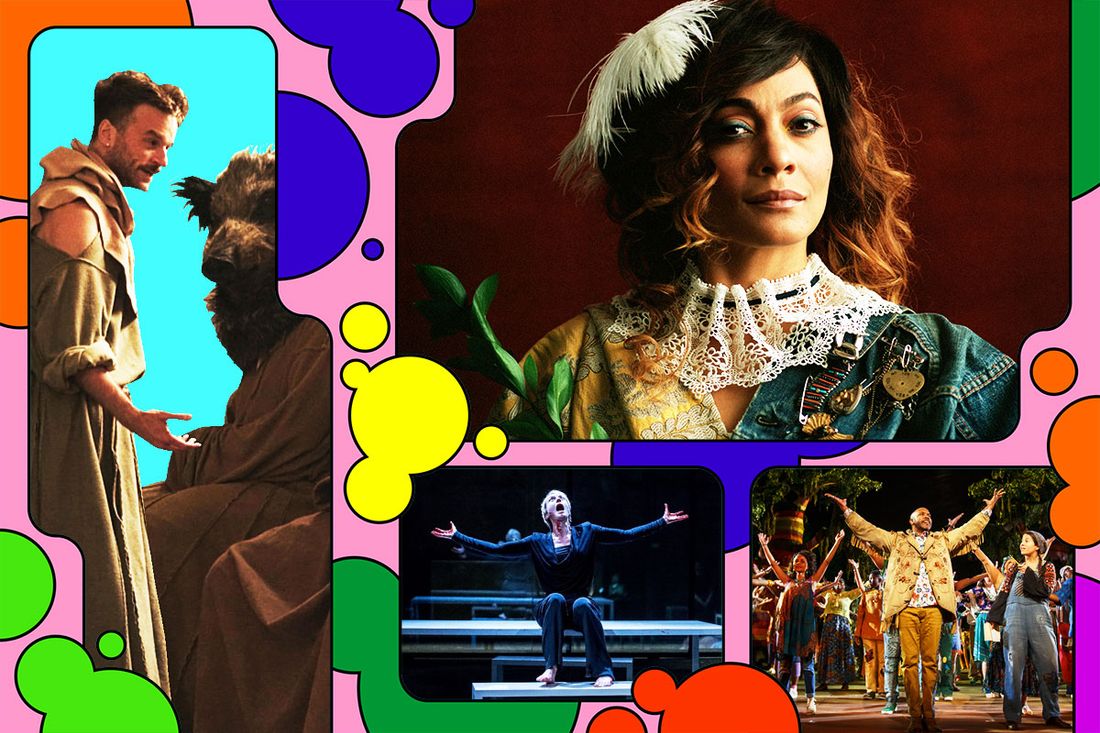 Photo-Illustration: Vulture; Photos by Joan Marcus, Maria Baranova, Park Avenue Armory and LaMaMa
What theater do you seek out when it's hot? Effort is difficult when the temperature rises. So let's make it easy: You should go see whatever won a Tony; you should also go see whatever didn't. The city didn't win one, for instance, and New Yorkers can just wander around our own streets and find performance. Some of our best theatrical experiences in the summer take place outdoors: In the parks and plazas and squares, you'll surely bump into some Molière or Shakespeare, and not just from the Public Theater. Apart from a few tentpole pieces here and there, though, we aren't quite back up at pre-shutdown levels of programming. Still, there's more than enough to keep you out and about through Labor Day, dazzled by what the theater has to offer.
Hamlet and Oresteia
Hugely anticipated when they were announced two years ago, the British director Robert Icke's two productions finally play in repertory at the enormous Park Avenue Armory, where the bleak dramas about intrafamilial vengeance can stretch their tragic wings. Hamlet stars Alex Lawthor and runs roughly along the lines of Shakespeare's original (though Icke interpolates some text from the so-called "bad" quarto and gets up to other dramaturgical high jinks); Oresteia stars Lia Williams as Klytemnestra and departs radically from the bones laid down by Aeschylus, crushing an entire trilogy about justice into one crammed grave. (Park Avenue Armory; in previews June 1.)
Corsicana
When Will Arbery's Heroes of the Fourth Turning appeared in 2019, it hit the theater's collective sweet spot — the springy part of the bat, the twangy part of the racket. Turning was a Pulitzer Prize finalist for its linguistic richness, timeliness, and moral complexity. Now Arbery is back, again at Playwrights Horizons, with a play about a woman with Down syndrome and her half-brother, both of whom are struggling after their mother's death. Sam Gold directs, and Deirdre O'Connell, the tremendous actor from Dana H. who is reason enough to book a ticket, appears as a close family friend. (Playwrights Horizons; in previews June 2.)
God's Fool
Dance-theater titan Martha Clarke ventures again into religious ecstasy with this imagistic portrait of St. Francis of Assisi, the ascetic and mystic who connected most to animals and the desperately poor. Collaborating with poet Fanny Howe and music director Arthur Solari, who has built her an a cappella score of early liturgical chants, Clarke continues her life's long project of turning parables and paintings into movement pieces that hint at another, more exalted state. The cast, a whole monastery's worth of talent, includes downtown treasure John Kelly and ballet icon George de la Peña. (Ellen Stewart Theater at La MaMa; in previews June 12.)
Richard III
It's a ritual: You get in line, you eat an ice cream while you wait, and at the end you get a free ticket to a Shakespeare play. This season's first Shakespeare in the Park offering stars the majestic Danai Gurira as the crooked wannabe king who winks at the audience while sneaking a (bloodied) crown out from under an entire dynasty's nose. Robert O'Hara, known for his wicked touch with comedies, directs a cast that also includes Ali Stroker, Michael Potts, and Gregg Mozgala. (Delacorte Theater in Central Park; in previews June 17.)
White on White
When Alec Duffy started the JACK theater in Clinton Hill, the demands of artistic directorship slowed his own theatrical output with his Hoi Polloi company to zero. For those of us addicted to his music-infused work (like Three Pianos and The Less We Talk), it was a serious blow. Now, after ten years, Duffy is stepping down from his co-directorship only to immediately step into co-directing (with Lori Parquet) this new uncanny comedy about an anti-racism affinity group, written by the wickedly inventive Robert Quillen Camp. (JACK, in previews June 23.)
More anticipated events:
— Lincoln Center gathers all its many summer festivals into one big one called Summer for the City (May 14–August 14), which will fill all the plazas with dance, music, classes, rituals, and storytelling projects.
— The River to River Festival puts art where you least expect it — including a puppet parade across the greensward of Battery Park, a modern dance performance at Federal Hall, and a choreographed piece, duet/duet, at the Arts Center at Governors Island (June 12­–26).
— Put yourself in the hands of the youth with BAM's Night Walks With Teenagers, a "rambunctious" interactive guided tour of a specific Brooklyn neighborhood, devised and led by local teens (June 15–18).
— The Clubbed Thumb Summerworks Festival is still the easiest one-stop shop for adventurous playwriting. This year's lineup has already begun unspooling; in June, you can catch Spindle Shuttle Needle (June 6–16) and Bodies They Ritual (June 22–July 2).
— Joe's Pub at the Public Theater gets very fancy this month, with an album release by Joey Arias (June 17) and an eight-performance engagement with Taylor Mac and Matt Ray's still-in-development epic about queer luminaries, The Bark of Millions (June 20–30).
—A quick drive (or train ride) up the Hudson to Bard College gets you to the Fisher Center's Summerscape Festival, which this year includes a new translation of Molière's Dom Juan, directed by Ashley Tata and starring Amelia Workman as the titular cad (June 23–July 16).
Twelfth Night
The Classical Theatre of Harlem offers its own free Shakespeare in the (Marcus Garvey) park every summer, and this year's offering is his most impeccable comedy, Twelfth Night. On the shores of a beautiful kingdom, where everyone seems to be sunk in either love or grief, Olivia, Viola, Sebastian, and Duke Orsino play games of gender and love — and they all, despite frequent misunderstandings, win. CTH's associate artistic director (and chair of the NYU Grad Acting Program) Carl Cofield directs an Afrofuturistic take on the play, which Tiffany Rea-Fisher will choreograph. (Richard Rodgers Amphitheater in Marcus Garvey Park; in previews July 5.)
The Kite Runner
Matthew Spangler's stage adaptation of Khaled Hosseini's bestseller about two boys growing up in Kabul in the 1970s is the only Broadway show opening this summer. A transfer of Giles Croft's production on the West End in London, it comes to town after fifteen years' worth of disparate versions played elsewhere. (Helen Hayes Theater; in previews July 6.)
Seagull
The lively minds at the experimental heavyweight Elevator Repair Service have been working on Chekhov's meditation on artistic innovation for years. That deep work has now been woven into the complexly textured show, which warps in and out of forms — sometimes the ensemble is performing the play, sometimes they're playing actors chatting with the audience, sometimes we're not sure which is which. John Collins directs a cast of downtown marvels including Pete Simpson, Susie Sokol, Maggie Hoffman, and Robert M. Johanson. (Skirball Center at New York University; in previews July 12.)
Notre-Dame de Paris
I cannot believe this show is actually packing its hunchbacks and coming to New York — I have been hearing about the vertiginous, uh, heights of this pop-rock blockbuster for literally half my life. One of the big-haired Euromusicals of the late '90s (think Dance of the Vampires but with Quasimodo), Luc Plamondon and Richard Cocciante's Victor Hugo adaptation has been swinging its bell in 23 countries and will finally reach our shores for a one-week engagement. It's in French with subtitles — but you can always brush up on the lyrics ("Tu vas me détruire!") ahead of time by watching Céline Dion perform them on YouTube. (David H. Koch Theater at Lincoln Center; from July 13.)
More anticipated events:
— The summer offerings at the Shed presented under the Open Call umbrella (from July 8) look particularly tasty and well-considered this year, including JJJJJerome Ellis's Benediction, a sung-and-recited ceremonial piece composed partly from 19th-century runaway-slave advertisements (July 28–30).
— The ecotheater group Superhero Clubhouse presents Lanxing Fu's Mammelephant, an epic about the end or beginning of things, at 122CC (July 21–August 6).
— The musical Kinky Boots, Harvey Fierstein's adaptation of the big-hearted, glitter-filled film (with songs by Cyndi Lauper), moves from Broadway to Stage 42 for a smaller-scale coda to its already long run (from July 26).
— An easy trip to Hudson Valley Shakespeare will get you to Gaye Taylor Upchurch's production of Romeo and Juliet (July 7–September 18), Davis McCallum's staging of the too-relevant tragicomedy Mr. Burns, a Post-Electric Play (July 8–September 17), and Madeline Sayet's solo piece Where We Belong (August 13–22).
As You Like It
Shakespeare in the Park's second summer show has actually been here before. It's the rapturously received 2017 production of Shakespeare's gender-disguising comedy, musicalized and adapted by Shaina Taub (known for the recent Suffs) and the theater's Public Works director Laurie Woolery. "All the world's a stage / And all the men and women merely players," whines one guy in the play, but the Public Works model clearly takes that as a promise, not a complaint. Its epic cast of close to 200 performers includes Broadway pros, community members, and people from local arts groups — a version of the Forest of Arden that aims to reflect the makeup of the city itself. (Delacorte Theater in Central Park; in previews August 10.)
Once Upon a (Korean) Time
The quicksilver actor Daniel K. Isaac's knowing comic presence in this spring's production of The Chinese Lady at the Public was so full of repressed and unspoken thought — audiences could see everything he wasn't saying flickering through his eyes — that we should have guessed he was writing a play in his head the whole time. Ma-Yi Theater now presents Isaac's own amalgamation of Korean fable with the horrors of the Korean War, which moves across generations in a quest for answers about trauma and diaspora. His director from The Chinese Lady, Ralph B. Peña, returns as well. (Ellen Stewart Theatre at LaMaMa; in previews August 23.)
More anticipated events:
— There's another set of intriguing offerings at the Shed's Open Call season, including Benjamin Akio Kimitch's choreographic exploration of non-western dance forms Tiger Hands (August 4–6); z tye's immersive sanctuary for trans fellowship, The Available Bodies (August 11-3); composer Justin Hicks's investigation into nature's power in his vocal performance Outside (August 18–20); and the disability arts ensemble Kinetic Light's aerial ballet Wired, which explores the history of barbed wire (August 25­–27).
— You could also pop up to the Williamstown Theater Festival to see Harrison David Rivers's We Are Continuous, a play about a stretched-to-breaking bond between a mother and son (August 2–14).