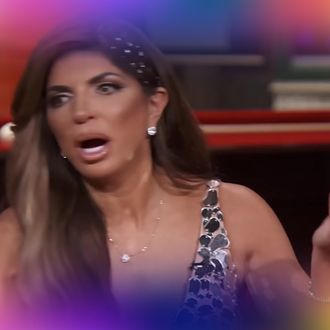 Recently, a single, working father of two admitted that he is on "a lot" of dating sites. "I really use them more as video games," he said. "I use them more as I'm home killing time. Like, 'This is fun to look at.' It's more fun than playing Scrabble online, let me say that."
This leads me to wonder, just what dating sites is Bravo's mascot-in-chief Andy Cohen on? I mean, I spent plenty of time on the apps in Manhattan and never wandered across a hairy, fit torso with a B-52s song quote as its bio and the warning, "No Taps." How is it that Andy spends so much time flirting online and we haven't seen the leaked D pics? He must be way more discreet than we thought, or else he's making all the twinks that come over sign NDAs and turn over their phones. And what sites is he on? Tinder? Hinge? Bumble? Grindr? Sniffies? (WARNING TO STRAIGHT PEOPLE: Do not Google that last one.) Inquiring minds want to know.
While Andy is trying to hook up, everyone in the Bravo universe is breaking up. Well, not really everyone, but it seems like a lot. We're also looking at the reunions of both Summer House and RHONJ this week, but before we can get there, here comes the news.
—Dame Brian Moylan
Not all the news, but all the news you actually care about.
COURTING DIVORCE: There are some Real Housewives breakups that are a little bit stunning, but then there are the ones that fall in the "Uh, duh" column. Much like Michael and Ashley Darby, the latest entrants into the "I saw this coming" club are Lenny and Lisa Hochstein from RHOM and Ryne Holliday and Dr. Jen Armstrong from RHOC (if she gets another season, which is doubtful).
The Lisa and Lenny drama started May 7 when Lisa showed up at a Miami nightclub (with castmate Larsa Pippen at her side) to confront Lenny and his new girlfriend, model Katharina Mazepa. Apparently, a drink was thrown. Sadly, the camera crew was not there to capture this, but don't you worry, ladies and gentlemen who love gentlemen, RHOM is currently filming this season, so Lisa will finally have something to do this year.
While Lenny initially denied that the two were breaking up, he later confirmed it. This should come as a surprise to no one, especially considering the couple opened up about how they almost separated after Lenny's "emotional affair." It seems like his relationship with Katharina is a lot more than emotional, and if Lisa didn't see that he would eventually trade her in for a younger model, then she is as goofy as Lea Black's caftan collection. Mazepa told "Page Six" that Lenny was already separated and she is "not the reason for the divorce," but come on. Lenny wasn't jumping off this boat without a life preserver, or at least a pair of flotation devices.
At the most recent RHOC reunion, Dr. Jen said that she and Ryne were good through gritted teeth. No one believed it. Now she's filed for legal separation, listing the date of separation as way back in September. She requests sole custody of the kids, even though he's the one who has been raising them while she was the breadwinner. She also requests that Ryne, a stay-at-home father, not be given spousal support, and that she get the pair's three homes and all of her jewelry. But how is Ryne going to afford taking care of his one true love, Mr. Puppers?
It looks like two more couples have finally fallen to the Bravo curse, but leave it to our girl Kelly Dodd to put things in perspective. She commented, "Doesn't mean they filed for divorce … they just want another season."
THE GAME'S AFOOT: One of the things I love most about Lisa Vanderpump is that she can still find a way to insert herself into a season of RHOBH without even being a part of the cast. The most recent kerfuffle started when someone asked Dorit on WWHL if LVP had reached out to her and PK in the wake of her break-in. "No," she said. "Not a word."
Lisa replied on Twitter, "Fact … I reached out … They did not reply." She then tweeted a screenshot of the text that she sent PK saying she was sorry "about what transpired." Not one to take things lying down, PK, a Jack the Ripper tour lead by Swamp Thing, posted on Instagram, "I have bought [sic] in London's best team to help me locate the text that LVP supposedly sent … Will keep you all informed of their progress." This was a caption to a photo of Benedict Cumberbatch and Martin Freeman as Sherlock Holmes and Dr. Watson. If pettiness were a renewable energy source, the U.K. would already be off of Russian oil and gas.
THERE'S SOMETHING ABOUT DINA: There was a lot of discussion on the first part of the RHONJ reunion about why Dolores Catania wasn't invited to Teresa Giudice's engagement party. The reason she gave was that she doesn't go on double dates with Teresa and Luis, but Tre told the Slut Pig Podcast the real reason is because Tre's bestie and former castmate, the artist formerly known as Dina Manzo, doesn't talk to Dolores. Ooooh. What kind of drama is going on there?
Dolores then told "Page Six" that what Teresa said was true, but didn't give any real dirt on what is up with her and Dina. "Sometimes friendships have expiration dates," she said. "There's no rhyme or reason why two people have to always stay in each other's lives. You don't need to get in a fight to go separate ways." Dolores says that she has talked to Dina over the years, like at Teresa's mother's funeral, but there has to be something more to this story if Do would get snubbed for the party to keep Dina happy. Quick, someone ask Dina's estranged sister Caroline Manzo what she thinks.
SWABBING THE DECK: It pains the Institute to admit this, but the highest-rated show on Bravo isn't a Housewives franchise, it is Below Deck: Original Recipe. Now it seems like at least one cast member wants to get paid what he's worth. Eddie Lucas, who has been the bosun on the last several seasons of the show, told the New York Post, "There is somebody monetizing off of the show, but it's definitely not us … While we do get paid better than a normal yachtie, of course, we are still not getting paid what people like the Housewives are making, which is a little frustrating, because they're not really working — they're just going out to dinner and fighting."
Um, wait. Don't the yachties go out to dinner and fight too? I mean, they're doing a lot more than working. Remember when Eddie fucked Rocky Dakota repeatedly in the laundry room? That's a lot more than work. Even this wasn't enough for Bravo. Lucas says that, after six seasons, he hasn't been asked back for the next one and says everyone on that boat is expendable. I guess that's true of Housewives too. Just ask Vicki Gunvalson.
WEDDING SMELLS: We talked a lot about divorce earlier, so how about some weddings? Disgraced Pump Rules star Stassi Schroeder rewed Beau Clarke in Italy last week. The only SUR-vers in attendance were Katie Maloney and Tom Schwartz. (Wait, I thought we weren't mentioning divorces.) It turns out that some of Stassi's former co-stars, including Scheana Shay, were actually disinvited from attending. What a shame the cameras weren't there for this one.
Scheana and her husbear Brock Davies were in attendance at Hannah Berner's wedding to comedian Des Bishop in the Hamptons last week. Pump-ster Raquel Leviss was also there along with Ciara Miller and, of course, Paige DeSorbo and pillow magnate Craig Conover. But my favorite headline about Hannah's wedding belongs to an Irish newspaper. "Des Bishop's new wife shares wedding day photos." Sick burn(er).
HOUSEWIVES INSTITUTE SOCIAL PAGES
• Some good news for LVP: Vanderpump Rules was shockingly renewed for a tenth season. Guess Katie and Tom's divorce is not for naught.
• Our condolences go out to Kyle Richards, who posted about losing her best friend to mental illness.
• A big congrats to Million Dollar Listing's Fredrik Eklund and fellow Realtor John Gomes for receiving the Luminary Award from the Ali Forney Center, New York's homeless shelter for LGBTQ+ teens. The pair helped AFC secure a new housing site for trans youth. Also in attendance at the A Place at the Table gala were Teresa Giudice and Jennifer Aydin. To donate to a cause that is near and dear to the Institute's heart, click here.
• If you want to see just how rich newest RHOBH member Diana Jenkins is, just check out her colossal house.
• The Institute was already excited about gay rom-com Bros, but now that Miss Lawrence is in the trailer, we're officially hosting a premiere screening.
• The Real Housewives of Dubai trailer is here and I am … underwhelmed.
• The Southern Charm trailer is here and I am … slightly more whelmed.
• Congrats to @ZacharyRogerO for the LOL IRL Tweet of the Week.
The Summer House reunion. Not fun.
Guys, I'm worried about Paige. Not only did she show up to the Summer House reunion looking like a plastic bag plucked out of the black mayonnaise of the Gowanus Canal, she wore a face so stanky even the cheese section at your local Whole Foods was like, "Something around here is funky." What exactly was Paige's problem? Was she pouting because she was not on the couch with her friends? Is she the first person ever to be pissed that she was right next to Andy at the reunion? Braunwyn Windham-Burke would have sold 20 of her 62 children to sit in that seat for even a heartbeat. If the geniuses at @RealityPollsters are to be believed, Paige's favorability with fans dropped 20 percent just because of her performance at the reunion.
After a great season of my favorite show on Bravo, the reunion felt a little bit like a letdown, especially because some fan favorites — Paige, Mya, Ciara — were quiet and seemed a bit annoyed. There is also whatever happened to Danielle's eye shadow, which is the single meanest thing to ever happen on Bravo, a network that subjected us to almost a decade of Patti Stanger.
Speaking of which, let us give some props to Ciara for looking absolutely stunning as one of the Solid Gold dancers. (If you are too young to get that joke, I hate you or you are my niece Emily.) Mya also looked amazing in a hot-pink blazer with giant shoulders that made her look like she was going as Talking Heads for Halloween. Lindsay's robin's-egg-blue dress was great, though a bit too close in hue to Danielle's for the two of them to be sitting so close on the couch. As for everyone else — yowsers. Carl and Invisible Alex wore the same exact suit. (Didn't anyone give production a heads-up on what they were wearing?) Andrea and Luke relied on their pretty privilege to pull off boring outfits. But it was my imaginary husband Kyle J. Cooke, with a collar straight out of a high-school production of The Crucible and a prehensile mullet tail, who was the real loser here. Sorry, my man Kyle.
Kyle and Amanda, however, did make out like bandits at this reunion. Though most of the season was about the pair and their struggle, they came out mostly unscathed at the reunion, not having to relive the worst of their fights or make Amanda address how, exactly, you can call someone 92 times in a row and then leave all of their belongings on the front porch. Kyle even got to talk about how hurt he was by hearing some of the women in the cast (especially Paige) talk about how he and Amanda shouldn't get married.
Instead, it was Ciara who fielded the hard questions, mostly about her fight with Lindsay and Danielle and her relationship with Austen. Even a great segment going over her and Mya's chat with the house about being Black in the Hamptons was marred by Danielle talking about how she felt her position as a person of color in the house was diminished by Ciara. The real stinger, though, was finding out that after everything we saw, that after everything Austen put her through, she still went and hooked up one more time with that Honda Civic of a man. (Thank you, Alex, for your one contribution all season.)
Ciara did handle it well, apologizing where she needed to, explaining her motivations, and making a clear and rational case for why she behaved like she did. Paige, on the other hand, did not. She just sat there looking like she both smelt it and dealt it, and Andy called her out at every turn. She even made the mistake of insulting Carl by saying, "What did you even do this summer?" Paige talks about how she gave her all to the show, insinuating that some on the couches did not. Um, by giving it your all, you mean lying in bed all season pining over Craig? I guess that could be giving it your all.
What this is all hinting at is something Paige expressed that was never really explored. She thinks that the new people never get a chance to bond with Lindsay, Carl, Danielle, and Kyle, the people who were there from the beginning, totally forgetting that one of those people is Amanda, who is like her BFF. I can see how there is a rift between the old-school and the new-school, but that's something to talk to them about in the house, something to work on during the summer, not an excuse for sitting at the reunion looking like your Amazon Live got canceled. In the end, the fans showed they want to see more of the old-school people and less of these antics. Maybe Paige will finally take notice.
Aboard
the
Teresa-Go-Round
Recappings parts two and three of the RHONJ Reunion
There are two things I know for sure. One: Teresa's last name is pronounced "Joo Dice," because she said it twice that way on the reunion. Two: She is not just a contestant on Celebrity Apprentice, she is also just like the mentor. I'm not just talking about the fake tan and the bad hair. I'm not talking about the below-average intelligence and the brilliant ability to manipulate the press. I'm talking about how both of them are sticking to the "big lie" and how their fans and followers refuse to believe the truth even as people close to them tell them otherwise.
Teresa's big lie is that Margaret somehow brought up these things about her fiancé Luis to hurt him, but it's just not true. Even when Luis finally came out and Andy grilled him, Teresa still couldn't believe the cold hard facts right in front of her. What is fascinating to me about Teresa is that, as good as she is at using the tabloids to her advantage, she has no idea how this show of hers works. Everyone on those couches knew that Luis needed a chance to explain his side of the story. When he talked about the allegations of his exes and that creepy video of him on the beach, it made perfect sense. But him explaining it this way is the opposite of what Teresa wanted. Doesn't she understand that is what the fans need, and that this grilling at the reunion was as inevitable as the burning of your backside the morning after a vindaloo?
Luis says that the video came from a retreat he went on where he and the other dudes were running in and out of the ocean, which is why they were all shirtless. He says that he wanted to break up with this woman but refused to, so the guys at this group, instead, forced him to commit and propose to her. When he got home, she hit him with a prenup giving her $1 million to marry him. Okay, I'm not sure that's how prenups work (just ask Kyle and Amanda), and also that seems like really shitty advice to get from the people at this retreat. I want to give up meat but can't do it; that doesn't mean I should gorge myself on brisket. It's counterintuitive to the point of nonsense, but at least it's an explanation.
Once he gives it, Joe Gorga applauds him, saying that was all we needed. Margaret says, and I believe her, that she knew he needed to get ahead of these things and she was giving him the opportunity. She was trying to help. Luis agrees with Margaret and says that if he had explained himself, something that Teresa robbed him of, things would have been different. He says he agrees with Margaret that she was trying to help him, not hurt them. Still, Teresa is there calling her an awful person, shouting at Luis not to shake Joe Benigno's hand, and generally being an ass about the whole situation.
Andy takes two opportunities to try to explain the facts to Teresa: first when she goes backstage to comfort Joe, where she turns what should have been her apology into something about how Marge was mean to Luis. The second is while this is all unfolding. Teresa is mad at Margaret for "bringing these things to light." Andy says, "They were already light." He says that if his best friend were dating a guy with as much baggage as Luis, he would be asking questions too, but Teresa refuses to acknowledge that she could be wrong. Her ego (like her mentor's) is so fragile that she refuses to change her opinion about anything. Just ask Melissa Gorga, who has been suffering for the better part of two decades.
I just find it all so exasperating, especially because Teresa's fans cling to her like a crab on a pube, even in the face of turning tides. When WWHL did a poll about whose side everyone was on, Teresa or Melissa, Missy G got a whopping 89 percent of the vote. How did the Tre Huggers respond? "Fake polls." It's the exact same playbook. It's astonishing. But need I remind them that a WWHL poll was one of the few places that accurately predicted that Trump would win the presidency in 2016?
Speaking of fake, what about Traci, who was hilariously edited right out of the reunion? It's like they knew about it all along, because the friend-of didn't even get a seat on the couch; she got a chair pulled up to the end of it, like the fifth friend who came an hour late to brunch. They basically put this woman at the kids' table, then had the audacity to not even let her say one word. It is cold and heartless and it is exactly the kind of move that makes all of us at home laugh into our mochi balls while we're watching these here programs.
As for the rest of the reunion, it was actually pretty good. Frank pissed off Dolores by (accurately) saying her man looks like Buzz Lightyear. Jennifer tried to get vindication for digging on Evan, even though there is nothing to vindicate her from because she totally did it. Jen and Jackie came to a bit of a détente, as did Marge and Jennifer. But it was Teresa, the grudge-holder-in-chief, who looked the worst. Oh, well, maybe that was Joe Gorga for saying, "Men are a bit more stable up here," pointing to his head and saying that real men work construction and don't engage in pansy-ass professions like being a doctor. Otherwise it was Tre, sticking to a fiction that has been disproven, ginning up a story line out of nothing but anger and hurt, and, sadly, benefitting from it right up until the end.
Yes, her Norma Kamali turtleneck is gorgeous, but it's Erika Jayne's withering greeting to Sutton Stracke that is the real star of this show.
Below Deck: Sailing Yacht, Season 3, Episode 11: Barnaby is a total pro. I am also obsessed with the fact that he believes he can get rich by osmosis. I, too, believe this.
Below Deck: Sailing Yacht, Season 3, Episode 12: The next scene, though, is perhaps the most disturbing of the entire episode. Ashley shovels a pile of spaghetti into her mouth that is so big it takes her multiple attempts to choke it all down.
Real Housewives of Atlanta, Season 14, Episode 2: Let's give Ralph a slow clap for his astonishing performance, as usual.
Real Housewives of Atlanta, Season 14, Episode 3: Drew's tea backfires with Shereé's friend Fatum saying that assistant Anthony has been saying that Ralph is gay? Sigh. Let the games begin.
Real Housewives of Beverly Hills, Season 12, Episode 1: I'm sure Mauricio, voted hottest stoner in L.A. three years running by Horny Homosexuals Magazine, did want the details, but it was the viewers at home who needed to hear this.
Real Housewives of Beverly Hills, Season 12, Episode 2: Sutton even apologized for what she'd said, but that wasn't enough for Lisa Rinna: Pet Detective — who had to carry this grudge even further.
Dean's
List
for
Best
Comment
of
the
Week
Highlighting the best insight from our lovely Institute members. This one is from a recent RHOBH recap. 
TripleJ.Ferro: "You're such an effing tattletale Kyle!"
"I wouldn't be surprised if Kandi sucked dick in a locker room. She sucked dick everywhere else." — Your once and future champion, Shereé Whitfield