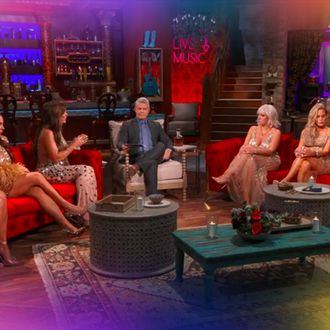 Photo-Illustration: Vulture; Photo by Bravo
The Housewives fandom firmament was shooketh May 1 when our dark lord Andy Cohen announced on his social-media platforms that he had a second baby (via surrogate, duh). As a second-born child, I know she's already getting the shaft. His firstborn, Ben Cohen (not to be confused with the sexy, oft-shirtless rugby player) got a big fat announcement on WWHL in front of the Housewives Mount Rushmore with an enormous baby shower with every Real Housewife in existence. The second child gets, what, a blurb on Twitter? Great. Thanks, Dad. And just imagine the naming process: Andy had to go through the baby book putting a red line through every Housewife's name so as to not show favoritism. Jill? No. Kim? Certainly not. Shereé? Hell to the no to the no no no. That must be how he ended up with Lucy Eve Cohen. Forever may she reign … in her brother's shadow.
While the surrogate was giving birth, we here at the Housewives Institute were giving birth to this here newsletter in which we're recapping the RHONJ reunion, sharing a few thoughts on the RHOA premiere, and of course talking about the news. Now push. Puuuuuuussssshhhhhh!!!!!
—Dame Brian Moylan
Not all the news — but all the news you actually care about.
PETER PETER HOUSEWIVES EATER: You know those rumors that are doubtfully sourced and you know might not be true but you really want them to be true for the good of the shows but you also want them not to be true for the good of the Housewife involved? Well, we have quite the doozy. Media Take Out reports that Gizelle Bryant is dating Peter Thomas, the ex-husband of Cynthia Bailey. Peter recently opened a Bar One in Baltimore, and apparently RHOP has filmed five (five!) scenes there of him and Gizelle hanging out. This naturally invites speculation that their relationship will be the centerpiece of her story line this season since her disastrous renovation of Chateau Gizelle has come to a hodgepodge end.
The reason not to believe this rumor is the detail about filming five times at one restaurant — not even Ashley Darby's ill-fated Oz got that much attention. Then again, the women were spotted filming at Bar One's Miami location this week, so maybe he is getting that much attention. But the reason to believe it is of course Gizelle would date Peter Thomas. A no-good, emotionally unavailable man from Atlanta who's going to treat her poorly is exactly her type. However, I could also see Peter leaking this fake rumor just to get some attention for all of his (often failing) businesses.
Both Gizelle and her bestie, Robyn Dixon, have independently said it is absolutely not true, but, you know, can it be? For a season, a reason, or a lifetime, as word art you buy at Home Goods would say.
CAST OF CHARACTERS: The RHONJ reunion (see below!) still hasn't finished airing, and we're already getting rumors about the cast for next season. The biggest of which is Jackie Goldschneider has been demoted to "friend of." That would be a shame because her very public struggle with disordered eating was my favorite part of this past season. Shockingly, it looks like no one has been fired, though it's no surprise that Traci Johnson will not be back. But can we keep her husband, Tiki Barber, as a friend of the boys?
There are also reports that three new women are auditioning to be holding a gabagool in the opening credits. (That's what they hold, right?) AllAboutTRH identifies the new candidates as bougie kids'-store owner Danielle Cabral (who sports a double-date picture with Teresa Giudice and Luis Relais on her Insta grid), Rachel Fuda (who has only 800 or so followers, but among them are Margaret Josephs and Melissa Gorga), and shoe company CEO Jenn Fessler (who has even fewer Insta followers than Rachel). We'll have to wait and see who, if any, of them makes the final cut, but it seems like Teresa is gonna need a few more friends.
VALLEY OF THE D'OHS: Disgraced Vanderpump Rules star Stassi Schroeder is on a media blitz for her new book, Off With Her Head, and is seemingly doing any podcast that will have her. (Same, sis — I get it.) On The Morning Toast, she said what we all knew for quite some time: Bravo had a spinoff planned for her and the old-school cast before she and Kristen Doute got fired in the wake of the BLM protests. The show was meant to be called Valley Rules and feature all of the old cast in their new neighborhood of Valley Village, and Pump Rules would be rebooted with a whole new class of SURvers. Instead, we got the original Pump Drools limping along like a wounded dog.
Fans have been wagging that another spinoff was in the offing when Andy Cohen recently referred to Lala Kent as being from Vanderpump Valley on a recent episode of WWHL. Lisa Vanderpump herself told E! news she can't validate those rumors or speak to the renewal of the original show. In classic LVP fashion, she said, "I'm not allowed to say, but I always know more than you."
LEAKES LEAKS: In a new airport TMZ interview, NeNe Leakes answers questions many fans (including those who run the Institute) had about the motives and timing behind her lawsuit against Bravo for racial discrimination. NeNe says her motivation was to stop racial prejudice, and she filed it now because she had been trying to file it for years but kept getting roadblocked. Okay, asked and answered. While promoting the new season of RHOA, both Kandi Burruss and Marlo Hampton were asked about the suit, and both declined to comment. NeNe was asked if she was seeking compensatory damages, which she didn't answer, but she must be sitting pretty, considering she just moved into a fab $1.8 million Atlanta condo.
SUMMER SHOULD BE FUN: We started with a rumor that might be true, so let's end with one that certainly isn't. Someone posted to Instagram bathroom-stall wall DeuxMoi that Ramona Singer knows she's not going to return to either RHONY or RHONY: Glue Factory, so instead she wants Bravo to use her house for the next season of Summer House with her acting as the Mrs. Roper to a house full of sexy singles. (If you are too young to get this reference, I envy you and would like to drink your blood.) She's also advocating for her daughter, Avery Singer, to have a full-time role on the show. Okay. I can believe that Ramona "Floor Pooper" Singer has asked Bravo for this to happen. Of course she did. But I can't believe for a second they would do it.
HOUSEWIVES INSTITUTE SOCIAL PAGES
• The Institute would like to announce the creation of the Noella Bergener Legal Defense Fund to pay for her lawyers to cover the lawsuit she just lost. She now has to pay $450,000 for [checks notes] unpaid legal bills.
• Ex–Kardashian bestie Larsa Pippen was hanging out in Miami with ex–Kardashian lover Scott Disick. If this is not on the next season of RHOM, we're gonna be pissed!
• Our sincerest condolences to our spiritual mother Jill Zarin who has yet to hear from RHONY: Old Folks Home about returning to the show. It's coming, Jill! We promise.
• Speaking of Jill, The Real Housewives Ultimate Girls Trip: The Hunger Games: Mockingbird: Part 2 trailer dropped this week, and it is just the kind of horror film we can't wait to watch.
• Heather Dubrow walked on the High Line and no one recognized her.
• BravoCon is back in New York City, October 14 to 16. Details about lineup and tickets are so far sparse, but it doesn't matter because the Institute is probably banned anyway.
• Peacock just made cutting the cord a little bit easier. It will now house all Housewives shows, Below Deck, Top Chef, and others the morning after they air on Bravo.
• Here is the LOL IRL Tweet of the Week.
A few thoughts on the RHOA premiere.
Some Institute members might have noticed that Vulture didn't run a recap for the season 14 premiere of The Real Housewives of Atlanta. I've been assured this is just a temporary blip in programming because of writer-availability issues and things will be back up in running in the RHOA recaps department soon. [Editor's note: and we're back!] But I couldn't let the season opener go unnoticed, particularly because I enjoyed it a lot more than I have for the past several seasons.
I think this is what happens when you finally get a cast who is excited to show up to work and get into it. As far as I'm concerned, Shereé Whitfield never should have left, and the evidence was stacked up as she walked into that dance studio to meet the other women. We got only the audio from her greatest hits, but we didn't even need the visuals because we can see them all in our heads. She's so glad to be getting a check again that she is already turning it out, likening Marlo's puffy red dress to one of those strawberry-flavored candies her grandmother would give her to keep her quiet in church.
It was also great to see Kenya Moore energized and ready to hang with the women. She seems happier than we've seen her in years, still as shady as the world's tallest elm tree but getting along with the girls as well as she can. Maybe that's because with her archrivals NeNe Leakes and Porsha Williams gone — taking their sneers and grumbles with them — she can finally have a good time.
But having the best time of all is Marlo Hampton, who finally got her peach (even though no one quite knows where she makes her money). For me, the most fascinating part of the whole episode was something I've been longing for: a glimpse inside her home life. We knew Marlo has been raising her two teenage nephews for a few years, but to see Marlo "Are You a Lesbian?" Hampton, with her wigs and cars and bling and inability to read anyone, asking two kids if they've brushed their teeth and hustling them out the door to school was just amazing. Before she was always a cartoon villain, but now she's a little something extra. This is like the RHOA version of Cruella but with even worse fashions.
Yes, we need to talk about the Le'Archive party. (Thank God, the ladies pointed out that it should be L'Archive because Miss Teevan, my high-school French teacher, was rolling around in her grave that Marlo would so misspell the name. How Parisian can it be when she can't even get past French 101?) Like the other women, I question the economic viability of this enterprise. I know there are many fashion archives out there that rent vintage clothing for film productions or even for fashion designers to get "inspiration." (You can see the stylist for And Just Like That … visit one in the behind-the-scenes documentary on HBO Max, and it's amazing.) The problem is Marlo's archive is just her own clothes, which means they come in only one size. Marlo is also quite tall, so it's not like these clothes could fit a majority of women. I think what she has is a good business model, especially considering all of the movies and TV shows that film in her hometown, but she needs to diversify the collection. She needs to get out there to some couture estate sales and start picking things that might fit Sarah Jessica Parker.
The other big story line is, once again, Drew Sidora and her husband, Ralph. After a disastrous workout at the gym with new Housewife Sanya Richards-Ross (whom I am not judging yet per the Eileen Davidson Accord but seems fun, likable, and game), we find out that Ralph hired a sexy female assistant who then offered to give him a massage. Yes, this is the same Ralph who disappeared to Tampa last season and wouldn't tell Drew where he went. What is Ralph's middle name? Ralph Red Flags Pittman?
My biggest problem with Ralph is he is so damn fine that I would almost forgive him for letting the assistant proposition him and then replying, "But I'm a guy," meaning he just wants her hands all over him and it doesn't matter if the wife knows or not. This leads us to a huge commendation for Kandi Burruss, who uses her internet sleuthing to turn up this woman's Instagram page so they could all ogle her at the Le'Archive (zut alors!) party.
I don't think we're going to be looking at a season of huge drama, giant fights, or even anything like the Bolo controversy, but it seems we're going to get just enough and a lot of fun from a group that actually wants to be around each other. After the past few seasons, where everything seemed like a slog, that is quite enough for me to love this peach as much as Elio in Call Me by Your Name. Okay, maybe not that much, but you know what I mean.
Recapping Part I of the RHONJ reunion.
I don't know if Elon Musk personally bought Twitter to fix the algorithm so that I'd never have to see another positive post about Teresa Giudice again or if fans really turned on her after the reunion, but I didn't see as much as the unwavering positivity and mental gymnastics that the Tre huggers usually make to wave away her more egregious antics. If there was ever a time to turn on her, it's after her hypocrisy, venom, grudge-holding, and small-mindedness were even more shimmering than usual at the reunion.
Speaking of which, I quite liked the gold-and-silver-themed outfits we get for this runway even as I grow increasingly tired of the overproduced sets that are meant to look like whatever trip they went on that season. (The set of Kathy Hilton's backyard gets a pass for obvious reasons.) However, Melissa's midriff-baring 1 Million BC double loincloth looked way better standing up than it did sitting down (and it didn't look that great standing up). Jennifer Aydin looked great but continued the reunion-dress trend of far too many Big Bird feathers for no particular reason. Also the cutouts on Dolores's dress, which looked like a lamé Gordian knot, were not too flattering. But it was Teresa's mirrored jumpsuit, which looked like a disco ball that exploded in the Sahara, that was the real victim here. That she doesn't know how bad this looks just shows how out of touch Teresa really is. (Then again, this is a woman who lived in an onyx cave with wings on her front doors for more than a decade, so we should not at all be shocked.)
The hours started not with Teresa but with Jennifer and Dolores going at each other. The rift in their friendship, they explained, wasn't caused by one incident but a culmination of things. These two seem like worthy adversaries, especially since the chastened and quiet Jennifer we saw this season — in the wake of her husband's infidelity coming to light — is gone. We got our old loud, accusatory, and bomb-throwing Jennifer back, and I couldn't be happier. I was a little surprised to find out she's a stoner, though. If this is what Jen is like baked, I can't imagine her on uppers!
We eventually got to Teresa, though, and like a certain ex-president who was once Teresa's celebrity boss, she turned right to her well-worn list of grievances. She's still angry that Jackie used an analogy about her daughter, she's pissed at the way Melissa got on the show, she's mad that she thought her brother chose her cousin Kathy over her, and, worst of all, she's annoyed that Melissa didn't postpone her wedding so that Teresa, who was eight months pregnant at the time, could get drunk at her brother's wedding. Even Andy Cohen was like, "Lady, you have got a brain full of spiders and pants full of ants."
This came out when the question of whether Melissa should be a bridesmaid at Teresa's wedding was raised, which seems like quite the unforced error on Teresa's part. As Missy G pointed out, it seemed like she would just have her four "dooorters" as her bridesmaids, but instead she's having Luis's sisters but not her sister-in-law. When Melissa pointed out that Teresa was a bridesmaid in her wedding, that's when Teresa dropped that nuclear bomb of idiocy on all of us. This is one of my many problems with her: She just wants everything her way, like a spoiled child. She didn't even think it could take longer to plan a wedding than to have a kid. Joe and Melissa's "save the dates" were probably already shipped when Tre got knocked up. Then they're just supposed to change the date because Teresa was a little inconvenienced? That's insane. No one thinks Melissa should have done this.
I also don't think Teresa needs to invite Melissa to wear what is surely a tacky dress for a marriage that will last about the length of a Senate term. Melissa was using this as an excuse to show how Teresa is always talking about her family and how Melissa and Joe need to save their family, but Teresa won't ever do anything she doesn't want to do to back them up. She talks about family and then puts them with all of her friends at the engagement party. Which is fine. Teresa says they're not that close, which is also fine. But then she bangs on about how family is the most important thing to her and how she is old school. This circle doesn't square. It just goes round and round like the rainbow pinwheel when your MacBook is thinking.
Speaking of which, it's like Teresa had that spinning wheel in her brain when asked for one time she had Melissa's back. She couldn't even think of one. "Roll the tape," she says to the producers. Oh, you think they wouldn't if they could find one? Of course they couldn't because she never has. Again, this is fine, except she always insists Melissa and Joe have her back, which to her means blind faith and devotion.
What's reprehensible to me is Teresa acts this way and everyone has to bow to her whims to stay on the show. The thing about our reality stars is we don't need them to completely change, only to grow and evolve. We need to see them progress somehow, to repair their relationships, to move on from the past. Teresa is incapable of doing this because her grudges are like a mud bath, soothing and keeping her skin tight and young. It's not even interesting to watch anymore.
Melissa said in some interviews that she doesn't think Teresa enjoys being on the show anymore, and it shows. She shouts at Melissa how they're not close. She yells at Margaret and Jackie about how they're not friends. Jennifer and Dolores shout about how they hate each other and only talk on camera. If these women can't even be in a group together, can't even have interesting fights, then what is this all about? Why are we even invested? It seems like, at this moment, RHONJ isn't only fighting against being stale, it's worried about its own existence.
We should all hate Lindsay Hubbard for still fitting into her Halle Berry–inspired prom dress from 2003.
Summer House, Season 6, Episode 14: The fact that Amanda and Kyle don't even have lawyers at this point is more baffling than the fact that these people drink as much as they do and still have visible abdominal muscles.
Summer House, Season 6, Episode 15: Hmmm, I wonder where Kyle and Amanda found a florist at the last minute. Could it be a little website called Producer Intervention dot com?
Below Deck: Sailing Yacht, Season 3, Episode 10: While the crew is away, Captain Glenn will play, meaning he will watch an eel documentary in bed while munching on a midnight snack. Meaning that he will call his mom and tell her about his insomnia and dreams about buying donkeys. Meaning that he will nibble on a crunchy cracker in tranquility.
Real Housewives of New Jersey, Season 12 Finale: Luis pulls Joe Gorga aside and asks him for his sister's hand in marriage. Ugh. The fucking patriarchy is strong in this one.
Dean's
List
for
Best
Comment
of
the
Week
Highlighting the best insight from our lovely Institute members. This one is from a recent Below Deck: Sailing Yacht recap.
LH29: I don't care if Ashley's sister allegedly hooked up with all her high school boyfriends, after watching her all season I would LOVE to get this sister's side of the story. Maybe they shared a room and it was her sister's room too, and the dudes could see that Ashley is an objectively awful and entitled person so they wanted nothing to do with her?
"If drama was a drug, you would be a pharmacy." —Dr. Jen Armstrong on Noella Bergener