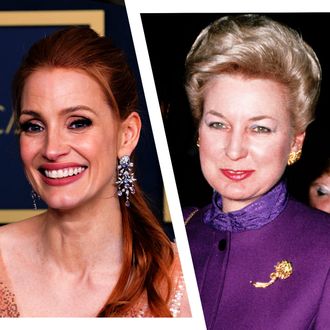 Photo: David Livingston/Getty Images; Ron Galella via Getty Images
Jessica Chastain, peeling off layers of Tammy Faye Bakker prosthetics and clutching her Oscar, is undertaking a new transformation: this time, as Donald Trump's older sister, Maryanne Trump Barry. In James Gray's new film Armageddon Time, which premiered at Cannes on May 19, Chastain appears in a scene as the former U.S. Attorney and judge, giving a speech on hard work and the evils of handouts at the school of the protagonist, Paul Graff (based on a young Gray growing up in New York in the 1980s). The previously unannounced appearance unites Chastain with two of her close friends, stars Anne Hathaway and Jeremy Strong, the latter of whom she vocally defended against the evils of New Yorker profiles last year. Ad Astra director Gray originally said Cate Blanchett was set to play Trump Barry, teasing the role in March 2021. Maybe one famous conservative woman was enough for her?
Additional reporting by Rachel Handler.