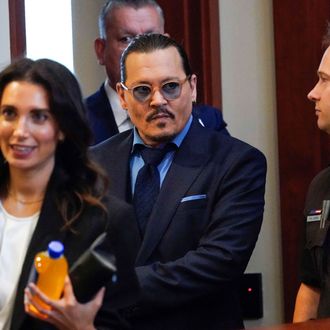 Photo: STEVE HELBER/POOL/AFP via Getty Images
When the clock hit 12:50 a.m. Friday, May 27, bedlam unfolded outside the Fairfax, Virginia, court parking garage. Johnny Depp fans — who had been waiting for hours, hoping to secure one of 100 spots in the courtroom for his defamation trial against Amber Heard — ran en masse toward the front of the courthouse. One witness described the frenzied procession as a "stampede." Police, she explained, had started enforcing the rule against all-night camping in front of the courthouse, so the earliest they could officially line up was 1 a.m. Cindy Lewis, a Sioux Falls, South Dakota, resident who drove two days to see the proceedings, compared the scene to "a Black Friday sale at Target." "One girl got knocked down just before getting onto this side of the property and injured her left knee, so she went back to the hotel," she said, describing the chaos. Lewis is among the hundreds of fans who have congregated at this suburban courthouse in the hopes of catching a glimpse of the Pirates of the Caribbean star, who many fervently support. Depp has alleged that his ex-wife defamed him in a 2018 Washington Post op-ed, where she described herself as enduring domestic violence. Although Heard did not mention Depp's name, he insists that her work destroyed his reputation and career prospects. Heard has brought counterclaims against Depp, whom she claimed defamed her through his attorney, Adam Waldman, who described her allegations as a "hoax." Closing arguments take place Friday morning.
While tensions ran high for some in attendance, many Depp supporters maintained the same upbeat attitude as they had at the outset of the trial. Eva, who arrived around 8:30 Thursday night, sleeping bag in tow, wanted to show Depp she cared. "He's not the man that she said that he is," said Eva, who has been a Depp fan "for over 30 years." She was able to get into the courtroom that day. "I was excited to see Johnny today. I was kind of depressed because of the lies of Amber. She creates too many stories that [don't] match," Eva explained. "She's saying that Johnny's fans threaten her life, threatening the baby's life—that's just not right, so low, you know?" Eva, like others, described a camaraderie. "I made some friends yesterday and today, and we shared phone numbers and we emailed and took pictures together." Maryanne, who stood next to Eva, said, "I've heard Amber's stories and accusations that she's been saying about Johnny Depp, and I just think he needs all the support that he can get, because I don't believe anything she says." Her favorite Depp film is The Libertine.
When morning came, even more spectators started to show up. One man was in full cosplay, dressed like Depp's character in Pirates, Captain Jack Sparrow. A couple from Cincinnati brought two collies, adorned with vests that read "Depp Legal Team," with little ties. Nothing about the situation was funny to Lewis. She fell behind in the crush of spectators and wasn't able to nab a coveted spot in the courtroom. She blamed fair-weather fans. "They might be a fan of Johnny Depp, but for them to just show up to court one day and act childish like this and stampede people who have invested money to come here, and not stay the whole day," Lewis said. "I've noticed empty seats after lunchtime — people who just wanted to get a glimpse of celebrity."
When Depp arrived at court just before 9 a.m., he was met, unsurprisingly, with a hero's welcome. As his black SUV turned town the street, he waved to fans who packed tightly along the sidewalk. They shouted, "Johnny! Johnny!" Moments before, Heard's truck drove up to the courthouse. They booed.
Closing arguments started around 9:15 a.m. "On May 27, 2016, Ms. Heard walked into a courthouse in Los Angeles to get a no-notice ex parte restraining order against Johnny Depp — and in doing so, ruined his life by falsely telling the world she was a survivor of domestic abuse at the hands of Mr. Depp," Depp's attorney, Camille Vasquez, said to kick things off. "On May 27, 2022, exactly six years later, we asked you to give Mr. Depp his life back by telling the world that Mr. Depp is not the abuser Ms. Heard said he is and hold Ms. Heard accountable for her lies."
Heard, wearing a pale gray suit, had a worn look on her face as Vasquez slammed her credibility. "What's at stake at this trial is a man's good name," Vasquez told jurors. "More than that, what is at stake at this trial is a man's life: the life he's lost when he was accused of this heinous crime and the life he could live when he is finally vindicated." Vasquez also said, "We told you that this would be a performance, the role of her lifetime, as a heroic survivor of brutal abuse."
Later, Vasquez remarked, "Either she's a victim of truly horrific abuse or she's a woman who's willing to say absolutely anything."
Ben Rottenborn, one of Heard's lawyers, tried to reframe what has become an out-of-control spectacle into a trial with deeper meaning. If jurors are convinced Depp didn't abuse her on a single occasion, "think about the message that Mr. Depp and his attorneys are sending to Amber and, by extension, every victim of domestic violence everywhere." Rottenborn argued that Depp's attorneys have tried to set up a situation in which any form of proof is considered suspect. "If you didn't take pictures, it didn't happen. If you did take pictures, it's fake," Rottenborn said, an apparent reference to Depp's claim that photos showing alleged injuries were bogus. "If you didn't tell your friends, you're lying. If you did tell your friends, it's part of the hoax." Rottenborn continued, "And if you finally decide enough is enough — you've had enough of the fear and enough of the pain, and you have to leave and save yourself — you're a gold digger." At one point, Heard appeared to be on the verge of tears.
"In Mr. Depp's world, you don't leave Mr. Depp, and if you do, he will start a campaign of global humiliation against you. He will do everything he can to destroy your life, to destroy your career," Rottenborn said.
Later, Rottenborn returned to the legal issue that has largely gotten lost in the shuffle of sensational mudslinging. "Your key question is, Does the first amendment give Ms. Heard the right to write the words that she wrote in this article on December 18, 2018?" Rottenborn said. "You have to decide, Should someone be able to write an article like that in the United States of America without being sued … without having to go through the hell that Ms. Heard has gone through?" About 50 minutes into Rottenborn's presentation, an Amber Alert went off in the courtroom. "I think we're okay," Judge Penney Azcarate said dryly, telling attendees to shut off their phones.
This story has been updated with additional reporting.