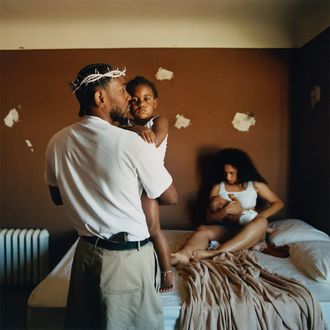 How's this for a big step? Kendrick Lamar released his first album in over five years, Mr. Morale & the Big Steppers. As Lamar previously teased on his website, oklama.com, Mr. Morale is a double album with 18 tracks. While Rihanna is unfortunately not featured on the album, Lamar collaborated with several artists for the first time like Blxst, Amanda Reifer, Sampha, Taylour Paige, Summer Walker, Ghostface Killah, Kodak Black, Sam Dew, Tanna Leone, and Beth Gibbons. Baby Keem is the only person on the double album that has worked with him as a feature previously on "family ties" and "range brothers." Lamar also samples Florence Welch in "We Cry Together," giving her a writing credit on the track and mixing her vocals with Paige's. One song not on the album is "The Heart Pt. 5," which K.Dot released earlier this week as the first taste of his Mr. Morale era, with one big step for man: a deep-fake-filled video. The rapper first announced the album in April, after writing last August that it would be his final for longtime label Top Dawg Entertainment. (As for where he's stepping to, that'd be his own company, pgLang.)
The Big Steppers are heading out on tour along with Baby Keem and Tanna Leone, Lamar announced on May 13. "Come help Mr. Morale get out of the box," a poster reads. It's his first headlining tour since DAMN., not including TDE's "Championship Tour" in 2018. Lamar hasn't been much of a big talker himself over the last five years, staying relatively quiet since the April 2017 release of DAMN., which won him a historic Pulitzer Prize. He helmed the Black Panther soundtrack in 2018, before stepping out of the spotlight for the next few years, save for a few features (most recently, on his cousin Baby Keem's debut album The Melodic Blue). He made a soft return earlier this year, headlining the Super Bowl sans new music, and is set to headline multiple festivals including Glastonbury later this year. For now, the new Kendrick album you've waited over five years for is here. Time to step away from the takes and theories on Twitter, and boost that morale by pressing play.
This post has been updated.