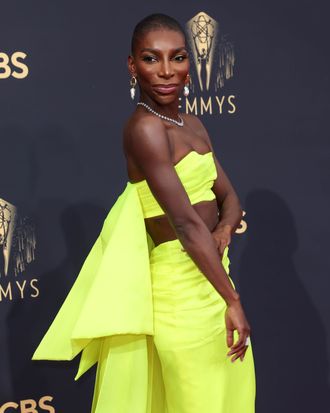 Photo: Jay L. Clendenin / Los Angeles Times via Getty Images
The long-gestating TV version of Mr. & Mrs. Smith has added some new famous names to its roster, to prove once and for all that this show is really happening. The project, a TV adaptation of the film that gave us Brangelina, was announced in February 2021, with a silhouette-challenge TikTok (to give a sense of how much has happened since). Originally starring Phoebe Waller-Bridge and Donald Glover, the show was also supposed to be co-created by the two. But then Waller-Bridge nope'd out, allegedly due to creative differences. Atlanta producer Francesca Sloane signed on as co-creator, showrunner, and executive producer of the series, and Maya Erskine took over the co-starring role. Rounding out this new iteration of the cast are three new names: Michaela Coel (I May Destroy You), Paul Dano (The Batman), and John Turturro (getting pissed on by a Transformer, also Barton Fink).
Variety broke the casting news, noting that no deets were shared on what roles the trio would be playing. In the film version of Mr. & Mrs. Smith, supporting roles existed for BFFs for each side of the couple, as well as a fun li'l comedy-relief part for Adam Brody. Variety reports that the three are in guest-starring roles, which indicates they could be targets in the Smith family's very literal battle of the sexes.