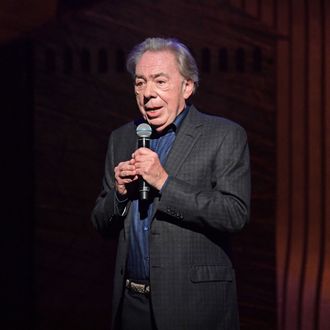 Andrew Lloyd Webber.
Photo: David M. Benett/Getty Images
Update, June 13 at 12:53 p.m.: Andrew Lloyd Webber has acknowledged the poor reception of his poorly worded comments with another letter. "I am devastated to have been reported to have said that my beloved production of Cinderella was a 'costly mistake,'" reads Webber's statement, posted to Twitter. "Nothing could be further from the truth, and I am very sorry if my words have been misunderstood." For a rather famous writer, you'd think that ALW could have been a bit clearer. We look forward to the next update, in which he will apologize for how poorly he was 'misunderstood' in this apology.
Original story follows.
Patti LuPone has two things to smile about tonight. Not only did she win her third Tony, but her arch-nemesis got booed. The same day as the Antoinette Perry Awards, Sir Andrew Lloyd Webber chose not to attend the final performance of his adaptation of Cinderella in the West End. Instead, he sent a letter, which was read aloud on stage by the show's director Laurence Connor. "My huge thanks to everyone," it read, in part. "We kept the government's feet to the flames and led the charge to the West End opening again. It might have been a costly mistake, but I am proud of what we did and will forever be grateful to everyone who supported me."
The end of the letter was accompanied by boos and jeers from the audience, as well as a bunch of sad faces by the cast members, who stood on stage as the letter was read. The show had been troubled throughout with a twice-postponed opening due to COVID-19, and a pause in shows during the holiday season (also due to COVID-19). This all led up to a closing notice so abrupt that it caused Actors' Equity to seek compensation for actors and crew members. While the rest of the letter was polite, and even celebratory of the show's reviews, skipping the final performance of your play and calling it "a mistake" is probably not the best theater etiquette.