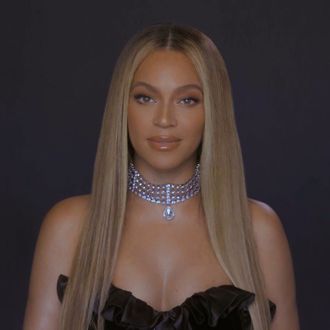 Photo: BET Awards 2020/Getty Images via Getty Images
Update, Monday, June 20 at 10:25 p.m.: The new era has officially Beygun, although a little sooner than expected. After leaks began circulating on social media, Beyoncé went ahead and dropped "Break My Soul," the first single and sixth track off of her upcoming album, Renaissance, a couple hours early on Tidal. "Bey is back, and I'm sleeping real good at night," Beyoncé declares on the track, which was originally scheduled to release Tuesday at midnight. "Break My Soul" joins Charli XCX's "Used to Know Me" and Daddy Yankee's "Pasatiempo" in sampling Robin S's '90s house hit "Show Me Love." In case you didn't get the message from the title, the chorus consists of Beyoncé declaring, "You won't break my soul / You won't break my soul / You won't break my soul / You won't break my soul / I'm telling everybody." The lead single was produced by the-Dream, who is also credited as a writer alongside Beyoncé, Jay-Z, Big Freedia, BlaqNmilD, Christopher Stewart, and the original writers of "Show Me Love," Fred McFarlane and Allen George. Break into the beginning of the Beyaissance below.
Original post published Monday, June 20 follows.
Beyoncé has had a very social media-heavy rollout for her new album. From removing her profile pics to announcing her next single, fans have eagerly checked her socials for her next move. Beyoncé hard launched her next single Monday morning by adding "6. BREAK MY SOUL midnight ET" to her social media bios after posting a few pics from her British Vogue photoshoot. It will be one of sixteen songs off of Renaissance; this single is one of the songs that was not listed as explicit on Apple Music. Her upcoming album, announced last week, will release in a month on July 29. Yoncé's previous album, Lemonade, came out six years ago. Much like the announcement of Renaissance, she didn't share much information on "Break My Soul," but the release does coincide with the Summer Solstice today and one day after Juneteenth. "Break My Soul" is gearing up to be the song of the summer, or at least the heartbreak song you cry to while thinking of your past summer romances.