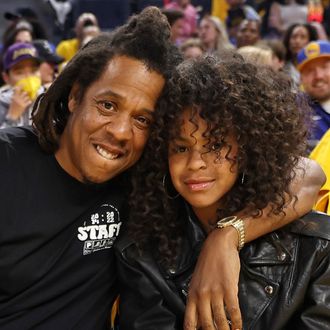 Jay-Z and Blue Ivy Carter.
Photo: Jim Poorten/NBAE via Getty Images
The stars have been out at the NBA Finals, including — wait, Beyoncé?!? Nope, that's just her twin, Blue Ivy Carter, who was spotted courtside with Jay-Z cheering on the Golden State Warriors. The 10-year-old gave us serious "Deja Vu," resembling her mother in the mid-2000s — specifically, as Twitter noted, a curly-haired look from a 2007 Total Request Live appearance. (Speaking of throwbacks!) The Grammy-winning princess held things down in place of Queen Bey herself, who maybe, just maybe, was busy putting finishing touches on B7 (and B8?!). Like any good daughter, she even endured her share of embarrassment from her father, who hammed things up for the camera. As if he isn't used to her stealing the show, anyway.