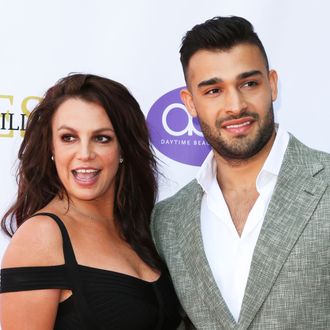 Spears and Asghari.
Photo: Paul Archuleta/FilmMagic
Britney Spears had a good day, and we're all going to be happy for her, okay? Spears married longtime partner Sam Asghari on Thursday in an intimate ceremony at her home, according to People. Much of Spears's family was not invited to the wedding, including her parents and estranged sister, Jamie Lynn Spears, but her brother, Bryan Spears, was in attendance. The singer walked down the aisle in a Versace dress to Elvis Presley's "Can't Help Falling in Love." A white horse-drawn carriage was seen arriving on the property for the newlywed couple.
After the wedding, Spears and wedding guest Madonna recreated their infamous 2003 MTV Video Music Awards kiss, reminding us yet again of how many iconic Britney moments there are. Other famous guests included Drew Barrymore and Selena Gomez, who were photographed blissfully dancing with Spears, and one Twitter user spotted Ansel Elgort lingering on the dance floor. Paris and Kathy Hilton were also spotted at the ceremony and reception. Kathy Hilton can be seen with a microphone in at least one picture, which makes us at least a little less envious of the other wedding guests.
Spears had three outfit changes but consistent hair and makeup throughout the night, a source told People. The party reportedly went until 11:30 p.m., at which point Spears and Asghari left in a white Rolls-Royce with a "Just Married" sign. Britney had previously talked about the Rolls-Royce in her Instagram Stories, saying, "This is my second time to ever be in a Rolls-Royce. I'm really excited. There's stars on the ceiling." She said this with what we believe was intended to be a slight British inflection in keeping with the Madonna theme of the night. Before the celebrations began, Britney's ex-husband Jason Alexander livestreamed himself trespassing on her property before being detained by the police. There were no other noted party crashers, though we would have loved a Christina Aguilera appearance.
According to GQ, Spears and Asghari met on a shoot for her music video for the song "Slumber Party" in 2016. The duo got engaged in September after nearly five years of dating. Asghari, an Iranian immigrant, is a fitness instructor and aspiring actor. Although one of his most popular roles has been as a sexy Santa on the potentially bad TV show Hacks, Vulture still supports this union.