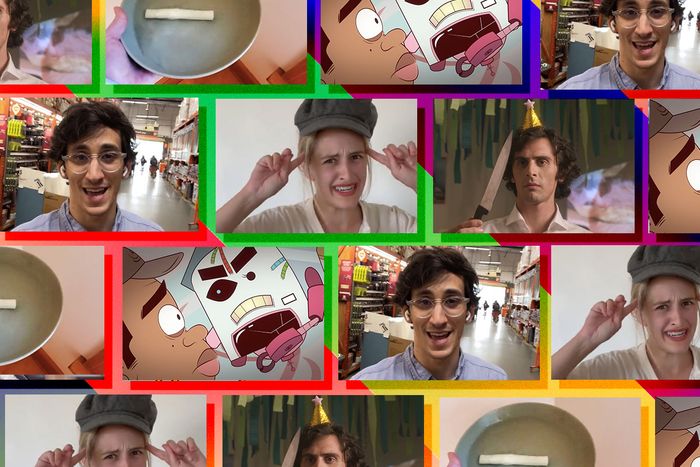 Photo-Illustration: Vulture; Photos by sweetstench/Twitter, Animated/YouTube,jmillstein/Twitter, deadeyebrakeman/Twitter, Dylan Armenteros/TikTok and NoBudge
Each month, many funny videos are posted to every corner of the internet — from Twitter and Instagram to Vimeo and sometimes other weird places we'll have trouble embedding. Because you're busy living your life, you might miss some of these funny videos and feel left out when others bring them up in conversation. Well, worry not! We're here to make sure you're not listening in on conversations but leading them … as long as those conversations are about funny internet videos. Here, our favorite comedy shorts of the month.
"Get On My Level," by Carter Amelia Davis
We love when a video that's less than 15 seconds is so undeniably hilarious that we couldn't imagine not including it in this column. Such is the case with this fake internet trend created by Carter Amelia Davis, in which a cheese stick is placed in a bowl of water and sloshed around. It doesn't need the extra time to explain itself or justify its existence. There's never been anyone more sure of the purpose of anything than Davis whipping this wet cheese stick around in a bowl.
"Home Depot Just Won Pride," by Jon Millstein
Jon Millstein crafted another one of his perfect fake Instagram stories just in time for Pride Month and its annual onslaught of performative corporate allyship. Millstein's Home Depot rep admits that the company can't ignore the march of progress any longer, but "learning to accept people takes time," and they'll be doing so very much at their own pace. They're not going to have a float in any Pride parades this year, but they have consented to donate chips to one gay woman's birthday party if you'd like to apply for that.
"A Man's World," by Jens Josephs
This one's wild. What at first seems like a masterclass in experimental filmmaking soon develops into a pretty textured commentary on how men understand (?) women and, by extension, women's views of them in the context of our own hypersexualized, hero-worshipping brains. (Watch it here.)
"Maurice on Mars," by Tim Barnes
Paul Verhoeven meets Central Perk in this animated web series created by Tim Barnes for Comedy Central, which stars Barnes as the titular barista on the Red Planet. In the first installment, the opening of a new college brings hordes of students into the coffee shop, leading to Maurice being jailed in a big jar by drones for promoting "Radical Earth Theory," the thoughtcrime notion that there has ever been conflict on earth. "Look at that," a witness says. "The system putting another brother in a jar." Barnes strikes just the right note of animated playfulness and sci-fi cynicism throughout the series, packing a ton of inventive gags into each quick episode. Philip K. Dick would be proud.
"Meeting With the Restaurant Owner When You Do a Family Party," by Nicky Cass
An old Italian man with a lead belly plans a beautiful teriyaki glaze ahead of a communion at which he'll surely have a stroke. The hand — look at Nicky Cass's hand. Okay, the hand and the shake. Both are incredible. It's those little things that make character work like this pop so well. Just perfect.
"Oh No, I Think I'm on a Date With Somebody From Screenwriter Twitter," by Kylie Brakeman
Listen, we feel for screenwriters: They work diligently in a medium where even professional artists rarely see their work onscreen and just as rarely receive public credit for it. That said, this brood has unfortunately produced the corner of the internet known as Screenwriter Twitter, which combines the worst of Fiction Twitter's solipsistic navel-gazing with the worst of Doctor Twitter's unsolicited "buckle up, buckos" advice threads. Kylie Brakeman becomes this community incarnate in this video where she can't wait to tell you about the whimsical story she's written in her head and not on her laptop.
"Picking Up Girls in the 50's," by Vincent Marcus
Recently celebrated on America's Got Talent for his spot-on rapper impersonations, social-media comedian Vincent Marcus shows that he has some range outside of pure imitation with this bit of character work. Meet his insane yet somehow dead-on-balls-accurate coloring of a New York '50s guy asking out a coquettish Manon Matthews on a date. It's worth a tune-in for the gesticulations alone.
"Putting on the Ritz," by Jake Prizant and Hannah Moser
Every sketch-comedy writing teacher in the country hopes their students have the chutzpah to make something this stupid and inspired. The joke beats play like the finest symphony.
"Today's Corrections for Yesterday," by David Brown
I don't know if comparisons to absurd humanist playwright Will Eno carry a lot of weight in the internet-comedy sphere, but this thread of videos by David Brown certainly warrants them. Both have the same gentle rhythms and fixations on language that didn't rise to the occasion yesterday but certainly will today, as Brown issues a series of confident corrections in a memo that seems to exist outside of space and time but is certainly very concerned with its readers not thinking that the bugs are smiling — whatever that means to you.
"When You Finish a Conversation and End Up Going the Same Direction," by Dylan Armenteros
Certainly fratty, yes. But Dylan Armenteros is a kind of rogue element on the path of usual adolescent go-tos. His is a style of self-aware silliness, harmless idiocy that's so well delivered it kind of feels … elevated? Bottom line: You'll laugh if you watch and may laugh some more if you watch some more.
Like what you saw? Want to be on this monthly roundup? Show us your stuff! 
Luke Kelly-Clyne is a co-head of HartBeat Independent and a watcher of many web videos. Send him yours at @LKellyClyne.
Graham Techler has contributed writing to The New Yorker and McSweeney's Internet Tendency. Send him your videos at @gr8h8m_t3chl3r.