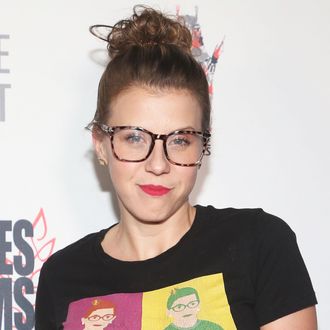 Photo: MediaPunch/Shutterstock
Police pushed actor Jodie Sweetin at an abortion-rights protest in Los Angeles, per video posted to social media. A photographer for local outlet L.A. Taco captured footage of the Full House actor being thrown to the ground by police officers at a protest near the freeway on June 25. Sweetin got up afterward, according to the video, and a representative told The Hollywood Reporter she is "okay." The LAPD, meanwhile, told the magazine that officers were keeping protestors from getting on the freeway. "The force used will be evaluated against the LAPD's policy and procedure," the department said in a statement. Sweetin shared footage of police attacking other protesters at the same action on her Instagram Stories afterward.
"I had my bullhorn, and they were walking me back, kind of where everyone was," the Full House actress later recalled on E! News. "I was walking, and one of the officers just snatched my bag and tossed me forward." According to Sweetin, does not plan to press charges against the police, who she said did not communicate with her before or after the incident. After her friends helped her up, she continued to march for "probably another four or five hours." Sweetin said that rather than making the situation about herself, she wants to redirect focus to the broader issues of women's rights and police brutality.
In a statement to The Hollywood Reporter, Sweetin said she was "extremely proud" of the protests in L.A. "Our activism will continue until our voices are heard and action is taken," she said. "This will not deter us; we will continue fighting for our rights. We are not free until all of us are free."
This post has been updated.