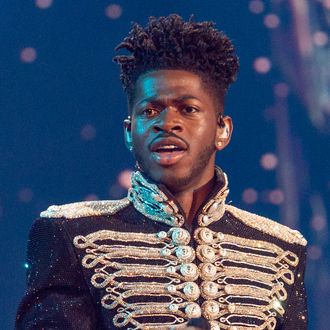 Photo: Emma McIntyrecademy/Getty Images for The Recording A
Update June 26, 9 pm: Ahead of Sunday night's (Lil Nas X-less) BET Awards, the artist released a statement to Rolling Stone explaining that his relationship with the network has been strained for a minute. "They did let me perform on their show last year, but only after [I gave] assurances that I was not a satanist or devil worshiper, and that my performance would be appropriate for their audience," it read in part. Members of Lil Nas X's team also said that network reps reacted poorly to his proudly queer performance at last year's awards, which was one of the more viral moments of the show. "At some point after [Nas] got offstage, one of the BET producers came up to me,"one said, "and before I could even open my mouth, he looked at me and said, 'That was really fucked up.'" BET denied Lil Nas X's statement to RS, saying "We are committed to using all of our platforms to provide visibility and inclusion for all of the many intersections of the Black community."
Original story follows.
After being snubbed at the BET Awards nominations last week, Lil Nas X isn't letting his grudge go. Today, he posted a clip to Twitter of an unreleased track called "Late to the Party," where he calls out BET at the beginning of the song. "Fuck BET" is repeated in the opening of the new song as Lil Nas dances in the clip. He also announced in another tweet that YoungBoy Never Broke Again would be having a guest verse on the song. Lil Nas continued to explain to his followers that while he has been nominated for and won a Grammy for his work, he has not gotten "just 1 nomination from my own people." His last nomination from BET was in 2020 for the Best New Artist award, but he has not been nominated since then, despite having two No. 1 songs on the Billboard chart in 2021. The BET Awards are on Sunday, June 26 at 8 p.m.
BET issued a statement as well as posted a video to their Instagram on the rapper:
We love Lil Nas X. He was nominated for a Best New Artist BET Award in 2020, and we proudly showcased his extraordinary talent and creativity on the show twice: he performed "Old Town Road" with Billy Ray Cyrus at "BET Awards" 2019 and his "BET Awards" 2021 performance was a highlight of our show. No one cheered louder that night than BET.




Unfortunately, this year, he was not nominated by BET's Voting Academy, which is comprised of an esteemed group of nearly 500 entertainment professionals in the fields of music, television, film, digital marketing, sports journalism, public relations, influencers, and creative arts. No one from BET serves as a member of the Voting Academy.




At BET, we are passionate advocates for the wonderful diversity that exists within our community. We are committed to using all of our platforms to provide visibility and inclusion for all of the many intersections of the Black community.