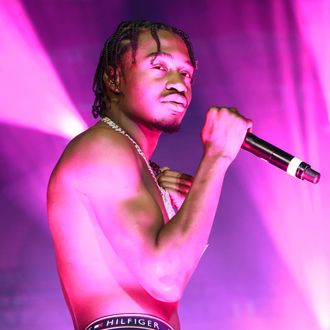 Photo: Jason Mendez/Getty Images
Update, June 23, 6 p.m.: Lil Tjay is still unconscious after being shot multiple times, TMZ reported. Other than some movement in his legs, the rapper has been unresponsive following surgery, and is now set to have a CAT scan. TMZ also reported that Mohamed Konate, the suspect who was arrested for the shooting, was taken to the hospital for gunshot wounds.
Update, June 23, 10 a.m.: A suspect has been arrested in a shooting involving Lil Tjay. The Bergen County Prosecutor's Office announced Mohamed Konate was arrested on three attempted-murder and armed-robbery charges, among others. Per a police investigation, Tjay was shot multiple times, while one of his associates, Antoine Boyd, was shot once, in an alleged attempted robbery. Boyd was also arrested on weapons charges, as was Tjay's associate Jeffrey Valdez. Meanwhile, TMZ reported Tjay was out of surgery by the afternoon of June 22, but still hospitalized.

Original story follows.
Lil Tjay went into emergency surgery after being shot in New Jersey last night. TMZ reported the rapper was a victim of a double shooting in Edgewater. At 9 a.m. ET on June 22, the outlet reported Tjay was in surgery; the rapper's condition is currently unknown. The two victims were shot at an Exxon gas station and a Chipotle, with the victim at the Exxon station sustaining one gunshot wound and the victim at the Chipotle sustaining multiple. Police responded to a 911 call at 12:08 a.m. for the Chipotle victim, Fox 5 New York reported. A rapper from the Bronx, Tjay, born Tione Jayden Merritt, released his second album, Destined 2 Win, in April 2021.
Correction, June 24, 4 p.m.: This post removed an incorrect mention of Tjay's age at the time of the shooting. He is 21, not 22.