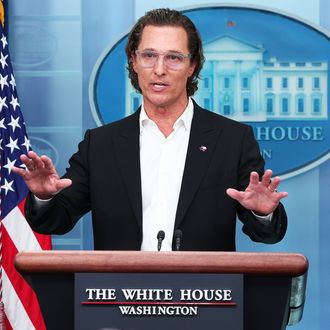 Matthew McConaughey speaking at the White House on Tuesday.
Photo: Win McNamee/Getty Images
On Tuesday, Matthew McConaughey delivered a stunning 20-minute speech at the White House urging lawmakers to pass gun legislation in the wake of the devastating tragedy that unfolded in Uvalde, Texas, exactly two weeks ago. In an impassioned plea for gun reform, the Uvalde native shared stories about those who died in the shooting at Robb Elementary School and memorialized the lives lost. "I'm here today in the hopes of applying what energy, reason, and passion that I have into trying to turn this moment into a reality. Because, as I said, this moment is different," he began. In an emotional account, the actor held up artwork from 10-year-old victim Alithia Ramirez and, while choking back tears, told the press about her dreams of going to art school in Paris. He told the story of 10-year-old aspiring marine biologist Maite Yuleana Rodriguez, who "wore green high-top Converse with a heart she had hand-drawn on the right toe because they represented her love of nature." McConaughey's wife, Camila Alves, held those same shoes, which had helped Maite's parents identify her body after the shooting. You can watch the entire speech, plus assorted excerpts, below.