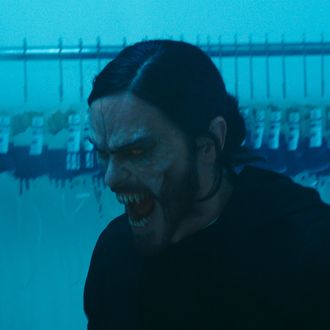 He had people push him to the potty for this.
Photo: Courtesy of Sony Pictures
Imagine living in 2022 and mistaking irony for sincerity. Well, that's what executives at Sony did when they re-released the Jared Leto–led Morbius to 1,000 theaters last weekend, making just $85,000 on Friday, June 3. Overall, the movie averaged $289 in ticket sales per theater, per Forbes. Morbius, a film in the Spider-Man cinematic universe about a man who makes himself a vampire bat, flopped upon its release on April Fools' Day, but found new life as a meme. Twitter users sarcastically praised the film, misattributed made-up quotes to characters, and begged for a full slate of decades' worth of sequels to go into production. Even Jared Leto's team got in on the "It's Morbin' Time" sequel jokes, in an example of capitalism absorbing discourse and defanging it of any and all power (read: humor). It appears that Sony misread this bullying as praise and made the decision to re-release the movie. But viral Twitter memes do not necessarily translate to dollars (especially when there was a time you could illegally stream the entirety of Morbius 24/7 on a Twitch stream). Although a billion-dollar company losing money is inherently funny, what's funnier is that Sony thought there was money to be made on viral tweets. Everyone knows that it's hard to monetize Twitter and the only chump change to be made is from those companies that ask you to advertise their vibrators — "Ladies!" — under hit tweets. A big congratulations to the Morbius stans who trolled execs into making this film flop in the box office for a second time. A morbillion viral tweets does not a box-office hit make.