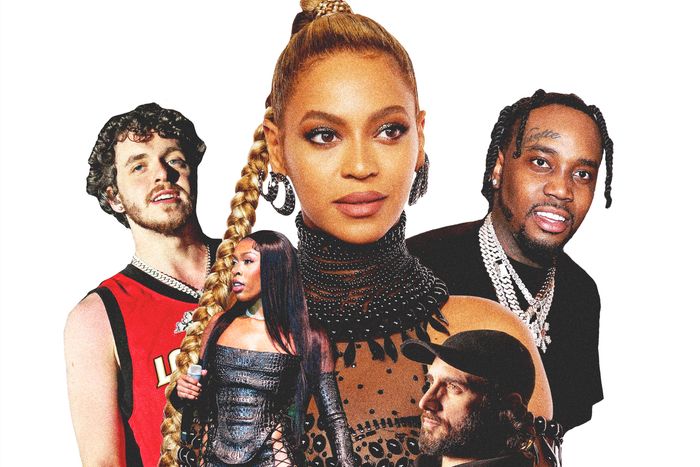 Jack Harlow, Tink, Fivio Foreign, and Paul Woolford have all succeeded at getting Beyoncé samples to clear.
Photo-Illustration: Vulture; Photos by Stephen J. Cohen/Getty Images, Prince Williams/WireImage, John Lamparski/WireImage, Jimmy Mould, and Johnny Nunez/WireImage
It seemed like a no-brainer for up-and-coming rapper Saucy Santana to incorporate the horn line popularized by Beyoncé's "Crazy in Love" into his major-label debut single "Booty." Of course, after releasing a teaser for the track, fans had a fairly obvious question: How did Santana manage to get the queen to clear the sample?
In short, he didn't need to: The riff in "Crazy in Love" actually originated from the Chi-Lites' "Are You My Woman (Tell Me So)." Still, it's a fair ask. Beyoncé has long been a fierce protector of her legacy and the way her work is represented — and plenty of listeners are unaware the "Crazy in Love" horns first appeared in a song from 1970.
"Booty" may not actually credit Beyoncé, but there is a long list of songs out now that do. This year alone has seen Fivio Foreign, Jack Harlow, Cordae, Tink, Earthgang, ArrDee, and more sampling Bey's old songs, from Destiny's Child numbers to solo hits. The approach has proven to be a recipe for success in the recent past, too — notably, in 2019, when R&B singer Summer Walker interpolated "Say My Name" for her Billboard Hot 100 top 20 single "Playing Games."
Obviously, clearing a sample takes more than just asking politely, especially from one of the biggest singers in history. Nikki Marshall, a sync manager who previously ran publishing companies for songwriter-producer Dallas Austin, says you have to consider more than how much a sample costs. "For every song you hear on any digital service provider or radio, there are two parts," she tells Vulture. "There's the master recording, which typically a label has ownership or administration rights for. Then there's the underlying composition, which is the song or lyrics. That is typically controlled by a publisher on behalf of the songwriter." Marshall notes, in addition to charging an "advance" to utilize the sample, the label will typically ask for a percentage of the new song's master, and the original songwriters will want a percentage of ownership of the new composition. Stakeholders will then listen to the new song and review its intended use before submitting a quote. During this process, they'll consider how much of the sample is used in the new song, as well as the sampled song's market value. Marshall says she tends to see up-front costs for utilizing a sample that are "at least four figures," while the process itself takes, on average, a couple of weeks.
Throughout her career, Beyoncé's sound as both a solo artist and member of Destiny's Child has been a crucial part of setting — and resetting — R&B and pop trends. And while she may be preparing to release a new body of work this week, her old hits obviously remain highly valuable to both fans and artists alike. Speaking to Vulture, several producers and artists behind recent Beyoncé-sampling tracks talked about the creative and logistical processes involved with using some of their favorite songs from the singer's expansive catalogue.
Jack Harlow's "Talk of the Town"
Jack Harlow's use of Fergie's 2007 hit "Fergalicious" on "First Class" helped him secure his first solo No. 1, but that's not the only song on his debut album to feature a prominent sample. Come Home the Kids Miss You opens with "Talk of the Town," which includes a snippet of Destiny's Child's 1997 track "No, No, No." Although it's used for less than ten seconds, it still had to be cleared for use.
"Any producer will tell you that silence from when you send a song out to get cleared to whatever time it takes, it's the worst thing," says Angel Lopez, one of the producers behind "Talk of the Town." "You don't want to wake up to an email that says they didn't clear it. I definitely get that feeling but I never let that be the lead in the creative process." (Like all the Bey-sampling producers and artists we spoke to, none were willing to share official stats on how much money exchanges hands for this.)
In this case, Beyoncé's team gave the go-ahead. Lopez was short on details about the sample-clearance process, but says it helped that Harlow had the support of a major label behind him. He also notes that Harlow's inclusion of Destiny's Child — the sample itself is dramatically slowed down, like a chopped-and-screwed homage to the Houston-bred group — is similar to the way in which the rapper used the Fergie song. Harlow came up with the idea to rap in between the samples, using the older songs as a way of being in conversation with himself: "Ironic, how? I'm who they miss, they target me now / Tryna be next to me, but I give them Destiny's Child. That's no, no, no, no, no, no / Am I the realest? Yeah, yeah, yeah, yeah, yeah, yeah," he says on "Talk of the Town," with the sample delivering the nos and yeses.
"It was a perfect moment for that sample to live," Lopez says of the hook. "We want the classic to shine and for people to remember. But we also want them to pay attention to what this new record is and the new interpretation of it."
The producer says he's not surprised there's been a recent increase in songs sampled from the '90s and early 2000s, including a number of songs from Beyoncé and Destiny's Child. "Sometimes I feel like, man, this generation is getting deprived from that substance and musical richness. ['No, No, No'] has that," he says. "People call it nostalgia, I just call it feel good, rich music."
Paul Woolford & Pessto's "Can You Pay?"
On his single "Can You Pay?", British producer Paul Woolford reimagines Destiny's Child's 1999 single "Bills, Bills, Bills" as an electronic dance number. The four-minute track is composed completely of vocals from the chorus of the original single that it samples. "This is the first time I've sampled this much of a song and made something new out of it for a full single," Woolford says.
When sampling "Bills," he said he was immediately flooded with early memories of singing the track at the top of his lungs with friends when it came on the radio. According to the DJ and producer, it took about nine months to get the single approved for release due to the numerous parties involved. "You have the label on my side, the publisher on each [writer's] side, and then each person's lawyer," Woolford notes. Of course, that group also included Bey, Kelly Rowland, and then–Destiny's Child member LeToya Luckett, along with songwriters Kandi Burruss and Kevin Briggs.
"It probably went through about 30 different people in total before we could get the full sign-off," adds Woolford. "We knew it was a crazy long shot, but if you don't ask you don't get."
In the end, Woolford says the process was "well worth it," at least partially because of his adoration for Destiny's Child, which he considers to be one of the greatest groups of all time.
Tink's "Cater" ft. 2 Chainz
When singer Tink decided to sample Destiny's Child's "Cater 2 U" for "Cater," the lead single from her forthcoming album Pillow Talk, she was nervous about whether or not it would be cleared for release. "Every week I'd bug my team about it, asking if it was a go," she says. "I honestly didn't know if they were going to listen to it, let alone clear it. I prayed every day on it."
According to the singer, the process took some time because, like Woolford's song, all members of Destiny's Child had to approve its use, in addition to the original producer, Rodney Jerkins. "And of course the clearance was more expensive, Destiny's Child and Beyoncé are legends," she adds. "But I believe it was 100 percent worth it. It's a privilege to be attached to anything Beyoncé-related."
Hitmaka, who produced the track, adds that the path to clear "Cater 2 U" was pretty standard from his perspective. "The process was normal as far as fee and percentages go," he says, noting that he wasn't nervous about attempting to clear it. "I thought the song was really good and I think as long as you make quality samples that you feel are an accurate representation of someone's art and are up to par, you shouldn't have a difficult time."
Both Hitmaka and Tink were kids when "Cater 2 U" was first released in 2004, and both take credit for coming up with the idea to sample the single. While Hitmaka remembers listening to the album with a childhood girlfriend, Tink says she remembers being a big fan of Destiny's Child even back then, purchasing CDs and posters to support the trio and reading the lyrics from the album booklets. "We cried to them, danced to them, got dressed for school to them, played them at parties," she says. "You can't erase memories like that."
"I think this catalogue resonates with artists and inspires sampling because it was the golden era of R&B when music meant something — it was stuck to your ribs and not microwavable," adds Hitmaka. The producer says Tink's "Cater" features a bridge as a nod to older R&B songs, too.
Tink says she finds the song to be both sexy and sweet — and a way to show off a softer side of herself. "I think [a lot] of music today can be dark and sometimes depressing," she says. "so it felt good to write a record about the positive side of a relationship."
Fivio Foreign and Queen Naija's "What's My Name" ft. Coi Leray
Producer A Lau was looking to do something different within the rap subgenre of drill when he decided to sample Destiny's Child's 1999 single "Say My Name" for Fivio Foreign and Queen Naija's "What's My Name." "I had been sampling records for a while at that point, specifically for drill. I'd been focusing on hard, dark samples that fell in line with where drill was at the time," he says. The week he decided to use "Say My Name," he was exploring other R&B samples, including Aaliyah's "One in a Million" and Ashanti's "Foolish." Though he was initially drawn to "Bills, Bills, Bills," another hit song from the R&B trio, the guitar line in "Say My Name" stood out. Once the vocals were laid on the song, A Lau was convinced they'd made the right decision.
"The flow sounded right, the voice sounded right. It was a no-brainer. Although we were all looking at each other like, 'Are we really about to go through trying to clear this sample?'"
The producer wasn't involved with getting approval, although he says he regularly received updates from Fivio Foreign's team about how tedious the process was. He says it's a "miracle" that the sample was eventually cleared. "I've been through a lot of clearances. The majority of them are a couple of back-and-forths. This one was definitely a way bigger sample, a way more prestigious song and artist than normal. We knew it wasn't going to be easy."
Fivio Foreign has spoken publicly about "What's My Name" previously, and at least one part of the delay in getting the sample approved for the song was related to Beyoncé's reaction to its lyrical content. "She heard it," Fivio told Ebro in the Morning. "It was a little vulgar, a little bit for her, at first. I cleaned it up. I cleaned it up a lot. It was like, 'You can't be talking about girls like that.'"
People who remember listening to the R&B hits of the '90s and early 2000s sometimes note that it feels too soon to be sampling and resurfacing the songs, but A Lau notes that this music is 20 or 30 years old. Sampling the old hits is a way to not only pay homage to the the sounds of this time, it's also a way to introduce the music to a new generation of listeners.