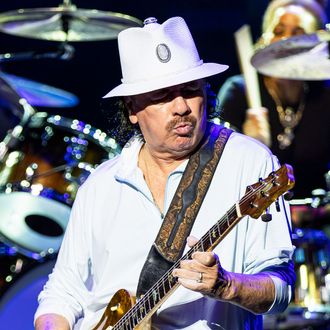 Photo: Scott Legato/Getty Images
Update, Saturday, July 9 at 1:10 a.m.: Just a couple days after collapsing at a Michigan concert due to heat exhaustion and dehydration, Carlos Santana has put his next six shows on pause. "Doctors have recommended that Mr. Santana gets rest to recuperate fully," Michael Vrionis, the president of Universal Tone Management, said in a statement to Billboard that announced the postponement of Santana's shows. The decision impacts performances scheduled from July 8 to July 16 in Indiana, Ohio, Wisconsin, Arkansas, and Texas. The 74-year-old guitarist was taken to the hosptial after his onstage collapse on July 5, and told fans on Facebook later that night that he was "taking it easy." Live Nation will honor all tickets for rescheduled dates, which have yet to be announced.
Original story published July 6, 2022 follows.
Carlos Santana is "doing well" after passing out onstage mid-performance. Per a Facebook post from his team, the 74-year-old guitarist was taken to the hospital for heat exhaustion and dehydration during a show in Clarkston, Michigan, outside Detroit, on July 5. Santana later added in his own post that he "forgot to eat and drink water" before the show. The musician, who has performed with his band, Santana, since the 1960s, said he was "just taking it easy" and thanked fans for their support. Santana is currently touring with Earth, Wind & Fire and has postponed a July 6 show in Pennsylvania after the emergency. The band is set to continue touring through August before returning to a residency in Las Vegas.