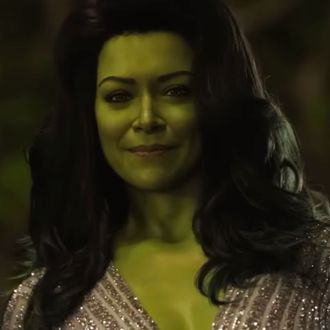 Photo: Marvel Entertainment/YouTube
San Diego Comic-Con is upon us, which, for those of us who cannot attend, means one thing: an onslaught of trailers for upcoming stuff. This year's convention has extended-universe shows like Tales of the Walking Dead, House of the Dragon, and The Lord of the Rings: The Rings of Power! It's got studios with cool stuff like Warner Bros. with Shazam! Fury of Gods and Marvel with, y'know, Marvel stuff! It's got Keanu Reeves's comic-book series BRZRKR, which Netflix is developing into a live-action film, and hopefully some update on Black Panther: Wakanda Forever. Keep watching this post for any trailer that comes through SDCC from July 21 to July 24.
The Walking Dead Season 11 Part 3
Former The Walking Dead star Steven Yeun may have said "Nope" to the show a few seasons back, but that doesn't mean you can't watch through to the end. The final part of the final season of the zombie spectacular just put out its trailer, so check it out before The Walking Dead permanently dies.
Star Trek: Picard Season 3
This teaser trailer for Star Trek: Picard season three mainly consists of floating heads/bodies delivering platitudes, but when the cast updates are as exciting as this, maybe that's okay. The new season of Picard has a whole bunch of nostalgia on hand for you if you're a Star Trek acolyte. This one's for the Trekkies.
Chucky Season 2
That glorious red mane of hair is back, baby. Get scared! Season two of Chucky has an official teaser trailer, and its looks as scary and stupid as ever, thank God. It's got priests, a camera crew, kissing boys, and a doll asking, "When do we get to start stabbing people?"
Vampire Academy
The first season of Vampire Academy, based on the novels by Richelle Mead, is coming out on Peacock September 15. This is the second adaptation of Mead's novels, after a 2014 film went … poorly. No word on the quality of this one, but one way it could guarantee five stars from us would be to include Abraham Lincoln as a vampire hunter.
Black Panther: Wakanda Forever
The new teaser for Black Panther: Wakanda Forever, set to Tems' cover of "No Woman, No Cry," sees its cast of characters mourning the loss of Chadwick Boseman's T'Challa. Joining original cast members Lupita Nyong'o, Letitia Wright, and Winston Duke, the sequel's teaser sees the introduction of Tenoch Huerta's Namor the Submariner and Mabel Cadena as Namora. Boseman's death hung heavily over the premiere of the teaser at SDCC. "I promise you, I feel his hand on me right now," director Ryan Coogler said. "We put our love for Chadwick into this film."
Anne Rice's Interview with the Vampire
As someone once said in a different vampire show, with this new version of Interview with the Vampire, the subtext is rapidly becoming text. If you're complaint about the 90's filmic version of Anne Rice's splashy Vampire Chronicles debut was "not horny/gay enough," AMC will have you covered. Anne Rice's Interview with the Vampire premieres Sunday, October 2 right after The Walking Dead. The first two episodes will be available on AMC+ that same night.
She-Hulk: Attorney at Law
The new trailer for She-Hulk: Attorney at Law further establishes its tone as a romcom-meets-superhero-story, opening with a tounge-in-cheek training montage between Mark Ruffalo's Hulk/Bruce Banner and Tatiana Maslany's She-Hulk/Jennifer Walters. The trailer also gives us a peek into the legal drama of the series, with She-Hulk representing Abomination (Tim Roth) in court and stressing out over her outfit choices (just attorney things!) Also featured in the trailer is Benedict Wong as Wong and Jameela Jamil as Titania.
John Wick 4
Maybe someday John Wick will get to take a nice, relaxing vacation, but that day is not today. The new teaser for John Wick 4 is pretty much what you'd expect from the action-packed franchise about the former hitman: There's guns, knives, nunchucks, shattering glass, and Keanu Reeves punching a pole over and over again. "Have you given any thought to where this ends?" someone asks Reeves. Of course, we already know the answer… John Wick 5.
Black Adam
Adding in another lightning bolt guy to a new era of DC films comes Black Adam, starring Dwayne "The Rock" Johnson, a self-proclaimed "not hero." As promised, the SDCC sneak peek trailer includes bright eruptions, airborne fights, underwater battles, and exploding cars, all of the elements for an intense superhero film. Some familiar faces in the movie include Viola Davis as she makes her return as Amanda Walker. While the Rock made it clear he's not returning to the Fast franchise, he's found a new family with Black Adam.
Shazam! Fury of the Gods
Set a few years after the events of the original film, Shazam! Fury of the Gods has the family fighting off adulthood and the Daughters of Atlas (Lucy Liu and Helen Mirren.) Billy Batson, played by Zachary Levi, tries therapy to deal with his fears of getting older and imposter syndrome in the superhero universe. Lastly, if you need a quick refresher on the last film: it's all about family.
Tales of the Walking Dead
The Walking Dead spinoff is coming to AMC and AMC+ August 14. Much like American Horror Stories, Tales of the Walking Dead anthologizes the world we already know and love(?) from 11 seasons of TWD and 7 of Fear the Walking Dead. This full trailer that premiered at Comic-Con Friday afternoon features Terry Crews, Parker Posey, Olivia Munn, Anthony Edwards, and Jillian Bell.
I Am Groot
I am Groot, I Am Groot. Groot. Five original shorts Groot I am Groot. I am Groot a Twilight Zone parody. I am Groot I am Groot Vin Diesel and Bradley Cooper reprising their voice roles. I Am Groot Groots August 10 on Disney+. I am Groot.
The Lord of the Rings: The Rings of Power
Stephen Colbert helmed the LOTR panel after doing a live post–January 6 hearing episode of The Late Show. Only Tolkien could make Colbert mess up his sleep schedule so. The Lord of the Rings: The Rings of Power is based on an appendix to the story we all know and love, explaining the circumstances surrounding the forging of the titular rings as well as how the half-elf, half-human city-state of Númenor fell into discord and eventually slipped into the ocean. Basically, it's "Capitol riots, but make it Orcish."
Dungeons & Dragons: Honor Among Thieves
In what is already the Stranger Things kids' favorite movie of 2023, D&D Live! stars Chris Pine, Regé-Jean Page, and Michelle Rodriguez as a cool band of miscreant heroes who need to save the world (after they screwed it up). There's high fantasy, high comedy, and high jinks in this trailer. Plus Chris Pine plays the lute for a moment, if that's your thing.
See Season 3
Jason Momoa returns as Baba Voss for the final season of Apple TV+'s sightless world, See. A new form of sighted warfare from the Trivantians forces threatens Voss's tribe for an epic battle defending his family, or as he puts it: "The battle begins today."
Teen Wolf: The Movie
Five years after its series finale, MTV's Teen Wolf is back with the first teaser trailer for Teen Wolf: The Movie. Premiering on Paramount+, the movie reunites much of the main cast (a character even comes back from the dead at the end of the clip) with the exception of breakout star Dylan O'Brien and Arden Cho.
The Sandman
Based on the DC comic series written by Neil Gaiman, The Sandman stars Tom Sturridge as Dream aka The Sandman, who ends up getting captured for a century disrupting the dreams of those in different universes. In a My Name Is Earl fashion, he must now travel across other worlds and timelines to mend his mistakes.
National Treasure: Edge of History
If you love quoting, "I'm gonna steal the Declaration of Independence," Disney+ has the perfect teaser for you. In a trailer that reminds us to start overanalyzing how one-dollar bills look again, National Treasure: Edge of History introduces Lisette Olivera as the new star of the series, replacing Nicolas Cage as an adventurer looking to reclaim their family's treasure. She's joined by Catherine Zeta-Jones, who plays a badass billionaire and treasure hunter named Billie, and Justin Bartha, who reprises his role as computer nerd/expert Riley Poole.
He-Man and the Masters of the Universe: Season 3
Hey, what's going on? He-Man and friends reunite to fight against Skeletor's return as they also to try to save Krass from completely turning over to the dark side.
Marvel's Moon Girl and Devil Dinosaur
Do you like cute things? Do you like adorable superheroes? Do you like insanely stacked casts including Alfre Woodard, Sasheer Zamata, Laurence Fishburne, and Craig Robinson? Then you should probably check out this clip for Moon Girl and the Devil Dinosaur. It's set before Moon Girl is officially Moon Girl, and prominently features the Devil Dinosaur. Even if you don't want to watch it, you can still recommend it to your niece.
Gotham Knights
In very different superhero news, the upcoming video game Gotham Knights just unveiled its character trailer for Batgirl, one of the main characters of the game. Gotham Knights is set in a Gotham just after Batman's death, meaning Batgirl and her cohort (think Robin, Nightwing, and Red Good) have a hefty increase in butt-kicking responsibilities.
Star Trek: Lower Decks Season 3
The Paramount+ animated series, Star Trek: Lower Decks, returns for another mission, titled season 3, on one of the Starfleet's "least important ships." Starring Tawny Newsome, Jack Quaid, Noël Wells, and Eugene Cordero, the gang of misfits resolve last season's cliffhanger with Captain Freeman's trial and create plenty of more problems in space and beyond.