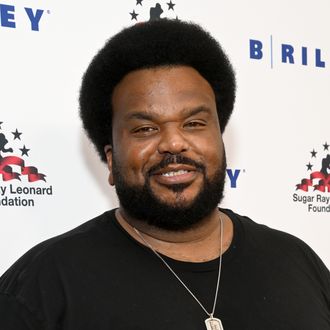 Photo: Getty Images for Sugar Ray Leona
Update, July 18, 2022: The Charlotte-Mecklenburg Police Department has identified and charged a suspect for allegedly firing a gun in a North Carolina comedy club on Saturday night where comedian Craig Robinson was slated to perform. Police said 36-year-old Omar James McCombs was charged with nine counts connected to the incident. Robinson shared a statement on Instagram late Saturday night following the incident. "Thank you to the Comedy Zone security and staff for getting us to safety quickly. Thank you everyone for your outpouring of support and well wishes. Thank you CMPD for swift action in apprehending the shooter. Hopefully he gets the help he needs. Thanks be to God no one was hurt. Please stay safe everyone," he wrote. Vulture has reached out to Robinson's reps for comment.
Original story published July 17, 2022, follows:
Comedian Craig Robinson was evacuated from a North Carolina comedy club on Saturday night after a man brandished a gun inside the venue, per Variety. According to the Charlotte-Mecklenburg Police Department, there were no injuries and the suspect is in custody. The club was evacuated before the gun was fired, authorities said. The incident occurred "shortly after 9 p.m." and Robinson's show was canceled. Robinson shared on Instagram that he was in the greenroom at the Comedy Zone in Charlotte preparing for the show when he was told to evacuate. He said he was safely moved to a nearby Big Time Rush concert at the Metro Credit Union Amphitheater while police investigated the active shooter situation. "It was wild. It was a moment, for sure," Robinson said. "Big Time Rush to the rescue." Watch Robinson's update below.