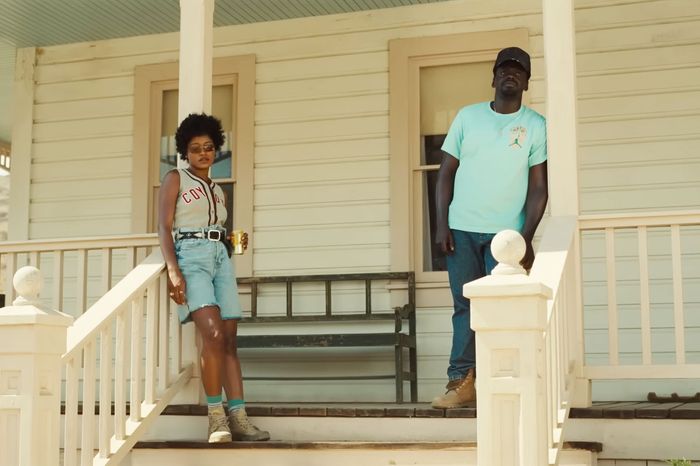 Photo: Universal Pictures
Spoilers follow for Jordan Peele's film Nope.
Movie trailers can be full of unkept promises. This is common for franchises like Star Wars and the Marvel Cinematic Universe: Think of Jyn Erso facing off against a TIE fighter, which didn't make the final cut of Rogue One: A Star Wars Story. Or Doctor Strange of Earth-838 sneering, "Things just got out of hand," nowhere to be found in Doctor Strange in the Multiverse of Madness's final cut. Blockbusters often go through multiple edits, pick and choose between Easter eggs, and use diversionary footage to avoid spoiler leaks. Some of that might explain why certain scenes from Nope's trailers didn't make it into the theatrical version of Jordan Peele's third directorial effort. But that doesn't make us any less curious about them!
We reviewed all the official Nope videos and trailers released by Universal Pictures, compiled the scenes that got cut, and cooked up some theories about these lost moments.
1.

A struggling Em in Hollywood?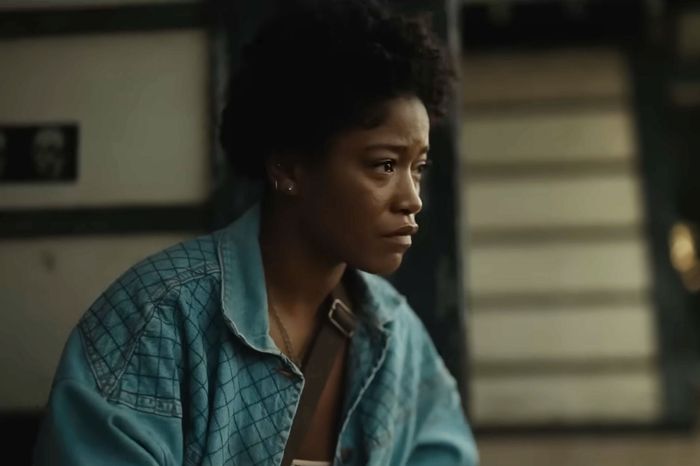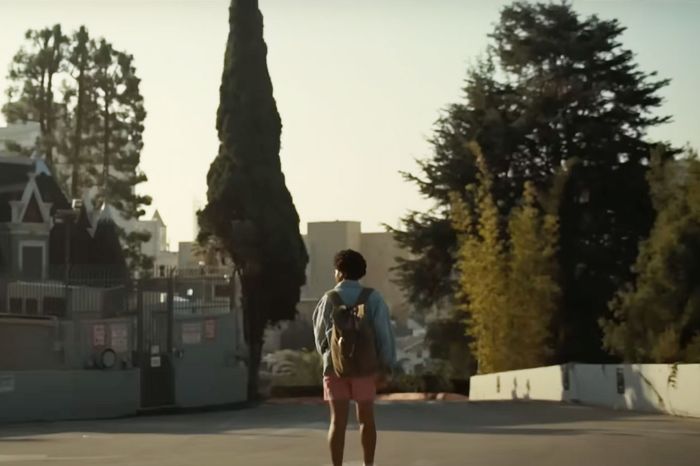 Nope revolves around the Haywood siblings, Otis Jr. (Daniel Kaluuya) and younger sister Emerald (Keke Palmer), who've inherited the family ranch where generations of Haywoods have raised and trained horses for hire on film and TV sets. Em has felt left out of the business since she was young, with her father focused on passing his skills onto his son. So she pursues her own multifaceted version of fame — singing, motorcycle riding, whatever else anyone will hire her to do — in Hollywood. Em only mentions these aspirations briefly in Nope, but it looks like at least some of her Hollywood journey was filmed. In the above screengrabs, is she squatting outside some bougie mansion? Did she come home not just to help run Haywood's Hollywood Horses, but also because she had no other options? It would have been nice to spend some time with Em on her own.
Or, to spend some time with her while she flirted with a bachelorette party while livestreaming from Hollywood Boulevard!
The real question mark, though, is what Em could be filming in this scene. This looks like the Haywood family home, but Em is recording something at eye level using a camcorder — so maybe not the alien being, which all those Fry's Electronics cameras captured by pointing straight up to the sky. Perhaps something is happening to OJ?
Or maybe this is not Em recording something, but watching something — an upsetting memory from her childhood, perhaps? Maybe this is a video of that first training session when Otis Sr. chose to train OJ and excluded Em, which we flash back to elsewhere in Nope.
2.

Antlers at home?
First, an important note: Antlers Holst might be the best movie-character name ever. Second, this is actor Michael Wincott's (The Crow, Strange Days, Westworld) first acting role in five years, and though he has a standout scene reciting lyrics to Sheb Wooley's "The Purple People Eater" and a distinctive all-black look that contrasts sharply with the Haywoods' graphic T-shirts, it wouldn't have hurt the film to have more of this gravelly-voiced icon. To wit: Is this Antlers at home? Chilling in a perfectly oversize suit and looking out over his pool?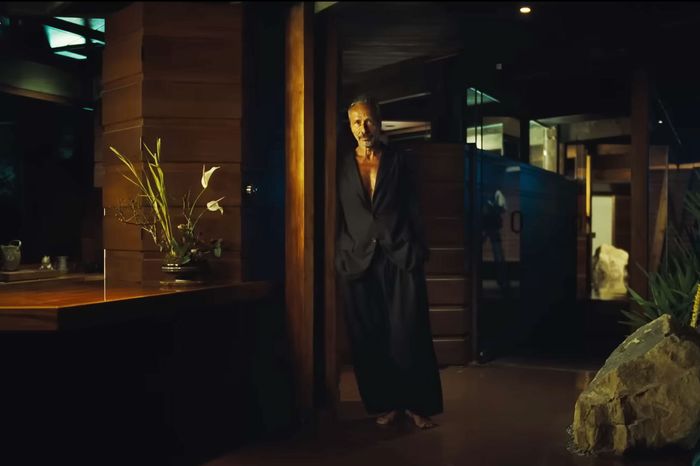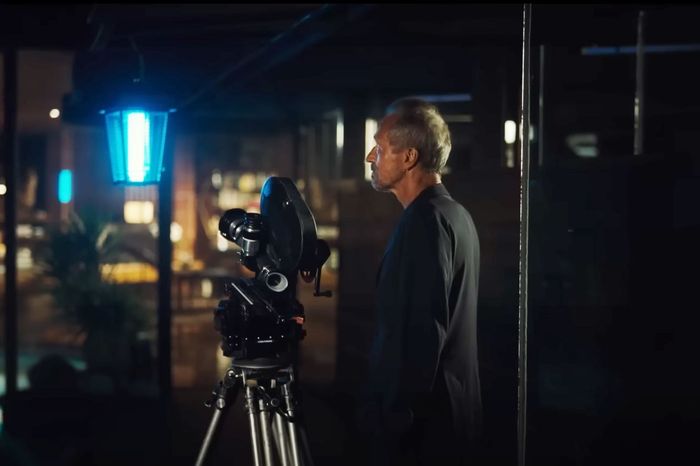 In the film, we only see Antlers at home in what looks like a backyard video village, reviewing all kinds of animal-focused footage. But at some point, at least, it looks like we got to go inside. I want to go to there! What is he filming? In terms of costuming, Antlers looks a bit like Nope's cinematographer, Hoyte van Hoytema, who before Nope worked on other sky- and space-focused films like Interstellar, Ad Astra, and Dunkirk. Maybe Antlers is pointing his camera up into the clouds in another nod to Hoyte?
3.

What is this guy's deal?
Here is where we deviate a bit. Moments in which Em tries to establish herself in Hollywood or Antlers feels aimless at home would have expanded characters we already know. They wouldn't be all-new additions to the story, but additional texture and shading. But who the hell is this guy, and what is his deal?
The Nope IMDb page at least gives us a name: The actor and comedian Michael Busch, who is credited as "Nobody." This scene seemingly shows this mysterious dude walking toward the set of Gordy's Home while everyone else flees, after one of the chimpanzees who plays Gordy attacks his co-stars. Maybe this was a subplot about a Gordy's Home superfan? The story that Ricky "Jupe" Park (Steven Yeun) tells about Gordy's Home makes it sound like the sitcom wasn't on the air for very long before the "massacre," but we all know that it can take very little to spark an obsession. (I am proof: Look at me, trying to spin out subplot theories based on seconds from a trailer.) Maybe, in an earlier version of the film, we saw some version of the Gordy's Home incident from the eyes of someone tied to the spectacle of the show. Peele recently shared the fictional sitcom's opening credits on Twitter:
In the shot below, we see that footage of Gordy the chimp dressed in a red double-breasted jacket mirrored in this guy's glasses. Is he watching an episode? Maybe he is a vet tech who worked with the chimps, hence the scrubs?
Maybe he made a miniature version of the Gordy's Home set and had a pet crab who stood in for Gordy?
A nod to marine horrors wouldn't be completely out of place in Nope: The alien's final form resembles a gigantic squid, and the way Peele gradually unveils his monster seems to pay tribute to Steven Spielberg's Jaws. If Peele's looking for more horror inspiration, the deep dark holds an array of options. Exploring the 80-plus percent of the ocean that remains unmapped? That's a nope from me.