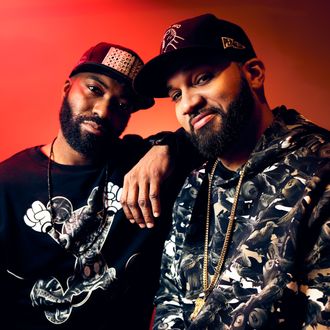 Daniel Baker, a.k.a. Desus Nice (left), and Joel Martinez, a.k.a. the Kid Mero.
Photo: Robby Klein/Getty Images
Update, July 26, 2022: The Kid Mero spoke publicly about the end of Showtime's Desus & Mero and parting ways with Desus Nice for the first time on his weekly Twitch stream, and on a radio appearance on New York's WFAN on July 25. "It's just natural progression," Mero explained to WFAN host Keith McPherson. "It's like we said on the podcast, 'It's Hollywood, baby.' You develop strengths and things that you want to explore and do. And then things just happen naturally. It's like Spike Jonze said on the Viceland show, 'Everything is finite.' What's the corny cliche? Don't be sad that it's gone. Be happy that you experienced it."
"Everybody grows," he continued. "I'm sure D's got his things that he wants to do. I got my things I want to do. And they're very specific to us. We've been a duo for a long time. I love everything that he's done. It's just natural. I've got my life, my worldview, my things going on, and he's got his. So it's only right that, instead of just staying like, We're only going to do this one thing, we explore. Let's break out. Let's see what we do as individuals, and then form like Voltron later on. Who knows?"
On Twitch, Mero joked that his response on the radio was "very political" and responded to a user in the chat who inquired about his well-being by saying, "I'm from outside. I've been through worse. Does it hurt? Yeah. But, you know what? We're coming right back." He also hinted at upcoming collaborative projects with podcaster Taxstone and rapper Big Body Bes.
While he didn't discuss the rumors publicly, Mero has also been active on Twitter, where he liked a pair of tweets referencing reports that the rift is related to their manager, Victor Lopez. Desus has yet to publicly respond. Vulture reached out to representatives for Mero for comment.
Original story published July 22, 2022, follows:
It's been an emotional week for the Bodega Hive ever since rumblings of Desus and Mero's breakup appeared on social media over the weekend. Showtime's confirmation of the news that Desus & Mero would not be returning for a fifth season and that "Desus Nice and the Kid Mero will be pursuing separate creative endeavors moving forward" was met with outpourings of grief, affectionate walks down memory lane, and widespread speculation regarding the underlying cause of the separation on July 18.
Now, thanks to new reporting from Puck, there is additional information about what fueled the split behind the scenes. "Five separate sources" confirmed to Puck that the inciting conflict was related to a disagreement the pair had over the conduct of their longtime manager, Victor Lopez, who had been asked by Showtime to "no longer attend tapings or appear in meetings." Two of Puck's sources indicated that "several formal complaints had been made." Lopez was accused of "asshole behavior, including bullying, screaming and generally making people on the show feel bad," per the report, which claims Desus agreed with the Showtime decision but Mero "felt loyal" to Lopez, whom he had worked with for years.
Showtime and reps for the duo declined to comment, while Lopez could not be reached by Puck. Presently, Desus is scheduled to guest-host Jimmy Kimmel Live! later this summer, so perhaps more information about the fissure will be revealed then. The brand is divided.