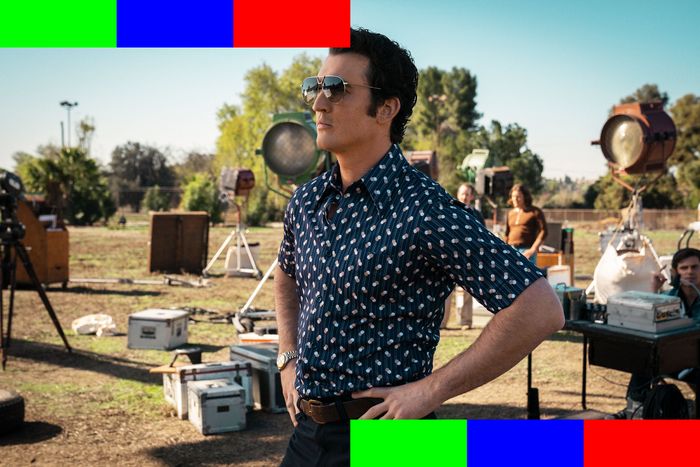 Miles Teller in the Paramount+ series
The
Offer
.
Photo-Illustration: Vulture; Photos Courtesy of Paramount+
When I was a teenager back in the mid-1980s, the (decidedly nerdy) kids I hung out with all maintained very strong allegiances to specific TV networks. While ABC had dominated our elementary and junior-high years, by the time Ronald Reagan started his second term, most kids I knew were very clearly NBC partisans thanks to its killer lineup of young-skewing comedies (Night Court, Cheers, Family Ties), cool action shows (Knight Rider, The A-Team, Miami Vice) and, of course, David Letterman. Four decades later, the television landscape is obviously dramatically different and filled with many more choices, but one thing hasn't changed: Even in the streaming era, audiences are still forming very deep, almost personal relationships with individual programming platforms.
We saw this phenomenon play out early on in Netflix's transition from a DVD delivery service to a streaming superstore circa 2007. Folks under 30 quickly embraced the idea of on-demand content (even if it was mostly recycled network shows and movies at first) and started dropping costly cable subscriptions in favor of a Netflix login. Once the streamer began adding its own shows in 2013, the bond with customers (it calls them "members") grew even stronger. And for the rest of the 2010s, I'm guessing most folks born after 1990 considered themselves Netflix people in the same way me and my buddies were Team NBC.
Things today are, of course, much more complicated. The number of major streaming platforms has doubled over the past three years, and Netflix's near-monopoly on the hearts and minds of streaming viewers has been completely shattered. Big Red is still omnipresent and plenty powerful — but it's no longer the streaming default for millions of consumers, as was clear earlier this month when Vulture published our second annual survey of industry insiders. That story generated quite a lot of (very insightful) feedback from Buffering readers, and it inspired me to print the best of those comments and seek more of your input. Earlier this week, I put out a call on Twitter asking folks to send me their picks for the best, worst, and most underrated streaming platforms, and more importantly, why they love (or hate) various services. Between Twitter DMs and emails, I got dozens of replies, and what follows are the best of those responses as well as some of the feedback posted on my original story.
(Some housekeeping notes: Comments are grouped according to platform, and the platforms are listed in alphabetical order and don't correlate with the overall number of positive or negative observations. Keep in mind that Buffering readers include folks who work in the media or media-adjacent industries, but as far as I know, none of the comments come from anyone employed by one of the major streamers. And as with our survey of industry insiders, we're not printing the names of participants so that everyone who replied could feel safe sharing their unvarnished opinions.) 
Apple TV+
➽ Apple TV+ is the best. Quality over quantity. Love that every show is in Dolby Vision, immediately giving it a leg up on Prime, Hulu, HBO Max, and Netflix. And it's relatively inexpensive compared to the others. I've only delved into about ten or 11 originals so far, but all save three have been uniformly excellent — and two of those three were mostly good!
➽ We have all of the major ones, and the one I would give the crown to right now is Apple TV+. They don't overwhelm you with content, releasing just a couple of new series at a time, but we've liked nearly everything we've watched: Ted Lasso, Severance, Pachinko, The Afterparty, to name a few — plus CODA! It's a great deal and a third of the price of what we pay for Netflix and HBO Max. I'd give HBO Max a close second — but it's nowhere near the bargain that Apple is.
➽ Whenever Apple drops a new show I know that I am getting something of at least "good" quality, and often something that exceeds that. I am always thinking about which streamers I could drop on any given day, and Apple TV+ keeps my subscription because there are always those one to two shows that I have to watch (right now that is For All Mankind).
➽ Apple+ is my number two. Severance by itself was worth the price of admission, but For All Mankind was my first love. Black Bird is already a must-see.
➽ I feel like I've been paying for more than a year for Severance and little else.
➽ Most underrated is Apple TV+. Just about everything they put on there is excellent. For All Mankind, Severance, Pachinko, and Tehran are all among the best original TV shows on the air right now. Hulu is also underrated.
Disney+
➽ I have had Disney+ since the beginning, and I always will for the Marvel and Star Wars content, but I only go to it when I have a very specific thing in there — I never browse D+. I love how they've expanded it though, and I love that they've enhanced stuff with IMAX and all that.
➽ I think I'm subscribed to Disney+ via a bundle, but I've never watched a single minute of their programming.
➽ Disney+ isn't a streaming service I consciously think about as good or bad because I'll probably just be subscribed to it forever as a cost of Existing Pop Culturally.
➽ Disney is only good if you like Marvel stuff or you have kids. I only sign up for Star Wars shows — and then cancel it.
➽ As much as Disney+ talks about having four-quadrant content, for a single 20-something who isn't into Marvel or Star Wars (weird, I know!) there hasn't been a single thing drawing me to that platform.
➽ Disney+ is a necessity in my opinion, but also kind of easy to forget because it really just is an extension of the Disney brand. Even compared to other streamers that are affiliated with a specific production company or network (Peacock), it seems to have a slightly different vibe.
➽ Disney+ seems like it's stocked with content, but everything feels like giant franchises and stuff for kids that I never watch, unlike its cousin Hulu, which has so much great TV, largely from FX, and always a new (old) series to dive into.
➽ It's got Marvel, Disney toons, and Pixar. It's probably the nail in the coffin of 60 percent of DVD/Blu-ray collections. Nobody is excited to go there, but they've got the best price on the essentials. It's Walmart.
HBO Max
➽ HBO Max is the best value for the money. It's the most expensive streamer I have, but the extensive library and the continued output of quality movies/shows makes it worth it.
➽ HBO Max replaced the HBO I was already paying for. As soon as one show ends, another starts that I can't imagine not watching.
➽ The critical buzz is strong for HBO Max, but nothing feels like anything I have to see, even if I were to just get the service for a month. Original content is nice, but I still find myself gravitating towards older movies and TV shows that originated elsewhere.
➽ HBO Max not only has a deep library of content, but the originals (both on the HBO "proper" side and the Max side) always just seem to hit for me. I don't think there is ever a week where I am not watching an original HBO or Max original week-to-week. HBO Max is the best value for the money for its sheer breadth and quality of content.
➽ I have been watching a ton of HBO Max, but the lack of 4K and Dolby support on so many things is really frustrating — they need to step that up big time.
➽ Warning to Discovery CEO David Zaslav: Mess around with HBO Max, and I will cancel my subscription. If any streamer doesn't need meddling, it's this one.
Hulu
➽ I watch Hulu a lot, second only to HBO Max … It has so many series from the past and present that I love: Freaks and Geeks, The Mary Tyler Moore Show, Only Murders in the Building, etc. The FX library is second only to HBO in the modern era and they have a decent selection of films.I personally do not want Hulu to merge with Disney+. Disney does not want edgy content under its banner. Let Hulu stay Hulu.
➽ I subscribe to Hulu mainly for FX (The Bear; Devs; Under the Banner of Heaven; Atlanta, until the pointless season three) and their original documentaries (Summer of Soul, Errol Morris).
➽ Hulu is underrated. The full runs of classic sitcoms and a surprisingly interesting movie library make it a bit of a sleeper.
➽ The best streamer right now has to be Hulu. This year alone has given us The Bear, The Dropout, Pam & Tommy, Life and Beth, The Old Man, Candy, and Under the Banner of Heaven.
Netflix
➽ Netflix is the service I use the least — maybe twice a week, and at that cost, it's a headache. I juggle approximately 80 series at once in a foolhardy attempt to Watch Everything (that interests me, that is) and maybe six or seven of them currently are Netflix originals.
➽ Go to anyone's house. Look at anyone's social-media picture of what's on their TV in the background. The vast majority of time it's Netflix. So with all due respect to other streamers like HBO Max (which has monumentally improved since it began), I still find it a little silly to compare them to Netflix. They're still the 300-pound gorilla throwing its cultural weight around. The Bear seemed massive for Hulu, but would it crack the Top 30 shows for Netflix for the month? The conversation for who is hot has to be in the context of who the current runner-up is to Netflix.
➽ I do not understand a single decision Netflix has made in the past few years. Continually letting their licensed movie and TV library shrink to nothing while setting cash on fire to make shows that no one talks about for more than three seconds. What will all the money they spent on Stranger Things amount to in five to six years when people have moved on to the next nostalgia pastiche? Meanwhile, some of the newer streamers are building original catalogues that will help to brand them for a long time to come. I'd lose Netflix in a second before I got rid of Apple or Hulu.
➽ Despite some ridiculous press headlines, Netflix is still the best streamer, although not by as significant a margin as just two years ago. In addition to great original series (both domestic and international), its user interface remains head-and-shoulders above everyone else. Anytime I'm looking for something new to watch, I stay on Netflix much longer than any other service, and almost always find something new.
➽ It's crazy to say, but I think we're in a space now where Netflix is underrated. I feel like I'm taking crazy pills when I hear that there's nothing to watch on there or that they've fallen off. If a person only had Netflix, they'd still never run out of things to watch. I also tend to prefer their UI. That's still something that's very lacking everywhere else.
➽ Weird to think Netflix was my No. 1 for years and now there's pretty much no new content I give a damn about.
➽ Netflix is the CBS of the streaming apps. They used to concentrate on quality and now it's quantity. Cheap crap.
Paramount+
➽ I know that Paramount+ often gets categorized with Peacock — which might also be eligible for worst streamer, but I have never used it beyond watching Battlestar Galactica reruns and last year's Eurovision on the free tiers — but it is so much more than that. They have some strong scripted originals: The Good Fight and Evil are must-see television for me and should have been major Emmy contenders, and everyone is currently sleeping on Players. It has also carved out its own little niche that works for me: competition reality. I am a huge fan of Big Brother, Survivor, The Challenge, Drag Race — and no other streaming service is delivering this level of content for this specific subgenre of reality. I actually might use Paramount+ more than any other service than HBO Max.
➽ The Offer on Paramount +, about the development and production of The Godfather, is top quality TV. I absolutely loved it.
➽ I forget I have Paramount+, but given how much Ryan's Mystery Playdate and The Loud House my kids watch, they certainly don't.
➽ Paramount+ and Peacock need to join forces. Call it Universal-Paramount. Paramount doesn't have much name recognition on its own (only Indiana Jones & Mission: Impossible come to mind) but it's a decent add-on to the much weightier name of Universal. Either that or just drop the studio branding altogether. When push comes to shove, Disney is the only studio that has true recognition with its name alone.
➽ Paramount+ could improve its standing by merging with Showtime. I love Yellowjackets!
Peacock
➽ I have Peacock free because I have Xfinity. I used it for two fantastic documentaries about the Olympics, and I watched coverage of sports live that I couldn't find on USA. I also watch the super-sized Office episodes. Otherwise, it's such a pain to find anything.
➽ Peacock is the most underrated streamer. Girls5eva, Wolf Like Me, and most importantly, Killing It — winners all. Combine Peacock and Paramount + and you might have something.
➽ I subscribed to Peacock because I wanted to round out my studio exposure if any big movies come out from Universal — but also because of the comedy/sitcom catalogue.
➽ Peacock is free for me, but I almost never watch it.
➽ Worst one is Peacock. Ever since the ridiculously hard time I had finding sports during the Olympics, I don't think I've been back. Other than Girls5Eva, I can't think of any original series on Peacock that interest me.
Prime Video
➽ I don't have a lot of faith they can manage the Lord of the Rings series. Based on the trailers so far, the CGI has that cheap, overly clean look from 2002.
➽ I use Amazon Prime a lot, so Prime Video is just a bonus.
➽ The HD compression on Amazon Prime is by far the worst — and I have a Fire TV, too, so I'm mystified as to what the problem is.
➽ I haven't gotten the Prime UI update, but I'm interested to see if it makes navigating the service less of a chore.
Honorable Mentions and Other Thoughts
➽ I'd toss out a nod to AMC+ as a very clear ninth place and rising. The app needs some work, but I've probably spent more actual time watching AMC+ than Peacock or Apple in the past two months.
➽ Criterion Channel is the most underrated streamer. As Warner Bros. Discovery continues to lock Turner Classic Movies behind the cable paywall, Criterion Channel has become the savior of classic film in the streaming world. Their interface is sleek and intuitive, their content is brilliantly curated — including rare special features created for DVD and Blu-ray — and the overall experience welcomes those who love classics in a way no other streamer comes close to.
➽ My nominee for most underrated streaming service is Mubi. They are my go to for what people call "foreign films" but also older films that don't necessarily end up on the Criterion Channel. The yearly fee is reasonable enough to keep me paying even if I don't watch it as often as others. And they have a huge title database where you can search for titles to be alerted about if/when they appear on the service.
➽ AMC+ is one of the two platforms I watch the most. Ten Percent, This Is Going to Hurt, The Split, Dark Winds. Just fabulous stuff.
➽ I love the Criterion Channel because I love the films they feature. I recently watched the films of the obscure Texas filmmaker Eagle Pennell because they were featured on the channel. Essential if you dig what they do, which I do.
➽ Hard to argue with Apple TV+ and HBO's ad supported tier being the best bang for the buck. For a combined $15 per month you get nearly all of the best dramas and comedies on TV and only ads during the licensed content — a huge win! They both have ways to go in terms of UI (multiple users option Apple, please) but when the content is that good and the price point is that reasonable it's hard to complain.
➽ I got AMC+ to watch Better Call Saul, and between the horrible interface, thin library, and ridiculously short window for the BCS episodes, I will happily cancel it next month.
➽ I wish Disney+ could let you curate playlists. I like to have the TV on something as I drift off to sleep — episodes of something comforting and familiar that I've seen before (the set shuts itself off after a few hours) — and rather than retreat into my childhood Disney past during waking hours, it would be nice if the service let you choose movies to stream back-to-back-to-back.
➽ I like international television, so MHz Choice, Brit Box, and Acorn are worth an occasional check-in. If there's something I want to check out, I will subscribe for a month. Can't justify long-term subscriptions to these, though. There's just too much else to watch elsewhere.