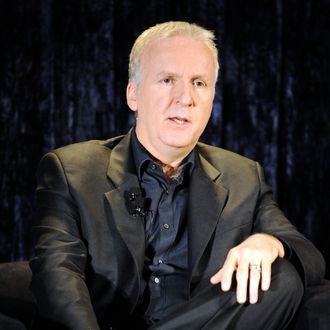 Photo: Jeff Kravitz/FilmMagic
While everyone is already getting their blue face paint ready for Avatar: The Way of Water, a certain director might already have his eyes on the exit door. In an interview with Empire, director James Cameron admitted that there might be room for a new director in a future Avatar sequel. "The Avatar films themselves are kind of all-consuming," Cameron tells Empire. "I've got some other things I'm developing as well that are exciting. I think eventually over time — I don't know if that's after three or after four — I'll want to pass the baton to a director that I trust to take over, so I can go do some other stuff that I'm also interested in. Or maybe not. I don't know." He previously passed the baton to Robert Rodriguez for the Alita: Battle Angel films in 2015.
In 2017, Cameron confirmed that the fourth and fifth sequels will arrive in December 2024 and 2025. While they have not begun production yet (Avatar 2 and 3 were filmed back to back), it gives Cameron plenty of time to find a replacement or decide that only he can direct the Pandora universe.